Excuse My Grandma & The Soft Launch
We all know dating has changed. We've got apps and reality shows and social media (oh my!). But talk to someone ahead of you generationally and the differences are pretty extreme – wayyy fewer options, way less pre-marital sex and way less dating burnout to name a few.
But while so much has changed, some things stay the same in dating and relationships.  And that's why we have Kim Murstein and Grandma Gail of the Excuse My Grandma podcast joining Damona to break down the differences in dating for different generations.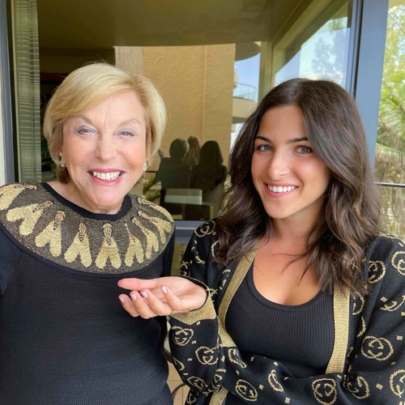 DATING DISH (1:38)
Here's how (and why) you should soft launch your relationship on IG:
We're learning some new vocab today – have you ever heard of "soft launching" your relationship? According to our friends at Cosmopolitan Magazine, soft launching is casually introducing a relationship online without actually introducing it. Usually this introduction is made by posting ambiguous photos on your Instagram that imply the presence of a romantic connection. Some examples include two tickets for a show, dual cocktails on a bartop, or your hand casually holding someone else's.
There are many reasons to soft launch your coupledom online, but Damona recommends considering these questions beforehand – Why is it that important for me to declare to the outside world that I am in a relationship? Is it that you want to send a message to someone that you're off the market? Or is it that you want to celebrate love between you and somebody else?
KIM & GRANDMA GAIL (10:25)
Kim Murstein is a content creator and host of the Excuse My Grandma podcast with her grandmother Gail. Together they cover dating, relationships, and sex advice from two very different generational perspectives.
(12:40) Is dating better today than 50 years ago?
With two sage daters like Kim and Grandma Gail, we ask the inevitable question… is dating better today than 50 years ago? Even though she describes herself as an old soul, Kim is all for dating culture today because of the amount of autonomy you get while dating. And if dating apps aren't your thing, you have total  freedom to date exclusively offline.
Then, Grandma Gail shares her thoughts and advice around sex on the first date.
(20:45) Kim's rules for texting and communication.
You may have heard Damona reference emojis as being "mood modifiers". They can be helpful in communicating your tone to someone while texting. But Kim has some controversial thoughts on what emojis you should NEVER use.
(25:25) The dangers of online dating today.
With all the Tinder Swindlers and West Elm Calebs out there today, it's no doubt that all this online access makes dating a little dicier than in the pre-dating app era. Grandma Gail takes us back to how you "screened" the people you were dating before the internet – "If we did meet in person, we had a reference! There would be no way you'd go out with somebody who somebody else didn't know, it just wouldn't happen."
(29:00) Never Have I Ever…
Damona, Kim and Grandma Gail play the classic get-to-know-you game, Never Have I Ever. Damona hits us with some spicy questions, including – have you ever kissed someone on a first date? Have you ever done MORE than kiss on a first date? Or have you ever given out a fake phone number?
Be sure to follow them on Instagram and TikTok @ExcuseMyGrandma and learn more at ExcuseMyGrandma.com.
DEAR DAMONA (39:50)
Submit your questions on Instagram, Twitter, or Facebook and hear our answers live on the show! Here's what our listeners asked about this week:
IG Message from Matthew –

How do I approach my disability and associated issues with someone I might be romantically interested in? I am currently single. I dated once many years ago with a fellow wheelchair user and we shared similar difficulties, but since we broke up I haven't dated anyone or met up with anyone new. I would love to be more approachable to women, but I have a fear that once they know certain things about me they'll think I'm too much for them. I'm afraid they'll walk away and I'll be left feeling rejected and hurt, and worried that I won't ever find someone who loves me for me.
https://damonahoffman.com/wp-content/uploads/DM-Excuse-My-Grandma-Wordpress-Image.jpg
900
1200
Lindsey Kay Floyd
/wp-content/uploads/damona-hoffman-logo-209-1-1.png
Lindsey Kay Floyd
2022-09-20 17:29:52
2022-12-06 18:35:56
Excuse My Grandma & The Soft Launch