Green Flags & Don't Text Your Ex Happy Birthday
Choosing a partner is the most important decision you'll ever make. It affects your finances, your family, your mental health and your future. But remember that your dating journey is just as important as your relationship destination. 
It's a myth to think any relationship is ever a waste of time. These experiences can be the greatest source of information when it comes to better understanding ourselves and the relationships that best fit our lives.
And that's why we have Nick Viall, author and host of The Viall Files podcast, here to discuss his new book "Don't Text Your Ex Happy Birthday" and help you navigate the ups and downs of the dating process, so you'll leave this episode feeling more empowered in dating.
DATING DISH (2:05)
Can work stress make you more critical in your relationships?
Have you ever come home from a stressful day at work, only to find yourself completely annoyed that your partner didn't throw away that empty chip bag on the couch? That's why the Society for Personality and Social Psychology published a new study diving into how work stress can affect our relationships. Researchers looked at couples and had them fill out a questionnaire that asked them about the stressful situations in their lives.
The results? Turns out that participants who reported experiencing more stressful life events outside of their relationship, were especially likely to notice their partner's negative behaviors.
But if you aren't in a relationship, Damona also believes that work stress could be making singles more critical of their dating lives, and causing them to show up on dates already looking for negative behaviors. Remember that where our attention goes, the energy flows. So on your next date, see what happens if you more consciously refrain from scanning for negative behaviors and look for those green flags instead.
NICK VIALL (7:30)
You may know Nick from his starring role on the 21st season of ABC's The Bachelor. Nick is also the host of the podcast The Viall Files, which explores all things dating and love – from post-breakup healing, to salacious texts in their three weekly episodes.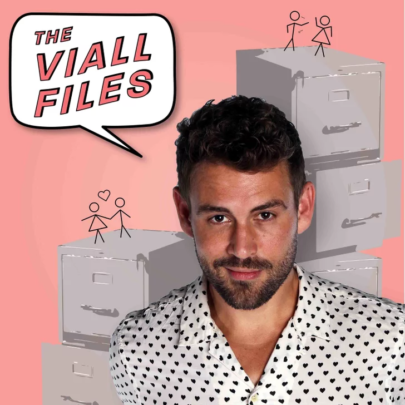 And his book "Don't Text Your Ex Happy Birthday: And Other Advice on Love, Sex, and Dating" is out TODAY!
(11:00) Bad texting doesn't always mean bad communication.
Although there's no arguing that dating apps have totally changed the landscape of dating, Damona believes that texting has actually been the biggest shift in dating culture (given that texting is now a whole separate stage of the courtship process). And the biggest challenge with this is interpreting someone else's tone. Nick notes that regardless of our intention when sending a text, the other person will always read the tone to match whatever mood or feelings they are in – if they are feeling defensive they will read your text defensively, or if they are feeling guarded they will read the message in a more guarded tone.
Because of this communication gap, Nick suggests avoiding having ongoing conversations with new matches over text. Take advantage of tools like Zoom, where you can clearly read someone's facial expressions and hear their tone. 
Nick also gives us some crucial tips for sliding into someone's DM's, and how to avoid looking like a catfish.
(21:30) The player vs the f**kboy
Two famous archetypes on a similar mission – but what really is the difference between a player and a f**kboy? One might say that they're the same thing and f**kboy just replaced the term player in the last decade. But the two definitely have their differences. 
According to Nick, a f**kboy is someone who is well intentioned. They want to have a relationship in theory, but don't want to check their own behavior and do what it really takes or make the sacrifices required to be in a relationship. "Women, men – we all can become f**kboys. Because f**kboys happen when we're not communicating our expectations and boundaries, and we make assumptions. The other person is having sex with us, but not really prioritizing our feelings. And then all of a sudden, we have a f**kboy situation." Weirdly enough, your f**kboy could be someone else's future partner. 
On the other hand, players are the people who actually have alternative motives. They truly don't want a relationship, they just want to have sex. They tend to manipulate and lead others on, and will go out of their way to make you feel special so they can hopefully hook up with you with no attachments. They're playing the game (hence the name "player").
(27:50) Get yourself unstuck.
Nick had one central message when writing his new book "Don't Text Your Ex Happy Birthday" – that we have more control in our love lives than we want to give ourselves credit for. Nick shares that he has always remembered feeling very stuck in a relationship. He says that he would obsess over small details or moments and the potential for rejection. "I chose to make her choices a representation of my self worth. And I allowed her choices to validate my self worth."
Nick encourages readers to avoid making any kind of rejection about you. "Rejection sucks. It's not fun. But if we reframe rejection as clarity to give us the answers, to allow us to have more freedom, to empower us to make our own choices, then it can just change things a little bit more."
Be sure to grab yourselves a copy of "Don't Text Your Ex Happy Birthday" today! 
You can learn more about The Viall Files podcast on their website, and follow Nick Viall and The Viall Files on IG for more hot tips.
DEAR DAMONA (39:50)
Submit your questions on Instagram, Twitter, or Facebook and hear our answers live on the show! Here's what our listeners asked about this week:
IG Message from L –

I'd like to ask for guidance on how to proceed with someone I recently met. We met last week & had an immediate connection. We saw each other the following day & he stayed with me, although we slept fully clothed. After that his communication was constant, but often made more sexual comments. We met again at my house the day he returned from a business trip. He spent the night & we just fooled around. We didn't go all the way because I had communicated I wasn't ready for more. He texted me the following Sunday, saying "Good morning sunshine. I hope you're having a great weekend." I responded. Then I sent a message on Monday just saying hi & he again responded with the same pleasantry. Since then he has not initiated contact once. I've reached out twice with pleasantries & he's responded politely. I'm not sure how to proceed from here. I like him a lot & my goal is to develop a LTR with someone. 

Voicemail from Anon –

Dear Damona, I recently became involved with a young lady that I like very much. So far, we've had three in person days of video call, and we've been texting paragraphs back and forth for at least three weeks straight. I knew from our first video call that she was someone I was extremely attracted to. At the end of our third date, I decided to ask if we can make our relationship official. But to my surprise, she kind of talked her way around saying no. So we had a heart to heart moment, where she reveals to me that she has some pretty serious past relationship baggage that only happened a few months ago. The following day, we had a text exchange where she said, "The more I thought about it last night and this morning, I truly don't know if I'll be ready for a relationship anytime soon. I do want to keep getting to know you and get closer though." So my conundrum is, I genuinely like this woman and can envision myself having a future with her. But if she's not ready to be in a relationship, should I move on and start from square one with a new person? Or is it worth the emotional investment that I continue to linger in her orbit, waiting for her to feel ready to be in a relationship? Since I already know that I like her and on some level, I know she likes me. I ask this question from the perspective of knowing that relationships require hard work, and I don't want to waste my time if she has cold feet.
https://damonahoffman.com/wp-content/uploads/DM-Nick-Viall-Wordpress-Image.jpg
900
1200
Lindsey Kay Floyd
/wp-content/uploads/damona-hoffman-logo-209-1-1.png
Lindsey Kay Floyd
2022-10-04 17:51:53
2022-10-11 22:58:09
Green Flags & Don't Text Your Ex Happy Birthday