On past Dates & Mates episodes, Damona has talked about the ways our childhood experiences shape our relationship habits in adulthood, for the good and… the not so good. But we have to remember that our past doesn't dictate our future, and we can reclaim our power by acting upon that.
Like Damona said in her chat with Nora McInerny last week, we are always writing our stories. And as Nora said, "In 10 years, you are going to look at the version of you presently and be like, 'you had no idea. You had no idea how young you were. You had no idea what was possible for you, what was ahead of you.'"
Life is a journey and we are always learning and growing.  So remember to keep doing those journals, chatting with your therapist and taking the time to be introspective. That is how I define self-care. As you come to understand yourself better, you will understand your relationships better, your needs and wants better, and how establishing and keeping to your boundaries will help you design the life you are destined for.
And that's why I have friend and fellow love coach, Orna Walters, on the show today. For those who don't know, October is Domestic Violence Awareness Month, and she is going to share her personal story, some signs to look out for, and how to prepare yourself for a happy, healthy partnership.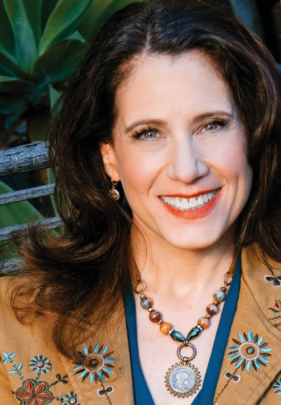 DATING DISH (2:38)
Do long-distance relationships have the most potential?
A recent article from the John Hopkins newsletter dives into how "the challenges of a long-distance relationship are what cause it to have the most success." Damona gives her two cents, and some definitive strategies on how to make the most out of your distance. 
The article also mentions how technology has helped close both the distance and communication gap when dating someone in another location. From dating apps, to Zoom, to apps that allow you to play games or watch TV shows together. 
But – in order for technology to work in your favor, you also have to be maximizing your chances with the algorithms. Damona's FREE Profile Starter Kit is a great place to begin.
ORNA WALTERS (14:45)
Orna Walters is a domestic violence survivor turned love coach and is a featured guest expert on Bravo's "The Millionaire Matchmaker." She uses her experiences to educate people on healthy relationships, openness and authenticity. 
She's a dear friend of the show and a fabulous dating coach, along with her amazing husband Matthew. This time Orna is back on Dates & Mates solo to share her personal story and wisdom.
(15:40) Taking on someone else's behavior.
On New Year's Eve of 1994, Orna's relationship with her partner at the time took a violent turn that would change everything. The lessons she learned from this relationship now contribute to her expertise in teaching individuals how to take their power back. As Orna says, "no person should take on the shame of another person's actions."
(19:44) Signs of a potentially violent partner.
Orna says that with her former partner, she couldn't spot any specific signs that he might be violent. But there is one thing she is absolutely clear of – when wanting to get out of a toxic relationship, Orna implores that you cut off ALL contact. And if communication is necessary, ask someone to be a mediator between the two of you.
Orna also shares what it is that keeps us stuck in a toxic or abusive relationship. Hint: "We get addicted to the apology…"
(26:48) Orna & Matthew, sitting in a tree…
Having been in a relationship with her husband Matthew for 11 years, Orna now spreads the message that it IS POSSIBLE to unlearn your relationship patterns. "The truth is we're attracted to what is familiar to us… and when I realized I had repeated the same situation [I experienced as a little girl], I knew I had to leave." 
She continues that on a basic level, we are all fighting for love on our own terms. And because of this, it's crucial that we take the time to know what those terms actually are.
(32:35) What does a healthy relationship look like?
After Damona asks Orna for her thoughts on healthy relationships, Orna brings our focus over to the body. She says that our emotions are technically bodily sensations. And because it's really important for us to be able to communicate our feelings to our partner, we have to be in touch with our bodies as well. 
Try this: Set 6 or 7 alarms throughout the day. Whenever an alarm goes off, check in with your body and name the emotion you are currently experiencing. And if you can, try and define the thought that is causing the feeling in your body.
Be sure to follow Orna and her husband Matthew Walters (a fellow love coach) on Instagram at @OrnaAndMatthew.
And check out their website 7StepsToSoulmating.com for more info.
**If you or someone you know is experiencing domestic violence, please do not hesitate. Call the domestic abuse hotline at (800)799-7233.
DEAR DAMONA (39:50)
Submit your questions on Instagram, Twitter, or Facebook and hear our answers live on the show! Here's what our listeners asked about this week:
Email from T –

 I love your podcast, thank you for all that you do! My question is… when in your opinion is it appropriate to discuss taking your profile down and being sexually exclusive with a partner that you've met online and it's going really, really well? Thank you for the advice!
https://damonahoffman.com/wp-content/uploads/DM-Orna-Walters-Image.jpg
900
1200
Lindsey Kay Floyd
/wp-content/uploads/damona-hoffman-logo-209-1-1.png
Lindsey Kay Floyd
2022-10-18 17:04:43
2022-12-06 18:35:28
Non-Negotiables & LDR Lessons