Retro Dating & Bad Vibes Only
I don't have to tell you that sometimes life doesn't go according to plan.  So, while planning ahead is helpful, it's important to leave a little room for things to go sideways. Even still, the question remains – how do you deal with days, weeks, months when life feels like it's headed off course?
Today, Damona will unpack those questions and more with Nora McInerny, host of the "Terrible, Thanks For Asking" podcast. They'll discuss how Nora carried on after losing the love of her life, how she opened herself back up to love, and how every experience in between led her to exactly where she is today.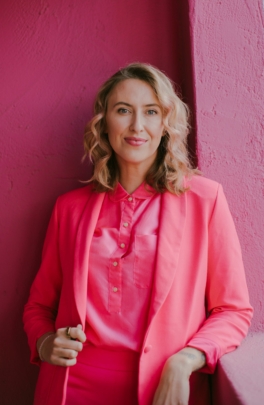 DATING DISH (1:55)
Dating is broken – but could going retro fix it?
A recent New York Times article has been causing a STIR in the dating community (Damona was sent this article by 3 different people!). If you haven't read this op-ed piece already, the author writes that "going retro" – i.e. returning to matchmaking – could be our salvation from dating burnout, ghosting, and swipe fatigue. 
The article notes 4 positive effects that matchmaking could have on dating culture:
A mediated match more easily connects individuals who are looking for the same kind of relationship or have similar education, religious background or values. 

Matchmaking eases the difficulties of the IRL approach.

Going out with a mediated match offers behavioral accountability.

Matchmaking helps to avoid feeling "completely disposable" because you have a mutual connection it might get back to.
In light of the obstacles of our current dating culture, it seems like a reasonable solution to return to the dating practices used before the prevalence of online dating and hookup culture. But let's not outcast dating apps altogether – because a huge part of what the apps give us is agency in our own dating lives. They are but another avenue for us to clarify what we want in a partner and to learn more about ourselves in the process. Damona also gives her tips on what we can do to elevate our own "behavioral accountability" and avoid dating burnout…
**P.S. Interested in exploring matchmaking? Damona currently has a partnership with the company Three Day Rule, which has headquarters in multiple cities. Go to threedayrule.com/damonahoffman to get started, or listen to Damona's interview with Three Day Rule matchmaker Devyn Simone to learn more.
NORA MCINERNY (9:33)
Nora McInerny is the host of the award winning podcast "Terrible, Thanks For Asking." She has contributed to publications like The New York Times, Time, Slate, and Vox. Nora is also the author of two bestselling memoirs – and her new book "Bad Vibes Only: And Other Things I Bring To The Table" is out today!
**Want to learn more about Nora before listening? Check out Damona's 2021 interview with Nora about her previous book – "The Hot Young Widows Club."
(11:15) The beginning of something healing.
Nora's love story begins with her first marriage to her husband Aaron, who passed away after being diagnosed with brain cancer – "We'd been dating for a year, and we got married a month after his brain surgery. We had a baby 13 months later. And then our third wedding anniversary was his funeral. So that's my first marriage right there." 
Her process of stepping into love again was more like falling, as she describes it. "I was not interested in meeting someone. You know, I wasn't interested in falling in love with somebody. I was interested in possibly having sex with a person… They could fall in love with me if they wanted to, but I wouldn't love them back. And when it started to develop into something else, I felt horrible. I felt horrible for having any kind of happiness at all, it was the most excruciating time and it was also, I think, the beginning of something like healing."
Loving Aaron, and then falling into love with her current partner Matthew, taught Nora that we are not cursed by whatever past experiences we carry – sometimes those experiences can just be information.
(21:50) We're always choosing.
We all hold different versions of ourselves in our heads – our rom-com self, our weekend-with-the-parents self, or relationship self. But in her book Nora mentions a caveat to the selves we carry with us – "The future ahead of me is not boundless, and never was. Every choice I made eliminated other versions of myself."
Nora gives the Dates & Mates audience insight on how we can empower ourselves to make the hard (but healthy) choices in our lives, even if it involves eliminating possible future versions of ourselves.
(28:37) Sometimes the fairytale isn't your happy ending.
Nora describes her relationship with her current husband Matthew as being unique in its own way. Firstly because they went through the experience of blending families. And secondly because they were never really single together – "you know, in that classic sense where you find someone, you date them, and you can go spend weekends away or take a spontaneous road trip. We met each other, and we came with kids. Like, we came with established lives. And so we had to fit those together in a way that made sense."
Nora notes that her relationship with her first husband Aaron felt as close to a fairytale as you could get. But sometimes, the fairytale isn't your happy ending or final destination. "[My relationship with Matthew] is very different. It is not a fairy tale. And thank God, honestly. Because if I thought that my happy ending happened when I was 30… It's like, where do you go from there?"
Be sure to follow Nora on IG @Noraborealis and pick yourself up a copy of her newest book, "Bad Vibes Only: And Other Things I Bring To The Table."
DEAR DAMONA (39:50)
Submit your questions on Instagram, Twitter, or Facebook and hear our answers live on the show! Here's what our listeners asked about this week:
IG Message from Suzanne –

When is it acceptable to ping someone on Linkedin (if ever…)? I know it's not a dating app, but I've had a great exchange with someone on Hinge mid-pandemic. Then I didn't hear from him for weeks, got dejected and gave up. Recently logged back in after nearly a year to find that he HAD responded to me (2 months later) and now I had responded nearly a year later… I keep kicking myself over the missed connection (the guy was perfect!). His profile is unchanged (he's either coupled up or on this app about as often as I am) and it doesn't help that Hinge archives messages after 2 weeks, which is how I missed his last for months even after I was back on it. Found him on LinkedIn (no crazy sleuthing; 1st result given his name and schools) – is it completely inappropriate to reach out saying something to the effect of "sorry for unintentionally ghosting you on that other app"? Really want to meet him now that we can!
https://damonahoffman.com/wp-content/uploads/DM-Nora-McInerny-Wordpress-Image.jpg
900
1200
Lindsey Kay Floyd
/wp-content/uploads/damona-hoffman-logo-209-1-1.png
Lindsey Kay Floyd
2022-10-11 18:40:25
2022-12-06 18:37:12
Retro Dating & Bad Vibes Only