DOES MARRIAGE EVEN MATTER?
Random fact: One of the most entertaining things about Damona's job are the emails she gets from Jewish mothers.
You know her work in the LA Times and The Washington Post but did you know that Damona's very first writing gig was as a dating expert for JDate?
For a while the emails from concerned mothers looking to help their sons in dating had subsided, but now because of the pandemic or politics or COVID, they have kicked up again.
Damona talks to Tod Jacobs & Peter Lynn from Jerusalem to give relationship tips from their new book Not A Partnership: Why We Keep Getting Marriage Wrong & How We Can Get It Right.
But first, let's dish!
DATING DISH
Holiday Gifts for Any Love Language
How to find the perfect gift for every person in your life– it's actually less complicated than you think. Damona explains more. 
Dating Studies 2020 Roundup
A complete roundup of every noteworthy study on love for all you science nerds out there. Damona weighs in.
Elliot Page Comes Out As Transgender
A huge congratulations to Elliot Page and why you should be inspired by his story.
GETTING MARRIAGE RIGHT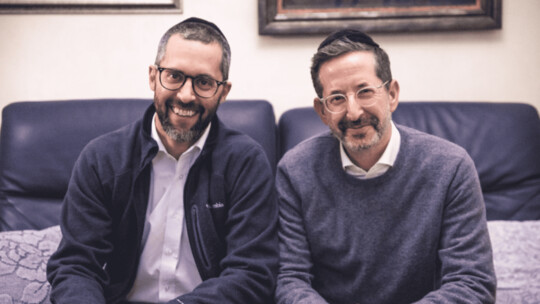 Tod Jacobs & Peter Lynn compiled a ton of research on marriage in their new book, Not A Partnership: Why We Keep Getting Marriage Wrong & How We Can Get It Right.
FOLLOW ALONG HERE:
Damona 0:00
Happy Holidays lovers. It's December. It's Hanukkah week. So I'm feeling kind of festive. And I'm thinking a lot about all of the wonderful Jewish mothers who send me emails trying to find a match for their little boy his. I don't know if you knew this, maybe you've read my work in LA Times and in the Washington Post, but did you know that my very first writing gig was actually at j date? Yeah, I was a dating expert for j date. And it was so fun. And it generated quite a lot of emails back then. So for a while, the emails from concerned Jewish mothers looking for help for their sons and dating had subsided. But I don't know if it's the pandemic or politics or something else, but they have kicked up again. So to all the Mamas and part time yentas This show is inspired by you. And it's for anyone who is on the hunt for a happy marriage. In honor of my Jewish grandfather and all of his corny jokes. I will begin my intro today, with a joke set up a rabbi and a Jewish scholar walk into a dating podcast. Okay, there's no punch line.
Unknown Speaker 1:18
There's only a setup.
Damona 1:20
But I do have an awesome interview lined up for you. I'll be talking to Todd Jacobs, and peterlin, who joined me from Jerusalem to give relationship tips from their new book, not a partnership, why we keep getting marriage wrong, and how we can get it right. This interview has caused quite a stir here at dates and mates headquarters, and I can't wait to hear your thoughts. But first, I need to get you up to speed on the headlines for this week, how to find a special gift for your special person. And it's actually less complicated than you think. And for you science nerds out there a complete roundup of every noteworthy study on love for 2020 Plus, a huge congratulations to Elliott page, and why you should be inspired by Elliott's story. All that and more on today's dates and mates, you're ready to dish.
Love Languages seem to be in the air I found out this week about a new feature on Bumble, where you can actually add your love language to your profile. So you can figure out if you can speak the same language when you match with someone. But beyond that plenty of fish also added a love language feature they did a post on their blog about the best holiday gifts for everyone based on their love language. So for those of you who are not familiar with the five love languages, it was based on the research of Dr. Gary Chapman. And it breaks us all down into five different types based on how we perceive and receive love. You ever been in a situation where you're telling somebody you love them and you're gushing? And you think this person must know how I feel? Because I'm saying it with my words? Well, if they haven't really acted like they heard it, or they've come to you and said, I didn't really feel loved. It's because you might have different love languages. Maybe yours is words of affirmation. Theirs is maybe the second one physical touch, or the third gift, or the fourth quality time. Or maybe you're like me and you're number five acts of service. So I'm all about those acts of service like you do something for me. Oh, you cook me dinner. Oh, it's gonna happen. It is on I am so happy. You tell me you love me doesn't quite land the same way. So if the person is more into, say, words of affirmation, the blocks just something as simple as a handwritten letter could really make the difference for them or meaningful jewelry that has a word that's really significant to them. This is y'all I'm giving you I'm giving you this is golden. If you are shopping for someone, and you know their love language, check out the dates and mates.com blog because we will link to this and you will know exactly what to get your loved one for this holiday season. All right, my science nerds dating news.com has come through for us they did a roundup of all of the studies from 2020 on love. First of all, I pride myself on being on top of all of this for you. And I try to read all the studies that I can because I love this data. I love seeing how human behavior works in real time. Not in theory, but actually what are we doing and how is the world that we're interacting with changing the way that we move through relationships, but they even found they found some gems that I didn't even know. They found that University of Chicago said couples who meet online are less likely to to divorce. That was a seven year study. You've heard me say here, but you can check out this dating news.com roundup and see why couples who meet online are less likely to divorce. According to the University of Chicago study. They also said that, OK, Cupid reported one third of women say they get too many messages. But Pew says over half of men say they get too few messages online. Are you seeing a pattern? Is there a solution for this? I think it's pretty clear when you look at the data. And one that I thought was super interesting plenty of fish again, they did a study on the words in your dating profile. And they found that singles who use the word love are more successful. And actually, when you when you go check out this, this study, or this Roundup, you'll see that it's not just the word love, but when you use love, passion words, in your profile, you actually are more likely to get a match. So even using the word relationship, which some people run away from, because they're afraid if I say relationship, and that's too serious, then he's going to run away. Yes, honey, he's going to run away, because that's not what he wants, and you don't want him wasting your time. So those who said relationship in their profiles, actually were more likely to end up in a relationship. There's so much info, and I don't want to overwhelm you. But I find it all very fascinating. And if you keep listening to dates and mates, of course, I will keep synthesizing all the most interesting studies down for you every week. You may have also heard in the news about Elliott page announcing that he is trans. Great news on this is he's getting so much support not just from Hollywood, and from fans and from friends. But also his wife is supporting him and standing by him through this transition. And he also announced his pronouns are he and a. So I look I'm still learning about how to do this correctly, too. So maybe somebody can, y'all are not shy on the DM. So maybe somebody can DM me if I should be using he or if I should be using they there. But I just wanted to acknowledge something that I read about Paige, when he says he was pressured in many cases to always wear dresses, and heels for events and photoshoots. You may remember he starred in the movie Juno. And he's done a lot of roles. Oh, inception, that was one of my, that's one of my favorite movies, I've probably seen that movie like 10 times. And when he goes to when he went to the red carpets, he was forced to dress a certain way that didn't align with the way that he felt inside. And it made me think of you all actually it made, it reminded me of what you go through to twist and turn and contort yourself and present yourself to be seen on a date. And I was just having this conversation with a client the other day, who was worried about what to wear to a date that was going to be outside and whether the jacket was was was flattering enough or the right color. And I realized that all this info that I give you about how to present yourself. And these little tricks like I tell you were read in your profile, and how you want to show up in a in a dating profile photo. But I just also want to remind you that the very most important thing is for you to be yourself is for you to be authentic, and for you to actually shed away those layers, so that you can be comfortable in your own skin. So if anyone has gotten a message from me that they have to wear a dress to a date, or they have to show up in a certain way in order to be attractive. Go ahead and scratch that out right now. And replace it with I need to feel sexy, I need to feel feel attractive. I need to feel good and comfortable myself to be my best self on the date. So thank you, Elliot page, thank you for leading the way I know it is it is so hard. It is so hard to go through such a public process of transitioning. And maybe you are not transgender and going through a similar experience. But you can certainly relate to what I just said, of having to pretend that you're somebody you're not in order to be liked or loved. And I'd say as we go into this new year, let's put that aside. Let's be ourselves, let's be authentic, let's be comfortable in our own bodies. And let's let all the haters fall to the wayside because 2020 is coming off and also our break is coming Write up. I want to share this interview with the authors of not a partnership. It is fascinating and I think you'll really enjoy it. But you got to stick around for just a moment to hear it.
Welcome back. I'm here with Todd Jacobs and Peter Lynn. They're both professors at the David Robinson Institute for Jewish heritage in Jerusalem. They're joining me from all the way across the pond. They help their students figure out a pathway to successful living that uses Jewish tradition, ancient texts, mysticism, Do I have your attention? So look, even if you are not Jewish, you will be able to relate to this interview because it's all about their research on how to make your marriage strong. And they've put it all together in their new book, not a partnership, why we keep getting marriage wrong, and how we can get it right. So no matter what your faith, if you're relationship minded, maybe even marriage minded, you need to join me for the inside scoop. Please now help me give big smooches to my guests, Todd, and Peter. Hello, gentlemen, welcome to the show.
Unknown Speaker 11:09
Thank you so much.
Damona 11:11
Well, we need to we need to talk because a lot of my audience out here, they are relationship minded. Some of them are looking for marriage, some of them are just looking for commitment, but most of them are looking for something a little bit more than they're in right now. First, I want to talk about in your book, not a partnership, you talk about the institution of marriage, right and looking at marriage, like a job.
Unknown Speaker 11:45
I like
Unknown Speaker 11:46
a good job,
Damona 11:48
a good job, a job that you want. But, you know, in a way people, people are always telling me marriage is so hard. It's so much work. But I feel like it's it's it's it's work like this is work for me. Like I love doing it. And I love helping people. But what do you mean, when you say, marriage is like a job?
Unknown Speaker 12:06
You know, we first of all, when we talk about marriage, one of the things we try to do is to give a bit more of a depth and what marriage means than just kind of let's call it the legal description. And the legal description is one which is you know, up for grabs. And it means different things to different people in different contexts in different countries. But what we what we're talking about really, is a relationship that is driven by a commitment that I have towards making my spouse, the center of my concern, the center of my attention. And then I view my job, so to speak as a very elevated job. It's not It's not the job as a martyr, it's an incredible job of helping give that person the life that they want and deserve. And when a person is committed to that for their spouse, and the spouse is committed back now, whether they are legally married, legally not married, living together, what I mean, it's the dynamic is going to be same dynamic, if two people are committed to building and completing each other and giving the other the life that they want and deserve and need. That can create a an incredibly beautiful dynamic in their relationship. And that's what we are trying to focus people on because we think that's missing in lots of relationships. Hmm,
Damona 13:24
that's certainly missing. And I find that a lot of people aren't having the conversations early on about what they really want, and really, how they even define what the partnership looks like. Right? What do you think about that? Peter? When do you feel like the conversation should begin around partnership or the the goals for the relationship?
Unknown Speaker 13:51
So I would say like this, is that if you're looking for someone that you want to have a significant relationship with, what you find is, it doesn't have to be day one. But the sooner you see if you line up in more of a long term way, that does two things. It frees you up to allow yourself to actually get closer to this person. And you'll see that down the line, you're not going to run into major roadblocks when the relationship actually does get closer. What happens a lot of times, as we all know, is that people find this relationship and it goes great. But once serious issues start coming up about what is the long term look like? What do we want for you know, the future of our lives, all of a sudden, you have people that they realize, you know, we're just not on the same page at all. And then it takes a lot of energy to now start over and you know, try and find that with someone else again, the world of dating can be very depleting and we feel there are lots of things out there that can be done to To make it much smoother for people in their journey to find either a great relationship, or ultimately, the one they want to spend the rest of their life with. Mm hmm. Yeah.
Damona 15:10
And that, that idea of, Oh, no, I have to go back to the pool, again, is something I hear from a lot, a lot, a lot of my listeners. And, you know, I feel like, if you aren't in the right partnership, it's worth the effort that you put in before, and it shouldn't be that much effort. In The Now, like, I like going back to what I was saying, originally, to you, Todd. When people say relationships are a lot of work, I'm like, kind of, I feel like the wrong relationships can be a lot of work. Do you see that? Don't tell me if I, maybe I'm wrong about that. Maybe I'm looking at that with one with just one lens. I feel free to disagree with me.
Unknown Speaker 16:05
You know, relationships, they can make you without work. But I don't think that there's anyone that stands, you know, at their wedding. And they say to themselves, you know, well, I'm looking forward to an okay, marriage. You know, no one, no one says I'm, you know, no one says, as a claim the cake, you know, with the spouse in the band is good. No one says, you know, oh, a mediocre is good for me. You know, I was okay with a BMI in high school, but I didn't think that my wedding day. And, and we all know that in order to really have something in our life that things want to achieve a goal you want to go after, it's going to take a lot of effort to get there in order to really make that excellent, that end product amazing. And so, you're right, a person can be relationship, and Okay, you know, you just ride it out. But what you'll see very fast is we live in a world today where things get old, very fast, and things lose their freshness very fast. And we all know, you know, we're all guilty of this, that we drop our guard really fast as well, sometimes a bit too fast. You know, I can be a certain way in my public life. But unfortunately, I come in my private life a lot of times, you know, my behavior is not as good as it may be when I'm at work, or when I'm in front of my friends. And what I think it means when we say work is demonio 100%. Right? I don't think it's hard work. Because when you feel like always you when you're with the right person, why wouldn't you want to do that work. So it makes it beautiful. But I do realize that in order to make my marriage, let's say my relationship get to where I want to get to, I know, if I work harder communication, I put effort in to making us have you know, romantic dates, I go out of my way to show different forms of respect to my spouse, I do things that maybe naturally when you feel like doing but I go out of my way to implement all these things that we see that you know, can bring greatness to certain relationships in your life. And I put them in my in my relationship, my marriage. So those proactive efforts are what we're talking about as far as what we look at as work. And what we find is that relationships that are always trying to be better, trying to work harder, trying to actively get closer, when you're going to see is that relationships end up bringing way more happiness to the people that are involved in it. And people that are in relationships, that is let them kind of let's just let them go. And let's see where they get to. Unfortunately, sometimes you'll see that without a lot of effort to make it amazing. things naturally deteriorate, which is what we see in all places in life.
Damona 18:58
But what do you do in the instance where you're committed to making your relationship work, and maybe your partner is not in the same place. And I hear this a lot as well, from people that are in partnerships, and they're like, I'm trying, like, I'm working on my communication, I'm trying to show up for them, I'm trying to improve it, and they're just, they're just exhausted, they're not paying attention. They don't want to go to therapy. They don't they don't want to do the do the work, right. What then,
Unknown Speaker 19:32
look, you know, the reality is the sad reality is there are relationships which are dysfunctional. There are there are a certain percentage of relationships which are just simply dysfunctional, and one side might be the source of the dysfunctionality. And it could be that no matter what you do, you're not going to be met with the response, the gratitude, the reception, the love the you know, the the trust that you need. It's possible. But what we've seen are maybe I would answer it from two angles. One question is, you know, what makes a person love another person. And this is really this is sticking on your issue of the work. Okay? We ask our students all the time, and I and I, you know, I've had this conversation, many people, we talked about it in the book, you know, what is it that causes love? Do I love someone who gives to me? And because they give to me, and they're good to me in a nice way to take care of me, therefore, I love them. Or do I love where I give? So again, if you pull it out of a romantic relationship, let's take a child with a parent. Okay, so who loves who more a child? Or does a child of the parent more generally is parent the child more generally, most most people agree that the parents love the children way more than the children of parents. Why is that? I thought one second, but but the parent is doing all the giving, at least for certainly for many years, parents do it's like a one way giving relationship.
Damona 20:58
I know, I have two of them.
Unknown Speaker 21:01
And so and why is it the parents love their children, and the more that gives them, the more they love them? And the answer is because the more you invest in yourself in the other, and you see yourself in the other, you see your effort in the other and you put yourself in the other, you expand yourself into into a way that creates love for the other. And, and in a relationship. You know, I once had a religion and we'd have tell us a story in the in the book about we were at 30,000 feet on a private plane, a few analysts and you know, you know, doing taking research around the country. And and one of the young analysts was complaining that his wife, you know, he just doesn't love her anymore, because she just doesn't do much for him anymore. They've been married a couple years. And I said to him, you're missing the whole point of what causes love. I said, there's an old rabbi who basically taught something which you don't have to be religious to listen to. But you got to be interested in what what love is, I said, you know, if you would start giving to your wife, instead of waiting for her to give to you, if you start giving to her, doing things for her, putting her at the center of your concern, putting her into your calendar as something that, you know, making sure you're calling her but when you said it's not just a wife, it's a it's a lover, a wife, a friend, anybody, but particularly in a loving relationship, you know, if you would start giving to her, you will find that your love for her expands dramatically. And by the way, that will usually trigger something in the other. And and that and he, by the way, came back to me Two months later and said, our relationship has changed. He said, I decided I have nothing to lose by trying. And and I have found that I've like fallen back in love with my wife again. And we're falling in love again. And it dovetails with one other piece of advice that we go into extensively in the book, which we think is maybe the most important chapter, which is that the chapter is called, it all depends on me. Most people think I'll start getting started in fixing a relationship when my spouse shows me that they're willing to do the work, or my kids, were saying spouse, but again, it matters in any relationship doesn't have to be a married relationship. When the other person, my lover starts doing the work, then I'll start doing the work. And what we found is quite the contrary. Most people if they examine themselves, realize and find out that they have one or two traits that need fixing, that always have a negative impact on the relationship. It'll have a negative impact all over their life. By the way, if you have an anger problem, selfishness problem, it comes out everywhere. But nowhere will it come out as badly as in your relationship, especially after a little bit of time when you let your guard down. And if I realize I've got an anger problem, and it's poisoning my relationship with my with my with my with my other, one of the most main things I can do is to start working on anger problem not forget about forget about the other person for a moment, just work on my own issue. And when and when that when that my partner comes in my partner, my wife, my husband, whoever it is, comes in and sees on my bedside table all these books about anger management, they see that I'm listening to a podcast and they see that I'm going to therapy, and I'm trying to fix the issue. It's amazing what that can do to jumpstart a relationship where things have gone haywire up until now and the other side again, unless the other person is very dysfunctional, they may begin to and probably will begin to examine what I bring to the table here. What am I doing that maybe is not so good for relationships, and you can start a virtuous cycle, to really kickstart things again,
Damona 24:21
I often talk about the mindset piece as you're looking for a partner, and how to how to get clarity on what you're looking for, but also get clarity on what you're bringing to the table. And that's all part of the magical mindsets do of preparing yourself for the right relationship for you. So what you just said, I want to make sure everyone really hears it. And, and, and I see this also for singles in the Peep There are people that want to, they want to complain, they want to be frustrated. They want to be down on love, but then when ask them, What have you actually done to change the situation? It's usually just complaining and commiserating. And swiping button, not having really the intention. And so that intention of wanting to change and wanting to do your best is really, really important. Now, I would love to, to turn the conversation of it around the, the whole institution of marriage, we're seeing that people are marrying at lower rates, they're waiting longer to get married. And I have always been pro marriage, I know I have a lot of a lot of LGBTQ listeners that didn't always have the ability to get married, now are worried that they might not have the ability in the future. But let's say that aside, I feel that my life is enhanced by by being married. And, and the funny thing is, I can't even really identify where that idea of needing to be married or wanting to be married, came from versus like, I'll just stay in this partnership. And as long as life is okay, we'll continue on. And I hear also from a lot of people who are divorced, and especially people who are divorced multiple times, that they're no longer interested in marriage again. So if you would, for me, maybe defend the Institute, institution of marriage, or, or celebrate the virtues of marriage, or tell me why that's actually not as important in a partnership as maybe it was, back when I was 25.
Unknown Speaker 26:54
Look, you know, they're the historical reasons that, you know, that, that in many societies, you know, sort of enhanced the need for marriage, you know, when when men were the only ones who could work and when women needed physical protection, and they couldn't make a living, and there was no equality and things like that. A lot of those a lot of those reasons don't mean anything to anybody anymore. What I think does retain the spark. And by the way, in the research and the most recent research that we've ever seen, the actual number of people who speak about marriage as something that is at the top of their priority list. Now, it may not be number one priority for everyone anymore. And it may be in a way that it might have been 3040 years ago, but but it seems to be in the top two or three priorities of what I want out of life. And marriage is frequently right at the top of that list. So the question is why now why not just kind of get together with somebody that I like, and and we'll move in together, and we'll have a good relationship, and we'll take care of each other. It seems to be that, that what marriage does beyond any kind of legal definition is, is it it creates a sense of commitment, and exclusivity, where we're where it's you and me together, and we're shutting everybody else out. And we're totally committed to each other. And by the way, there's a through thick and thin component that people think of in marriage, but not so much in let's get together as long as it's fun. You know, things, a lot of things happen, which you don't think about when you meet that person across the room, and they're really attractive and really healthy and really young, just like you are, you know, you think it's going to stay like that. Well, guess what a lot of things happen in life. There's financial setbacks, and there's health setbacks, and there's all kinds of things that happen. Well, what why don't I stick around with you, if I haven't really committed myself to you and a more meaningful way than just as long as you make me happy, satisfied, and are fun to be with, you know, beyond that, what, you know, if when a person goes that one step further than they say, I want to actually create a bond, which however, I think about it, when I think about as legally or religiously or spiritually, but I'm creating a bond that is through thick and thin. When I can come to trust the other person with my life, you know, we have acquaintances, we have friends, we have close friends, and then we've got this this realm of exclusivity, where we share where we are one, we literally become one person that's bigger than the two of us as separate beings. That gives a level of intimacy, happiness, security, well being that that we just have not seen repeated in other areas. And it's and it's something to do with the commitment level. And it's something to do with the intimacy and the privacy of that relationship, which is, you know, you can use the word sacred. You can use the word spiritual, you can use the word you know, you know, just beyond it's just increasing. It's a oneness, it's a different level. And that seems to be something that rings and people at a very deep level.
Unknown Speaker 30:08
And then
Damona 30:10
when we're talking about, sorry, just gonna pop up when we're talking about marriage in the current function of society, and now that people can, you can have a child, you don't have to be married, you can buy property. I mean, not even that long ago, a woman couldn't even take out a loan in her own name. Now, we don't we don't need you fellas for that we can get our own loans. And I'm I am still seeing though people that are that will move into a partnership and even buy property with someone, but then not necessarily have have the plan for marriage or may specifically want to push marriage away. They don't even like the idea of marriage from just from a, I guess a security standpoint, do you feel like there's still value in the institution of marriage? Or did that go away when you know, women started cashing our own checks?
Unknown Speaker 31:20
I mean, you see, so many fastening we just said, Is it even now that you know that, that thank God, women have all these rights, which are just normal and healthy, that the fact that you still see a desire for that relationship? And something called marriage shows you how much of a part of us it actually really is. And you know, I think that what happens a lot of times is that you see that couples will go really far they'll you know, they will buy that property together, they'll move in together, they'll do all these things. The question is what happens as far as making that final commitment, what holds them back, if they're basically functioning as a married couple, what now holds them back from actually doing this thing called marriage. And what happens and what we've seen a lot, and I've seen this, just across the board through different things I've read with people we've worked with is that commitments are really difficult. And you know, one of the one of the things if you look at the word, you know, when you look at the word decide, it's the same word as homicide, when you make a decision, you kill other options, or pesticide. And what's scary a lot of times in life is that when you make certain decisions, you go for it, you're now saying this is it, and nothing else. And we live in a world today where there are so many options. And you can be in so many different places. And you can be in so many different kinds of relationships. And through the world of social media, you're seeing so many other life choices. Making that final commitment is a scary thing for people. And I think that's where people kind of get stuck a little bit. Because as long as I don't say that word marriage, as long as we don't go to the courthouse, as long as we don't have that religious event, I'm still there's still an option of if this doesn't go a certain way I can run. But if you already see a couple going that far, where they're doing everything but marriage. So you know, the question to ask them is that? What would really change? Other than now they'd have a certificate on their wall? Or do they change if they actually did go to that courthouse, technically speaking, not much, but emotionally speaking a lot. And where I think that a lot actually is, is to go the distance and really shut yourself off from the rest of the world and say, I'm putting my entire life into this person is a difficult thing for people to do.
Damona 34:04
Mm hmm. Yeah. And it's also it's not even just difficult. It's also a, it can be scary because there are there are potential consequences. Like I talked to a lot of successful women, who they have a good credit score, they are making good money and they're like, if I marry this person, then suddenly now I am legally bonded, I am now responsible for his finances. And his credit score becomes my credit score. For those who don't know, those are those are facts, and you take on his debt, and that is really, that is really a tough pill for a lot of women to swallow.
Unknown Speaker 34:50
Right? And the truth is, it becomes a question of prioritization in some sense, because if I know that she won't go the distance with me and commit to me, because she's afraid I'm going to bring her credit score down. How much will I can I just shoot? Well, I really give her my full trust. Because in the back of my mind, I always think, you know, there's part of this, that's just really, she's just worried about me being a financial drain, she's worried about this. And there's the, again, whether you call it marriage, or whether you don't call it marriage, or whether it's legal or not legal, what creates the the level of intimacy and security, which on a long term basis, we've seen can lead to incredible happiness and well being. And by the way, and romance and, you know, good physical relationship and everything else, that a lot of that has to do with the fact that I say I am, I am yours, and you are mine. And we're building something bigger than ourselves, and we're in it through thick, and again, it's that thick and thin component of it, which if it's not there, and each side has always gotten the back of their head, I can get out of this, and if my credit score is going to suffer, or if or if they're not, you know, or if a little illness is going to come in, or a little financial setback is going to come in or if you know, I just don't, you know, they just they're not as interesting anymore, or whatever it is there, you just can't get the same level of conductivity. As long as that, you know, that sort of exit door is still always swinging in the background. That's so it's a question of what you want, it's a question of what you really want.
Damona 36:30
But this idea of the Paradox of Choice, and that if you have the exit strategy, you might want to take it, and that doesn't necessarily give you the most, the greatest opportunity for growth in the relationship is really profound. Before we go, I also want to get into your four pillars of giving. Because, you know, this is an element of the book of not a partnership, which of course, we'll link to in the show notes. But I think this is really, this is good life advice, as well as good partnership advice, can you leave us with with those four pillars to take the next next phase,
Unknown Speaker 37:10
maybe period, I'll take the first to keep it fresh and gratitude. And I'll take that, and I'll take the last year.
Unknown Speaker 37:15
So just just so you know that the four pillars are really, you know, if we had to define what the PDF manual is, and how to build a relationship, okay, it's very simple. And that is the world of giving. And what we have seen is that the ultimate formula of how your relationship is going to go from good to great is by people giving. So what we designed, is we took in the back of our book, and really the whole second half of it, is we have four pillars of giving and we broke up different ways of how to see giving. Okay, so the first two pillars are pillar number one, is the idea of people working hard to keep their marriage fresh. Okay, for example, when I first started dating my wife, okay, I made a real effort to look good to, you know, smell a certain way to her with my words, to buy gifts to, you know, really make sure that I you know, I carried myself a certain way privately when we were alone together. And after birth time, you know, you've been together for a period of time and feeling a bit tired, and that energy is no longer there. One of the ways I can give to my spouse or anyone gives me the relationships, you know what, I'm going to make that same effort that I once made. And what you'll find is that when you make that effort, so that brings a certain freshness to the relationship, no matter how long you've been in the relationship. During number two, is the world of gratitude. And unfortunately, what happens is, we are, we are doomed by something called expectations. And if you look in the world, especially in my background for the positive psychology, that if you're looking to make something really rich in life, as far as any relationship, fill it with gratitude, and you will see an exponential change. And what happens a lot of times in life is places where we have high expectations. So our gratitude is actually quite low. Okay, in my relationship, so what happens is, I expect all these things for my spouse. So once she goes way beyond it, okay, I'm gonna express my gratitude. And once she drops one little ounce below it, I'm a frustrated guy. But you go to Starbucks and you walk out of Starbucks and you just, you know, purchased a $15 frappuccino, and you leave your credit card, and some you know, and someone runs up to you and says, excuse me, No, ma'am, sir. You left your credit card. You're like, Oh my gosh, you know, greatest person in the world. You take a selfie, send a Christmas card. You tell everyone over the weekend, what happened like this person is is God's gift to the world, he saved your life. And there are no expectations, all of a sudden, something happens, my gratitude levels are awesome. And where your gratitude levels should be the highest of those people that are doing the most for you to give you the life that you want, is there any place in your life that someone is doing as much for you than in your relationship, if there's any place where gratitude should be absolutely flowing, is that is in your relationship, and people who go out of their way to proactively do that their relationships are drastically different. So that's the, that's a little bit of a summary of the first two pillars.
Damona 40:45
And before Thank you so much, Peter, before we move on to the last two pillars, I just want to add on about gratitude. Because I also do this with singles and I have people practice gratitude in their daily life now. Because if you are going into a relationship from a place of needing or not having rather than feeling the fullness of your life as is and the things that you have, that you are grateful for, if if you are going in from that place of not having you cannot attract as much abundance in my experience, so thank you for reminding us that we need to continue to practice gratitude. All right, take us home, Todd.
Unknown Speaker 41:28
The third pillar we call respect in all its forms, and one of the one of the deep mystical teachings is that as much as people feel that love comes first and drives the relationship, what what is what can be really more fundamental, and which ultimately drives love, is the way I show respect to my other. and respect comes in many forms. You know, there are people who will, let's say, Be extravagant in the way they spend on their on their loved one. But on the other hand, they don't speak to the person nicely, they're a little bit insulting, they're a little bit degrading, they're a little bit coarse. And so on the one hand, you're one second, I've given you everything you need, haven't I given you, you know, all that you want all you've asked for? Well, yeah, but you haven't treated me like someone who you actually care about respect. And there are people by the way, flip it around, there are people who sort of I recognize that, wow, this is a, this is a real soul I'm dealing with. And so I want to always speak respectfully and kindly and be nice. On the other hand, I forget about the person's physical needs. And so I stopped spending. So so so so a healthy, full board respect is, I care about the way speak to you, I care about the way I speak about you, I show you respect when you're speaking to me that I actually pay attention to listen to you, and I'm not on my phone. And I'm not looking, I'm not answering I'm not answering text at the same time, you're trying to tell me about your day. And I'm also willing to, to give of myself financially, physically time energy, so that that total, that total experience that you can receive or give, which is all about how you treat the other, that sort of thing both increases the way that you'll love the other again, for reasons we said before the love where you give, and it certainly will make the other feel tremendously respected by you. And that will drive the others love for you as well. So that's the that's the idea of respect. And we go through the litmus test you can take to see if you're actually scoring well on that, and, and a lot of tips on how to get back there.
Damona 43:43
I hope cardi B takes that test. That's all I'm saying. All right. And number four,
Unknown Speaker 43:49
number four, number four is, is is that we call it It all depends on me. And and it's again, the idea that if something is failing in my relationship, don't do what people always do and look at the other and say you're messing things up, start with what can I do to kickstart this relationship? What can I fix in myself? What can I improve on myself without respect to the other, but it will have a benefit and spillover and probably the most direct benefit to the other. By the way, again, if I correct my anger problem, or my selfishness problem, or that I talked too much or or that I'm too closed, or whatever the problem is, if the greatest recipient of the gift of my working through my issue is going to be the one that I love, it's going to be that person I'm in an intimate relationship with. And again, that we have seen we have seen in relationships that were on the rocks, and and both sides were pointing fingers and blaming each other. And we sat down usually if we had the opportunity to sit down with each side separately, sometimes we only knew one side. And we would say look, just stop focusing on what your partner isn't doing. Focus on what you're doing and how you Do it better, and see if things improve. And we have seen 90% of the time things not only improve, but they, they just rocket ahead. And they cause all kinds of improvements on the other side as well. And then you get this virtuous cycle of each trying to be better in the relationship with with the with, with all the benefits that accrue to the other side and then back to themselves. It's a beautiful, it's a beautiful cycle that you can kickstart about. Thank
Damona 45:25
you. This has been a beautiful conversation. I feel really inspired. As someone who is married has been married a long time, and does a lot of things that you're talking about, I still learned a few more things that I'm going to be implementing in my home and my relationship and taking care of my side is straight, because it all depends on me. Thank you so much for being here. Gentlemen, I hope everyone will check out your book, not a partnership. We'll put the link in the show notes. In the meantime, I wanted to wish you happy Hanukkah, and happy new year. And hopefully this will get people to be in the right place as we move into end of the year beginning to examine the year that we've had and where we want to be in the future. So thank you so much. Thank you
Unknown Speaker 46:14
so much, so much. Great to be here.
Damona 46:16
This has been Episode 339 of dates and maids. I would love to connect with you. I'm at damona Hoffman on all of the socials. I love your DMS, those of you who have DM me, you know, I usually respond with actually a voice memo. I love to hear your voice. You can voice memo me on Instagram and I will voice memo you back, give you some insight and then maybe even use your question on a future episode of the show. So don't be shy. I love to hear from you. I'm at damona Hoffman on Instagram, Twitter and Facebook. Speaking of loving to hear from you. I also love connecting with you and I have a group Do you know about the inner circle my patreon Friends with Benefits group, you can join for just five bucks and that supports this show. And it gives you access to my exclusive Facebook Lives where I talk about the behind the scenes insights from this show and also give you insights on whatever it is that you're dealing with. We do a live q&a. Every week. We have tons of other resources. We have webinars and video clips and library content from dates and mates. And I want you to join me and get in the club you can join that@patreon.com slash dates and mates and honey it's only five bucks. So set aside a little for yourself this year. And come and join the club is I will now step away to light the candles of Hanukkah. I hope I have lit the candles of love and marriage and long term partnership within you. So I hope you continue along your journey wherever you are. We'll be here for another two weeks in December. But I wanted to let you know we are moving to Tuesdays in January. So if you're not subscribed to the show, make sure you're subscribed so that you don't miss an episode. I'll remind you again next week. Speaking of next week, I have an awesome interview with the cutest couple. Honestly, they're so cute. They live in Atlanta and they found love in the middle of a pandemic on Bumble and they're going to share their story with us on dates and mates. I hope you find it as inspirational as I do. Until next week. I wish you happy dating
Transcribed by https://otter.ai
https://damonahoffman.com/wp-content/uploads/339.png
200
300
Leah Schell
/wp-content/uploads/damona-hoffman-logo-209-1-1.png
Leah Schell
2020-12-07 21:06:43
2022-12-08 19:48:34
Love Language Gift Guide & Modern Marriage