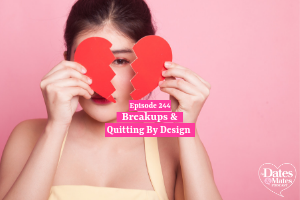 Breakups & Quitting By Design
BABY DON'T HURT ME, NO MORE
To close out this #DivorceMonth2019 we talked all about breakups and quitting relationships. Breakups are a pretty heavy topic so Damona called in reinforcements. Enter Lynn Marie Morski, self professed "professional quitter" and Jonathon Aslay, Midlife dating and relationships coach. We talked about A LOT today. Here's the rundown:
D'S DATING DISH (2:24)
Your New Matchmaker revealed: Your DNA
New dating app Pheramor matches you with your DNA. Is this the answer to finding love now? Damona and Jonathon discuss.
The TRUTH behind your romantic type
Meghan Markle seems to be pretty different from Prince Harry's other girlfriends, right? Wrong. According to foot analysts, all of Prince Harry's girlfriends have the exact same (very specific) foot feature. Damona and Jonathon tell us what this means for you with the help of science.
Channing on life as a single dad
This Divorce Month, Channing Tatum is being the best dad he can be and trying to find a good balance with ex-wife, Jenna Dewan nee Tatum. Is he doing a good job? Damona has thoughts.
Quitting By Design (14:00)
There are lots of steps to a breakup – even when you haven't been in a relationship for very long. How do you sort through all the BS and make the best decision for you?
Lynn Marie Morski has quit several times in her life. She is a physician, attorney, speaker, author, and the Founder of Quitting By Design, Lynn Marie is on a mission to help people carve out a successful life through strategic quitting to inform your life's true purpose and path which led her to write her new book, 'Quitting by Design.' We talked about A LOT:
Deciding to quit

The 5 step quitting process

Fears of quitting & quitting fears

Logistics of quitting

NO GHOSTING!

Sunk Cost Fallacy & "I've invested so much time!"

And so much more!
TECHNICALLY DATING (40:20)
Submit your questions Instagram, Twitter, or Facebook and hear our answers live on the show! Here's what our listeners asked about this week:
Should your boyfriend have to deal with your family drama?

What to say when you don't want a second date
STAY SEXY IN 2019
Get back in shape after the holiday by beginning a program with Beach Body on demand! Just go to DatesandMates.com and click the Beach Body Banner to get started.
https://damonahoffman.com/wp-content/uploads/Copy-of-Copy-of-244-Twitter.png
200
300
Leah Schell
/wp-content/uploads/damona-hoffman-logo-209-1-1.png
Leah Schell
2019-02-04 23:44:34
2022-12-08 19:52:07
Breakups & Quitting By Design