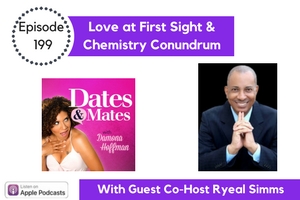 Love at First Sight & Chemistry Conundrum
Our guest co-host this week was Ryeal Simms. A cognitive neuropsychologist, behaviorist, motivational speaker, and the worldwide authority on the neuroscience of relationships, Ryeal and his work have appeared on everything from Stevie Wonder's Hollywood radio station, to the U.K.'s Real Love Show, to Essence Magazine, to NPR. Currently writing his book series on the neuroscience of relationships, Ryeal gave us some cold, hard science in his discussion of the chemistry of love.

D'S DATING DISH (16:53)
Chinese dating apps shut down in sexbot scam
Over 21 dating apps were shut down across 13 provinces in China after it was revealed that messages from women were being generated by computer programs. Technical personnel working for the apps would create "sexy girl" programs and have them lure new users into spending money on gifts and raunchy images. However, even the authorities were blown away by how real the messages felt, which explains why they were able to scam users out of $154 million! You can read more via BBC here.
Would you take advice from your Amazon Echo?
From January 14th until Valentine's Day, Amazon Echo's virtual assistant, Alexa, will offer dating advice to those who ask in a partnership with matchmaking company Three Day Rule. However, some users are worried, as Alexa won't have any practical grasp on tips it gives. For example, if it tells you to talk to a minimum of three women at a bar, how can it advise you on how to read their body language, consent, etc? You can read more to see if you'd take dating advice from a virtual assistant via The Verge here.
The first celebrity split of 2018
Last week we reported on the first celebrity couple to get together, but alas, the five-year journey that GIRLS star Lena Dunham and singer/songwriter Jack Antonoff went on is over. The split is amicable, but we'll be sad to see the couple leave the news cycle. However, the writing may have been on the wall . . . back in November of 2017, Dunham thought Antonoff was going to propose, only to be sorely mistaken. You can read more via ET here.
TECHNICALLY DATING (31:48)
We pull the best questions posted on The Textpert App and BlackPeopleMeet.com, including:
Why you haven't met your boyfriend's parents
How early in a relationship it's appropriate to bicker
If nude pictures of an ex constitutes cheating
And many more . . .
DATING DOT DOT DOT (49:31)
We got Ryeal's lightning-fast love advice in another rapid-fire rendition of Dating Dot Dot Dot, this time with new questions!
The worst pickup line ever is ________
The best place to go on a first date is ________
The sexiest thing about a woman is __________
The sexiest thing about a man is _________
The most important thing for a relationship to last is __________
Don't forget to register for Damona's women's group program, DATE BY NUMBERS. All you have to do is head to DATE BY NUMBERS . COM.
https://damonahoffman.com/wp-content/uploads/1.jpg
200
300
Damona
/wp-content/uploads/damona-hoffman-logo-209-1-1.png
Damona
2018-01-13 00:01:43
2021-05-14 22:24:00
Love at First Sight & Chemistry Conundrum