Hot Granny Summer & Tiffany Bro
HOT GIRL SUMMER OR HOT GRANNY SUMMER?
You've heard many sources say that this summer is going to be Hot Girl Summer or Hot Vax Summer as we are all bursting out of our bubbles and ready for the post-pandemic-vaccine-induced-season-of-love.
But before we get carried away, today Damona is talking to Anna Iovine, writer at Mashable who asks the question, "Do people even want a hot vax summer?"
She's here to report on the surprising findings from a survey she and the research team at Mashable have conducted.
But first, we have the dish:
DATING DISH (1:39)
(1:39) Scared of running into someone you know on dating apps? There's an app for that.
Tinder now offers the helpful "Block Contacts" feature to help users avoid personal contacts, be it exes, family members or colleagues. So no more worrying about accidentally matching with your ex or boss. 
(4:08) Engagement rings for men: who are they for and would you wear one?
Women are no longer the only ones showing off their bling after getting engaged. Tiffany's new engagement rings for men are becoming popular for both straight and gay couples. 
THE LATEST STATS ON HOT VAX SUMMER (8:14)
Today's guest, Anna Iovine, is a culture reporter at Mashable, where she primarily covers sex and relationships. She's particularly interested in the way tech (and now, the pandemic) has changed sex and dating. 
Fun fact: She coined the dating term "orbiting" which was covered on the show and that word was shortlisted for Oxford's 2018 Word of the Year.
(9:37) Apparently dating apps weren't as popular pre-pandemic: Data suggests that a lot more people might have been dating without dating apps that we'd previously understood.
(11:21) Dating Hiatus: around 37% of people completely swore off dating during the pandemic.  
(13:22) Tinder for the win: The bulk of dating app users during the pandemic chose Tinder and even Facebook dating as their apps of choice. 
(14:28) Not in the mood for a #hotvaxsummer? Attitudes towards relationships have changed in the last year. Have that hot slutty summer or a hot granny summer – whatever meets your needs!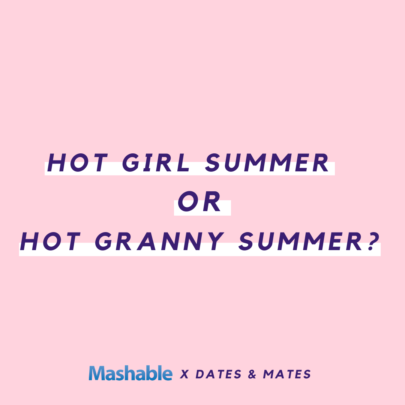 (18:31) Things are looking up: 48% of survey respondents are feeling both nervous and excited for their dating futures hold in a post-covid world. They are entering into the dating world more mindfully and intentionally. 
(20:56) FODA still exists: As more and more people get vaccinated, people are starting to date again. But this is not without fear of dating again since we have been out of practice for so long. Don't forget to flex your flirting muscles.  
Read Anna's full article here!
DEAR DAMONA (25:44)
Submit your questions on  Instagram, Twitter, or Facebook and hear our answers live on the show! Here's what our listeners asked about this week:
Hi Damona – how are you? I recently went on a bumble date, but do to the pandemic we did it as his place. Mistake number 1. We got drunk, and decided to have sex, and told him to put on a condom. The condoms were located next to his bed!! Since I was drunk, I said "you keep them next to your bed!?" He said "where else should they be." I then made a comment that I I thought it was kind of slutty. I know some people think being safe is sexy, but when you're going out on a date and some guy pulls condoms out from next to his bed you know all he wants to sex. In my opinion I think it's a red flag. A day after that he unmatched with me on Bumble. Am I being too judgemental? Should those comments not be said? I don't know if I should shut up or call them out? *due to the pandemic

(Sarah) My name is Sarah and I'm a single twenty-five-year-old gal going on more in-person dates as things are starting to open up again. However. I've been really struggling with my social anxiety and a big part of that is having a hard time making eye contact, and I know you always talk about how important it is, especially on a first date, and I was wondering if you had any tips or tricks for me that could help me out. Thank you.
https://damonahoffman.com/wp-content/uploads/Anna-Iovine.png
900
1200
Leah Schell
/wp-content/uploads/damona-hoffman-logo-209-1-1.png
Leah Schell
2021-06-16 00:27:36
2022-04-20 19:06:22
Hot Granny Summer & Tiffany Bro