Zodiac Signs & Fake Breakups
WHAT DOES YOUR ZODIAC SAY ABOUT YOUR DESTINY?
Carol Allen, from Love Is In the Stars, returns to Dates & Mates to explain exactly how the stars impact your compatibility and destiny in love beyond just your zodiac sign. Carol is an astrologer who steers the love lives of many women based on what is written in the stars.
Damona covers headlines in the Dating Dish: Why is Lori Harvey getting so much hate over her new relationship with Michael B. Jordan and how to get a celebrity to breakup with your partner. 
Plus Damona answers listener questions such as how to deal with racism from your dates and can you keep up the chemistry if you can't meet a match online anytime soon.
Here's the rundown: 
D'S DATING DISH (2:39)
Stop hating on Lori Harvey, y'all
You may have heard that Lori Harvey (IG model, socialite, and Steve Harvey's step daughter) is officially official with Michael B. Jordan (or Michael Bae Jordan as he is know here at Dates & Mates.)
But why does Lori get so much hate every time she announces a new relationship? Damona has thoughts.
View this post on Instagram
Breakup convos too awkward? Your favorite celeb can do it for you.
It's divorce month and if you don't want to deliver the bad news yourself, you can hire a celebrity on Cameo to do it for you. No, Damona does not think you should.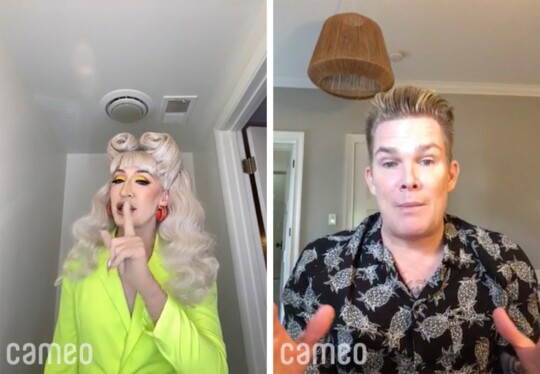 picture courtesy of The New York Times
ZODIAC COMPATIBILITY & LOVE DESTINY (11:00)
You may have heard that love is written in the stars, but for our guest it actually is. Carol Allen is one of our very favorite astrologers here at Dates & Mates and she's back today to give us an understanding about what zodiac compatibility truly means:
We talked about A LOT: 
What astrological compatibility predicts for your relationship (12:00)

Back to the basics: what your zodiac sign pre-determines for you (15:30)

Do soulmates exist? (21:40)

The five factors of astrological compatibility (24:00)
Don't miss out on Carol's personal calendar deal: trust us when we say it is worth every penny!
damonahoffman.com/mycalendar
TECHNICALLY DATING (34:30)
Submit your questions Instagram, Twitter, or Facebook and hear our answers live on the show! Here's what our listeners asked about this week:
From Nate –

I'm an Asian gay guy living in Canada. And I also have a cat. Recently I met up with a Puerto Rican black gay airline pilot. I thought he was going okay, up until the last moment. Right before he left. He invited me to see him again. then out of nowhere he blurted out by the way way as an Asian person, are you going to eat your cat? I kind of laughed at this uncomfortably and decided that I would only bring it up if he contacted me again. A week later, he texted me saying, hey, puppy, how are you doing? I reply pretty directly that the joke had made me uncomfortable. All I expected was a sorry, from him, so we can move on. But instead, after a brief apology, long messages came flooding in telling me that, oh, he's a person of color himself, so he can't be racist. It was just a stupid joke. There's a cultural discrepancy and what's appropriate for humor? Was I oversensitive? I never even accused him of being a racist, I only voiced my discomfort. This was really surprising for me, because he knows how it feels to live with racism. The joke was just unnecessary. Besides, I don't know him like that. He's not a comedian?

From Celia –

I've taken on a nomadic life. Since we've been able to work from home since COVID. I've been doing online dating and virtual first dates with men in the city of San Francisco, where my work is located. As I know, I will inevitably end up back there. The first virtual dates have all gone really well. The men show follow up interest, however, I'm finding it hard to keep up their interest or momentum, when the opportunity to meet in person is so in flux. Any suggestions?
DATES & MATES DEALS

OkCupid expects 25 million new matches to be made this January – a big increase from last year⁠. Are you missing out? Download OkCupid today!

Get Better Help: real therapy, convenient and affordable. Get started today and enjoy 10% off your first month. BetterHelp.com/datesandmates
The Dating Secret
Last day to register at thedatingsecret.com
https://damonahoffman.com/wp-content/uploads/Copy-of-Zodiac-Signs-Fake-Breakups-.png
900
1200
Leah Schell
/wp-content/uploads/damona-hoffman-logo-209-1-1.png
Leah Schell
2021-01-19 23:55:12
2022-04-20 19:15:05
Zodiac Signs & Fake Breakups