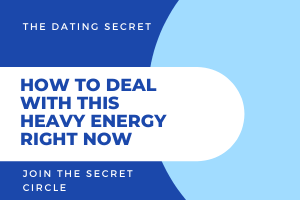 HOW TO SURVIVE THIS HEAVY ENERGY RIGHT NOW
The energy is feeling really heavy right now.
As an empath, I've been sensing this intensity building. It's been impacting my clients for weeks and it's changing my approach to dating in 2021.
This is the exact reason why, instead of doing a live 30 Day Dating Playbook like I usually do in January, I launched The Dating Secret Circle.
I believe that visualization and intention coupled with decisive action is the best way to make your dreams a reality.
This is why 90% of the people in my VIP coaching program end up in a relationship within 3 months. It's not magic. The focus and momentum all come from my clients. It has to come from YOU.
Sure, I been coaching people for 15 years, collaborated with nearly every dating app in history, and developed a repeatable system to beat the dating odds but that is just one part of the process.
You have to believe it's possible.
You have to be able to see your future partner coming into your life.
And you have to align your actions with that intention to make it happen.
Here's is my biggest question for you:
How are you taking care of your heart at this chaotic time?
And a follow up…
How is the energy around us impacting your ability to connect to someone and find love?
Most people do not have a plan in place to keep themselves emotionally and spiritually balanced at a time like this. And you'd better believe what's happening in the larger world will impact your dating life.
Most people do not have a supportive network of others who can relate to them and provide them the comfort and accountability of a like-minded group in their exact situation.
That's because our schools haven't taught us some of the most important skills because they can't be measured by a test. But when you learn and practice them, your entire world shifts.
THE DATING SECRET CIRCLE is where I will share the secret sauce of mindset, Law of Attraction, empathetic dating, and energetic transformation to take you from just slogging through the apps to actually making a connection.
Do you feel like you're doing all the steps? You're swiping like mad, but still haven't been able to make a real match?
Do you get exhausted, overwhelmed and discouraged by wasting time on the wrong people?
Are you holding onto memories and replaying conversations in your mind with partners of the past?
Is the uncertainty in the world right now dominating your thoughts and preventing you from even thinking about dating?
Let me help.
Let me take the worry off your plate and give you exercises to move you through this challenging time.
Let the Dating Secret Circle support you and help keep you focused on what you truly want – meaningful connections and a real relationship.
Let me guide you to think in a totally new way about dating.
You deserve a clean slate.
You deserve to be a part of The Dating Secret Circle so CLICK HERE to join NOW.
https://damonahoffman.com/wp-content/uploads/ENERGY.png
200
300
Leah Schell
/wp-content/uploads/damona-hoffman-logo-209-1-1.png
Leah Schell
2021-01-14 06:04:22
2021-05-14 22:23:55
Get The Dating Secret