Too Hot to Handle & Budget Valentines
It's February, or as we call it here, LOVE MONTH, so it's time to turn up the heat! We're going to be talking about temptation, attraction, intimacy, relationship pacing and expectations. 
How can you practice slow love if you've never done it before? Does having sex on the first date reduce your chances of long-term love? Will waiting for intimacy make it hotter when you finally do the deed?
These are the questions that the cast of Netflix's Too Hot To Handle, Season 4, contend with. If you haven't seen the show yet, here's the deal with Too Hot To Handle. They put 10 gorgeous singles on an island where they wear bikinis, live together, and fight for a chance to win a $200,000 grand prize by… get this… staying celibate.
The show has become so popular that everyone knows the game. So this season, they had to trick the contestants by making them think they were on a raucous hot new reality show called Wild Love. Surprise! Instead of Wild Love, you get to sleep in a bed with someone you're wild about and you can't do anything about it.
Too Hot To Handle is full of twists and turns that can actually teach you a thing or two about your dating journey. And that's why we've got two stars of the show – James Pendergrass and Brittan Byrd – joining us today to share their love story and the surprising realizations that they had since the show ended.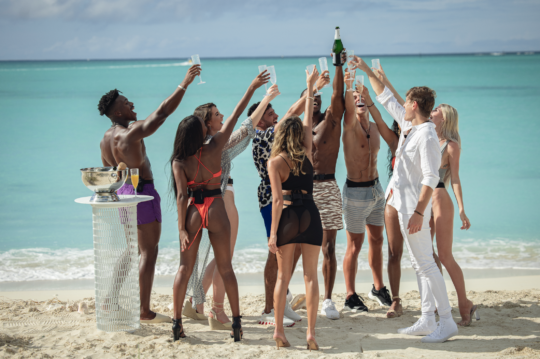 DATING DISH (2:42)
Planning your V-Day last minute? Here's what Americans are buying this Valentine's Day:
Valentine's Day has come around once again, lovers! But this round is not without strife – even with the impact of inflation on normal dating (or "infladating"), the National Retail Federation says that Americans will spend around $26 BILLION on Valentine's Day this year. What are they buying, exactly? 57% are going for candy, 40% for greeting cards, 37% are picking flowers, 32% are choosing an evening out. This is followed by 21% for jewelry, 20% for gift cards, and 19% for clothing.
All these stats are fine and good, but the bottom line is to give your sweetheart a gift that is thoughtful and mindful. (AKA Don't just throw money at the problem.) Think about the conversations you've had with this person and let that inspire your gift-giving. And if you've run out of ideas for outings, let us give you some inflation-friendly date ideas for V-Day (because eating out doesn't have to be the default):
Get crafty.

Try doing an at-home paint and sip night or get your hands dirty while playing with clay.

Engage with your inner child.

Go to an arcade or visit a mini-golf course. **Hot tip: evoking feelings of nostalgia will automatically bond two people on a date, whether you have a long history or you're newly matched.

Cook a meal at home!

Cooking actually helps couples communicate AND will give you that sense of accomplishment when you've made something you can share together. Plus, the cost is a lot lower than going to a restaurant. 

If you are going to a restaurant, be smart about it.

Many times you can use points for your meals. Or if you can't use points to reimburse yourself, you can acquire points and use it to buy something else (like a free dessert). **Keep in mind that restaurants jack up the prices on Valentine's Day because that is big business for them.

Celebrate your Valentine's Day on a different day!

It doesn't have to be February 14th for you to celebrate love day.

And that way, you may be avoiding some of the crowds that make it hard to enjoy your holiday more intimately.
If you're on the online dating struggle bus, not to worry! We have a FREE resource called The Profile Starter Kit, which you can get your hot little hands on just by clicking here!
JAMES PENDERGRASS/BRITTAN BYRD (11:20)
James Pendergrass and Brittan Byrd were contestants in Season 4 of the Netflix reality show, Too Hot To Handle. 
Off-screen, James is a physical therapist, model and basketball enthusiast. Brittan is a model as well (a cover-model to be exact). They're beautiful but they're also bright – and they are now officially a couple!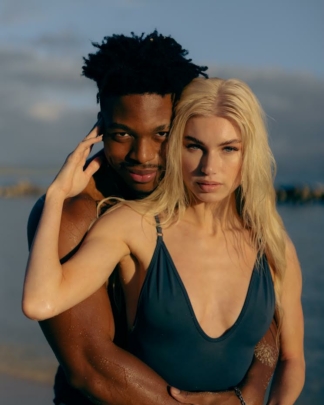 (14:22) PSYCH! You're on Too Hot To Handle.
With a show like Too Hot To Handle gaining so much traction in so little time, many contestants have caught on early to the twist of the show (AKA you're not allowed to be physical with other contestants, or money is taken away from the prize fund). So in James and Brittan's case, they thought they had been cast in a show called "Wild Love." James and Brittan share what went through their heads when they realized they were in the "sex jail" of reality shows – and how the show's rules actually further led them to each other.
(Would you ever go on a reality dating show? What about if the show ended up being Too Hot To Handle? Let us know! 👀)
(20:37) The real world vs Reality TV
Damona asks the couple if they feel their relationship would have unfolded the same way if they had met IRL instead of on a TV show. Weirdly enough, James recalls how he and Brittan both lived in Hawaii (about 8 minutes from each other) and never crossed paths. "I think the way we access our relationship through the show compared to if we would have done it before the show, it would have been an entirely different route that I don't think would have been as successful as it is now." Brittan also comments how meeting on Too Hot To Handle helped them build a strong foundation that they may not have been able to if meeting in the real world.
Damona also asks for James and Brittan's honest opinion on whether they recommend the Too Hot To Handle experiment to others…
(24:05) Don't let the haters get you down.
We all know that to an extent, what we see on reality television is always "reality." So is the couple actually in a relationship, or are the internet's claims about faking their love story true? Brittan responds, "Honestly, we know our relationship, we know each other. And many of the experiences we share and the time we spend together are very private, it's very intimate. And I don't feel the need to go and share everything on social media like some other couples do."
Be sure to follow James and Brittan on Instagram – @JamesPendergrass_ and @Brittan_Byrd.
DEAR DAMONA (31:56)
Submit your questions on Instagram, Twitter, or Facebook and hear our answers live on the show! Here's what our listeners asked about this week:
IG Message from Marie – Hi Damona! I just turned 30 and feel like at this point, I'm not sure if I want kids due to a few reasons (financial & environmental resources depleting). I'm not sure how much weight to put into this decision so early on when I have a "prove to me that I want kids with you because we will be good at raising them together" outlook. When I'm swiping if I see "don't want children or unsure" I think oh that's a positive and if they have "wants kids" selected, I cautiously proceed. I recently went on a first date with this great guy knowing his biggest goal is to have a family and he mentioned it again in person. I tried thanking and releasing after the date, but we found ourselves talking again. So now I feel like I'm in limbo. Would a mindset shift help when swiping?
https://damonahoffman.com/wp-content/uploads/DM-James-Brittan-Wordpress-Image.png
900
1200
Lindsey Kay Floyd
/wp-content/uploads/damona-hoffman-logo-209-1-1.png
Lindsey Kay Floyd
2023-02-07 18:11:35
2023-02-07 20:32:00
Too Hot to Handle & Budget Valentines