Getting Unstuck & Profession Confession
New love is exciting and so it's not surprising to find yourself a little love drunk at times. But similar to a situation where you've had a martini-too-many, we don't tend to think straight in these moments. 
So, HOW do you prepare yourself for those moments of intense attraction? You make a plan AHEAD of time. Without a plan, you'll likely find yourself stuck in one of the five dating loops. Could be the mindset loop or the sourcing loop….
Whatever it may be holding you back, it's time to overcome procrastination, acknowledge anxiety as your superpower, and learn to let go of the outcome.
That's why we've got author and licensed psychotherapist, Britt Frank, joining us today. She will be talking about her new book, The Science of Stuck: Breaking Through Inertia to Find Your Path Forward.
DATING DISH (1:50)
Supporting women's rights is a top priority for female daters:
We're coming in hot with some new data from the desk of the OkCupid blog! In light of the 50th anniversary of Roe V. Wade last week, OkCupid decided to take a look at how reproductive rights have changed the dating landscape thus far and what's to come. According to the stats:
✅ About 87% of women on OKCupid are pro-choice
✅ About half of women on OKCupid say a difference in opinion on abortion would make them rethink dating someone
✅ 69% of women feel they should have legal decision making power in abortion matters
✅ 4 in 10 women would move out of their state if abortion became illegal in their state
Damona illustrates how this data reveals that we are currently in a sex recession, and the (albeit obvious) reasons why we should ALL be making women's rights a top priority.
BRITT FRANK (8:18)
Britt Frank is a clinician, educator and trauma specialist. She speaks and writes widely about the mental health myths that keep us stuck and stressed. 
Her new book The Science of Stuck: Breaking Through Inertia to Find Your Path Forward is available NOW.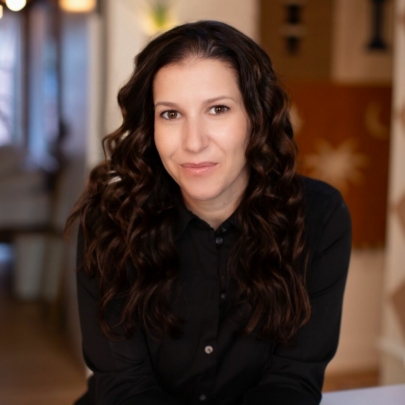 (9:00) The book on adulting you never had.
We all bring our life experiences with us through adulthood as a sort of guide. But what if those life experiences don't really paint a full or realistic picture? Britt goes into her inspiration behind writing "The Science of Stuck," sharing how she basically wanted to write a book that acted as the manual on adulthood she never had – from drug addiction to relationship messiness.
Bottom line: you are not broken! There is always a reason for why we do what we do, and "The Science of Stuck" is Britt's step towards helping people figure out their "why."
(14:00) You need a plan to find your man!
We all know the definition of insanity, right? It's doing the same things the same way and expecting different results. So if we want to do something differently, we have to say yes to different things. For instance, Britt says that we should be saying yes to creating a dating plan. She continues, "I jumped into the dating pool knowing I wanted to feel these things, but having absolutely no concept [of how to get there]. And a lot of the shenanigans of the dating world can be largely reduced by coming up with a plan."
Britt also explains the chemistry around when our brain "goes into Spring Break mode" (aka feeling love drunk).
(19:37) Your anxiety can be your superpower.
Along with all the usual trials and tribulations of dating, dating anxiety feels like it's at an all time high. Well Britt is here to spill some major truth tea – that having anxiety isn't a bad thing. "Anxiety feels awful, but it is not the problem. It's a signal pointing towards the problem. Figure out what your anxiety is trying to tell you… because anxiety is either preventing you from something, or it's helping you feel bonded to other people."
Damona also shares how her relationship with her anxiety transformed once she began her relationship with her husband, Seth…
(24:35) A healthy relationship won't feel like the movies…
Britt and Damona shed light on the misconception that drama or tension in a relationship means that it's alive. Because much to the dismay of some rom-coms, relationships are usually more of a slow burn. Britt affirms that "the pace of authentic love is always slow and steady, because how do you build trust? Through consistency over time."
 Damona points out that instagram contributes a lot to these "shoulds" about what a relationship should look like – that we should be feeling incessant butterflies and consistently infatuated. So how can we reprogram our brains to let these things go? Britt shares her take.
(28:45) We want to get from stuck, to GO.
Ah yes, the feeling of being stuck in singlehood. Many of us have experienced this phase, but had no idea about how to get unstuck or move forward. Britt breaks down how procrastination plays a role in us feeling stuck, and clarifies the two most common types of procrastination. (Hint: Britt states that "the procrastination spell is broken the second you say yes to anything of any size in any direction.")
Britt has one of the best damn psychologist Instagrams on the planet – you'd better be following her @BrittFrank and grab a copy of her new book The Science of Stuck: Breaking Through Inertia to Find Your Path Forward.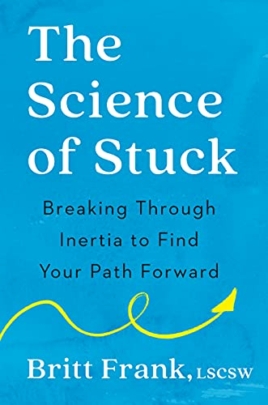 DEAR DAMONA (32:38)
Submit your questions on Instagram, Twitter, or Facebook and hear our answers live on the show! Here's what our listeners asked about this week:
Email from Bren – I am 60 years old and new to online dating after divorce. The biggest question for me is as a medical professional, I am hesitant to put that I am a doctor on profiles due to fear of predatory practices on dating sites. It's a tough issue, because, of course, I'm proud of what I do, and being a professional woman, but very very hesitant to put it out there that I'm a doctor. I think my main concern is those targeting women who are professionals (presumed to have money) for financial schemes. I feel like if I do not say that I am a doctor, that might weed out those looking to take advantage of a woman based on their perception that she has money. Am I being paranoid? What's your advice on being completely transparent about your profession in a dating profile?
https://damonahoffman.com/wp-content/uploads/DM-Britt-Frank-Image.png
900
1200
Lindsey Kay Floyd
/wp-content/uploads/damona-hoffman-logo-209-1-1.png
Lindsey Kay Floyd
2023-01-31 18:56:51
2023-01-31 18:56:51
Getting Unstuck & Profession Confession