THE SECRET SCIENTIFIC INGREDIENT TO GOOD RELATIONSHIPS
One word: Safety. Sounds like a no-brainer, right?
Wrong…ish. Communicating safety is SO much harder than you think.
That's why we are SO excited to bring two LEGENDS who can teach us better communication to Dates & Mates this week, Dr. Harville Hendrix and Dr. Helen LaKelly Hunt.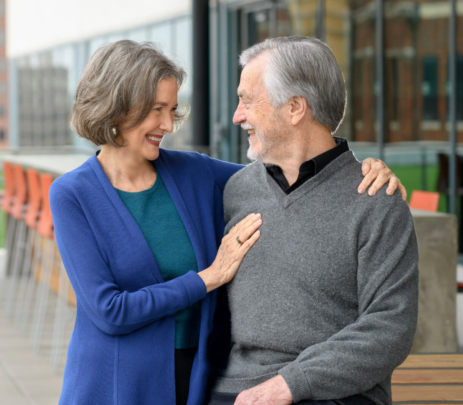 These two are internationally renowned couples therapists and New York Times bestselling authors of the book Getting The Love You Want.
It's been endorsed by Oprah, Damona has read it COUNTLESS times, and it remains the true relationship bible that so many dating coaches live by.
We're going to take a look inside the science of communication in relationships – and get ready because we learn A LOT.
But first the news:
DATING DISH (1:43)
(1:44) Hollywood proves again that slow love is the only way to go. 
Christina Haack's ex, Ant Anstead, is reportedly dating Academy Award-winning actress Renee Zellweger. What's important to note here is that Ant has done a lot of soul searching and self-development to find his highest love.
(6:13) Need some advice on your dating profile? Reddit might be able to help with that. 
When you're single and "wildly unsuccessful" at online dating, you might attempt the same risky maneuver that others have attempted: posting your profile on Reddit so that hundreds of strangers can critique it.
GET THE LOVE YOU WANT (10:31)
Get ready for a deep and thought-provoking conversation with Dr. Harville Hendrix and Dr. Helen LaKelly Hunt, two internationally renowned couples therapists and New York Times bestselling authors. They even have a 40th-anniversary edition out, and it remains the true relationship bible that so many dating coaches live by. 
(11:12) Physics of the between: You are thinking of your relationships all wrong. The energy between you and another person matters. 
(12:31)Talking is the most dangerous thing people do: Listening is the most infrequent thing people do. Communicating safety is the most important thing you can do.
View this post on Instagram
(15:51) One word changes everything: According to Harville and Helen, there is one word that can change the game in the way you communicate.
(17:00) Honoring Boundaries: The art of honoring boundaries actually starts with "setting an appointment."
(20:54) Hail Storm vs. Turtle: Check in with your partner at the end of the day to make sure each other is taken care of. 
Get more of Harville & Helen:
DEAR DAMONA (29:05)
Submit your questions on  Instagram, Twitter, or Facebook and hear our answers live on the show! Here's what our listeners asked about this week:
(A email from a guy) Hi Damona, I'm 53 and separated from my wife in August. I have been dating someone for 4 months since February. We have a great time. A lot of making out, laughing, good convo. I like her and I'm very attracted to her. However… she won't have sex with me because she 'doesn't want to be my first after separation.' And I'm 'not divorced yet.' She says 'men in your position tend to want to sleep around after divorce.' But that's never been me. I've always been a one-woman-at-a-time person. It's pretty frustrating to be characterized as 'divorce guy' instead of just… me. I could pigeonhole her as 'single woman with two kids who has never been married' …but why? It was also a buzzkill to hear that she's going to stay on dating apps. Do most recently divorced men get this treatment? Or is this more of an outlier? and..

Are women these days constantly fishing on the side for 'better' options because of dating apps? And are singles folks now becoming commitment-phobes because of it? Sincerely, -Confounded

(Dahlia) Hi, Damona. I listen to your podcasts weekly. And I love every bit of it. The thing is, the reason why I say I suck, is because I've never had to work so hard to get a date a coffee date. You know, I usually go on and I meet someone and I connect with them. And then you know, we'll start date and then kind of, you know, just kind of take it from there. But no, it seems like I can't even get a coffee date. So I'm like, kind of thinking, I don't know what I've changed. I know I've you know, I've gotten older and you know, men my age are looking for 25 year olds that what I realize, and you know, I'm looking for, you know, more mature man, I usually date like men in their 50s. And my top off is like 60. So I don't know what's going on, I guess 60 year olds are looking for a 35 year old so and I'm not a 35 year old so I just need some help. You know, please. 
https://damonahoffman.com/wp-content/uploads/HH.png
900
1200
Leah Schell
/wp-content/uploads/damona-hoffman-logo-209-1-1.png
Leah Schell
2021-07-14 01:36:34
2021-07-14 01:51:32
The Love You Want & Fighting Fear