Team Dating App: With Excuse My Grandma
We are wrapping our Summer Series up with a big bang this week and bringing you a special crossover episode with the Excuse My Grandma podcast where the hosts, Kim and Grandma Gail, talk about the generational differences of dating, sex and relationships.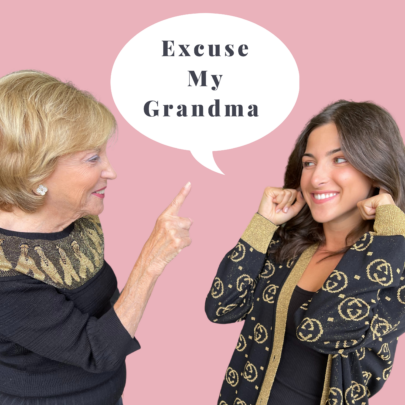 Damona sat down with them on their pod to take on the task of convincing Grandma Gail to come on over to Team Dating Apps. Damona, Kim and GG also discuss how to PROPERLY screen your dating app matches, why you SHOULDN'T text too much before a first date, and how a simple phone call could SAVE YOU HOURS in your dating life.
Whether you're on Team Dating Apps or Team Traditional Dating Methods, this crossover summer series episode with the Excuse My Grandma Podcast is for YOU!
EXCUSE MY GRANDMA (1:50)
Kim Murstein is a content creator and host of the Excuse My Grandma podcast with her grandmother Gail. Together they cover dating, relationships, and sex advice from two very different generational perspectives.
(11:05) Getting Grandma Gail on Team Dating App…
There are a lot of common concerns around using dating apps – like, how do I know my match is being honest about who they are? Is online dating really safe? What if I end up swiping so much that it affects my mental health? 
Damona addresses all of Grandma Gail's dating app concerns and goes over the 5 Dating Loops that may be keeping you from finding your match.
(17:20) Texting etiquette & the 3-Date Rule.
Damona goes over some common traps in texting, most prominently something called the "Online Disinhibition Effect." This is the process in which texting too often with someone can create a false sense of intimacy, which can cause you to overshare with someone. So if you think you may be sharing too much too quickly, ask yourself – would I say this to this person if we were face to face at a bar or on a coffee date?
Grandma Gail also shares her 2-Date Rule, while Damona goes over her 3-Date Rule.
(37:30) Dating in your 60s vs your 30s…
One of the biggest differences between dating culture for people in their 60s vs 20s and 30s? Women over 60 are the biggest targets for romance scams, which is why Damona has her clients be extra diligent about screening. One tip Damona gives is to read someone's messages as if they were written to someone else – how personalized or specific to you are the messages? 
Damona also goes into the key phrases someone might use if they're trying to scam you.
(42:55) OkCupid's Dating Trend Predictions!
Throwback Tuesday! Since this episode aired last Fall, Damona goes over OkCupid's Fall 2022 dating trend predictions. Some of the main trends include emphasis on IRL dates and being forward about mental health with matches. 
Damona also defines "cuffing season" and "peak dating season" for those who aren't aware…
Check out Excuse My Grandma on your favorite podcast app and be sure to follow Kim and Grandma Gail on Instagram @ExcuseMyGrandma.
DEAR DAMONA
There is no Dear Damona this week, but please submit your questions on Instagram, Twitter, or Facebook and hear your answers during a future episode of Date & Mates!
Unsure if your question is right for Dates & Mates? Check out our recent all-Dear Damona episode to get a taste of what our listeners are thinking. 📝
https://damonahoffman.com/wp-content/uploads/Wordpress-Feature-Image-3-1.png
900
1200
Lindsey Kay Floyd
/wp-content/uploads/damona-hoffman-logo-209-1-1.png
Lindsey Kay Floyd
2023-08-08 19:08:59
2023-08-08 19:12:08
Team Dating App: With Excuse My Grandma