ARE YOU DESTINED TO REPEAT RELATIONSHIP HISTORY?
This week on Dates & Mates, we're exploring the way our relationship history impacts how we connect and find love with Attachment Theory expert, Jennifer Lehr LMFT.
Damona gets a lot of questions about the importance of attachment styles in future relationships and so today we're getting some more information.
But first, as always, we've got headlines:
DATING DISH
Mo' money, Mo' problems?
According to a new study from Magnify Money by Lendingtree, money is still a big point of contention for couples. 74% of partnered millennials and Zoomers report being mad at their partner for financial decisions they have made. Damona's not so shocked by the results of this study and explains why.
Fauci-ing – the latest dating trend sweeping the nation
Shout out to Plenty of Fish for coining the best COVID-related dating term: "fauci-ing". Here's the best example we've seen on the internet to date:
HISTORY MAKES US WHO WE ARE (10:00)
Today we hear from Jennifer Lehr, a marriage and family therapist who specialized in educating couples on the relationship skills they need to build a solid, connected, and loving partnership.
She gives us some perspective for singles looking to find their forever partner. This interview went deep:
(11:00) Nature or Nurture: What determines a healthy relationship for you?
(13:00) How your relationship with your parents can impact the way you show up in your romantic relationships, too
(18:20) How to prevent your relationship history from repeating itself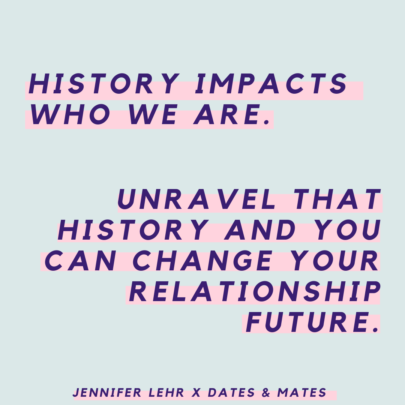 TECHNICALLY DATING (36:02)
Submit your questions Instagram, Twitter, or Facebook and hear our answers live on the show! Here's what our listeners asked about this week:
Lauren IG: What do you do if one person enjoys giving gifts and the other finds it hard to do because they feel they are bad at giving gifts. Like I'm good at being creative with my gifts because they are meaningful however, I notice men struggle because their gifts are always practical

Voice note from Jenn: A few weeks ago, you talked about the texting trap, which I totally agree with is an issue and I've witnessed it firsthand. And with others, I think it's even worse during social distance dating right now. So I was wondering if you have any suggestions on talking points for what to do? What to say when you see the trap coming? What I've tried so far hasn't really worked? It seems it's hard to not make it personal to not take it personally, that kind of thing. So if you have any advice on what to say to hopefully be more successful in that I would appreciate it. Thanks!
THIS EPISODE IS BROUGHT TO YOU BY TEXTNOW 
The app solves many major challenges that Damona's clients face in dating today:
You can keep your main number private

You can separate your personal and dating contacts

Plus, It's easy to use and FREE.
We are proud to collaborate with an app that empowers modern daters to feel safe and secure. If you want more information, check out Damona's video on when to give out your number to people you meet on dating apps. Click here!
DATES & MATES DEALS
Download OkCupid today! damonahoffman.com/okcupid
OkCupid is FAMOUS for matching people on what MATTERS MOST to them, from food to the type of relationship they want…to politics. They ask you really thoughtful and provoking questions to get to the heart of who you are and what type of person you're looking for.
Are you missing out? Download OkCupid today!
https://damonahoffman.com/wp-content/uploads/349.png
200
300
Leah Schell
/wp-content/uploads/damona-hoffman-logo-209-1-1.png
Leah Schell
2021-02-24 06:31:39
2022-04-20 19:13:57
Attachment Theory & Getting Fauci-ed