While scoping out the latest and greatest in dating news, we came across a stat that just about blew our minds – 54% of men say they'd rather play video games than have sex on a given day.
Say what?! The pandemic has without a doubt left many of us feeling lonely and isolated, but we found this info utterly shocking. It comes out of a study on Single Male Loneliness conducted by fellow dating coach, Blaine Anderson. 
The study is jam packed with so many fascinating findings that Damona just HAD to have Blaine on this week's episode to break it all down. Plus, Blaine is one of the top dating coaches on texting (and you know how passionate Damona gets on the topic). Blaine will be sharing tips for everybody on how to be a better texter, how to send a first message that gets a response, and how to be in integrity in your dating life.
DATING DISH (1:55)
How Drew Barrymore gave us all a masterclass on empathic listening:
If you've ever heard Damona talk about empathetic dating, then here's a headline that will hit home. Huffpost recently published an article taking a deep dive into Drew Barrymore's interview style on her daytime talk show – but more specifically, how she demonstrates "empathetic listening." Besides her iconically open and friendly nature, Drew engages in empathetic listening by simultaneously remaining curious and open to her guest's own experiences. Drew also is big on self disclosure, often candidly sharing info with her audiences about her love life or struggles with addiction. Damona further breaks down why it's important to be curious and empathetic in our dating lives.
BLAINE ANDERSON (12:08)
Blaine Anderson is a dating coach for men and her mission is to curb the increasing isolation they are experiencing globally. She has been featured in major publications such as The New York Times, Forbes, Psychology Today, NYPost, and Vice i-D.
Blaine offers one-on-one coaching, practical online courses, and relatable dating content via her fast growing company, Dating By Blaine.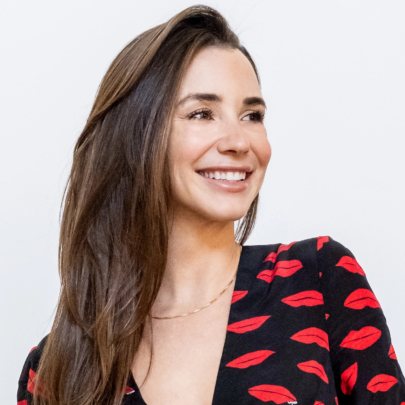 (13:45) Going into the stats…
Damona asks Blaine to break down her study on Single Male Loneliness – a big aspect being that men have given up on or see dating as too much effort. Blaine mentions that this is a huge symptom of our addiction to instant entertainment (re: the stat from the intro), and how "human instinct often is to pick the path of least resistance… so you really have to be intentional and motivated to go get your entertainment out in the real world." Blaine and Damona also share strategies to navigate your dating life phone-free, and easing back into your dating journey after a period of loneliness.
(22:20) The profile photo is EVERYTHING.
So what is the biggest challenge for men when it comes to dating apps? Blaine has a few theories. But first and foremost, you've GOT to have a good set of pictures. Your profile photos are a chance for potential matches to see what it would be like dating you, so be sure to include some pics featuring your favorite hobbies and showcasing your interests. 
Blaine then explains the reality of dating app experiences for men vs women based on her findings, PLUS the reality of making the first move…
(34:45) How to avoid the quicksand (AKA the Texting Trap)
If you've listened to Dates & Mates before, you've probably heard Damona talk about The Texting Trap – essentially, this is when you get stuck chatting with your match solely over text, never making plans to meet IRL. Blaine points out that while it's important to build a certain amount of trust with your match before meeting up, "it's much easier to text yourself out of another date than into one." Blaine additionally shares the most common texting mistake she sees from her clients when leading up to a date.
Blaine and Damona end by answering your most burning texting questions in a round of Yay or Nay: Texting Edition.
Be sure to follow Blaine on Instagram @DatingByBlaine and visit her website DatingByBlaine.com to learn more!
DEAR DAMONA (44:15)
Submit your questions on Instagram, Twitter, or Facebook and hear our answers live on the show! Here's what our listeners asked about this week:
Text from M –

Hi Damona! I have been online on and off since my divorce in 2018. I have met a lot of wonderful men and have had a few relationships, but I'm still seeking my life partner. I have noticed myself swiping left on men who make a point of mentioning the importance of chemistry in their profiles even though I am a very sexual woman. Is this a mistake? I've been treating it as a red flag because it feels like they either don't value compatibility or they haven't put much thought into what they want beyond sex. Am I overthinking this?
https://damonahoffman.com/wp-content/uploads/DM-Blaine-Anderson-Wordpress-Image.png
900
1200
Lindsey Kay Floyd
/wp-content/uploads/damona-hoffman-logo-209-1-1.png
Lindsey Kay Floyd
2023-05-02 17:17:16
2023-05-02 17:17:16
Empathic Listening & Single Male Loneliness