So Relatable & Your Best Dating App
ARE YOU TALKING TO THE RIGHT PEOPLE THE RIGHT WAY?
At this point in the pandemic, Let's admit that some of us have kind of forgotten our social skills and need a little practice. It's not just you, it's everyone, I feel it, too.
That's why we brought in a friend of the show, Rachel DeAlto, to teach us how to relate and be relatable again. Not only is she Match's Chief Dating Expert, she's also the author of a brand new book called "Relatable: How to Connect with Anyone Anywhere Even If It Scares You." So she knows her stuff.
But first, Damona gives a Mini Master Class *Snack* on how to pick the best dating app for you, based on the category of each app and the types of people that use them.
DAMONA'S DATING ACCELERATOR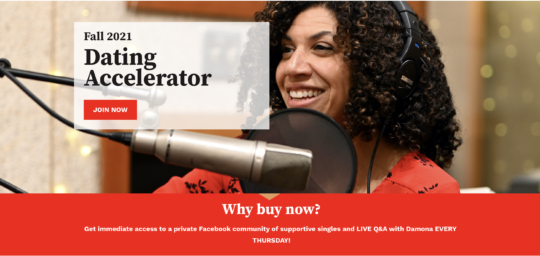 This episode is brought to you by Damona's Dating Accelerator Program. The new and improved 10-week version of her most popular group coaching program is launching at the end of the month! If you are ready to level up your love life, you could be the perfect fit for the Dating Accelerator Group Program.
Check it out at damonahoffman.com/group
MINI MASTERCLASS *SNACK* (2:08)
"Damona, what's the best dating app?" 
Damona's here with all the answers. Instead of headlines, this week Damona swoops in with a bird's eye view of the various dating app types so that you can figure out which ones will work best for you.
STRATEGY:
Damona says that right now, the strategy that works best for her clients is a process she calls Cycling. With cycling, you start out on one app and one app only for 4 to 6 weeks. You swipe, chat, and date on that app until you start to feel a lull in momentum and then you cycle to another app for 4 to 6 weeks. Then it's back to app A where you can see fresh matches again.
But which app should you start with? Well that depends. Here's an outline of the 4 types of apps, the people that like them, and the common traps of each one.
(3:02) Traditional – like Match, Plenty of Fish, or OkCupid
These are traditional dating sites and apps that provide a lot of opportunities and give you a chance to try out a bunch of different matches. Everything is on the menu! However, they do require a clear process and strategy to filter out the desired matches out of thousands of possibilities.
Type of Dater: You like options. You need a dating app that has tons of possibilities and different ways to search through your options. 
Spending too many frustrating hours filtering to find the best people – hello maximizers, I see you.

The Overwhelming feeling that comes with an inbox dominated by DMs from the wrong people

Exhaustion after wasting so much time matching, chatting, and going on dead-end dates
(3:28) Swipe App – such as Bumble and Tinder.
These are excellent for busy singles, who are newer to dating, and want to get started fast with a wide range of options. Not sure what's on the menu? Everything! The downside is it's hard to find the right committed match because the profiles don't give you a lot of information about the person on the other side. You can get stuck in the texting trap or in the messaging phase, and you need a clear strategy for navigating from the app into the real world before they ghost.
Type of Dater: You are looking for a wide range of options and easy connections.
Feeling like you don't know enough about your matches up front and then you waste time going on too many of the wrong dates

Overwhelm in the match and message process – maybe you even think "I wish someone could do this part for me"

The disappointment that comes with thinking you know someone and meeting in person and finding you're not quite compatible
(4:04) Niche – JDate, Christian Mingle, and Farmers Only.
If you know that there is a particular quality, interest, or cultural element that is of the utmost importance to you, this kind of app provides you with matches that meet your criteria. Unfortunately, apps like these have smaller dating pools. It can often feel like nothing is happening if you don't know how to search your options and pick the right matches.
Type of Dater: You are focused on finding a partner who shares your values and interests. Apps with too many unqualified options feel like a waste of time to you. If it's a specific quality you're looking for in a partner, there's a high chance you can find an app for it.
Limiting your dating options a little too much

Constantly wondering if you're just "too picky" to find love

The feeling that nothing is happening in your love life and the clock is ticking
(4:38) Curated – eHarmony and Coffee Meets Bagel.
These apps are excellent for people who are discerning or choosy, but don't have time to do the filtering themselves. While tedious filtering is taken off your plate, it can sometimes feel like you don't have enough options or much control. These apps are slow paced and you need some clear direction if you're going to get your match off the app and on to the next phase of dating.
Type of Dater: You don't want to waste your time searching and swiping, you like a curated dating app that will deliver the right matches directly to your inbox.
The feeling that you never meet any great dates – you keep thinking isn't anyone else out there?

Getting stuck in their DMs but never moving into a real relationship

Downloading and deleting app after app, but never finding what you what
RELATE AND BE RELATABLE (10:46)
Rachel DeAlto and Damona get into the nitty-gritty of interacting with human beings face to face once again. 
(11:40) The formula for being relatable: It's all based on 3 categories, what she calls CCI (apparently pronounced "kuh-kai") – Connection, Communication, and Inspiration.
(13:48) Connect: The first step in tapping into your own relatability is to practice authentic connection. So getting to the meat of authentic connection means daring to take off all the masks we wear in our day-to-day, releasing the idea of perfection and the thought that we have to show up a certain way to be liked or loved. Think about it this way – if you show up to a date and all you're focused on is making sure the other person likes you, you're probably not showing up as your truest self. How can anyone truly like or love you if you don't let them know you? When we engage in authentic connection, we allow people to understand us. And from there we are able to form more honest and long-lasting connections.
(20:14) Communicate: Rachel focuses on the energetic elements of communication – presence and curiosity. The most effective way to have conversations with others is to maintain curiosity about the other person. This is very different from active listening, because it's one thing to just sit and listen. When we're curious, we end up engaging in more active conversations. The more you can get someone talking in a conversation, the more they will be enamored with you because you're not only listening, but you're interested.
(23:10) Inspiration: To be relatable, you have to be inspirational. In other words, there has to be an inspiration behind who you are and what you do. Rachel encourages finding your "then what" – you want a relationship, but then what? You want all these followers, and then what? What is the purpose behind what you want? When we have that specific guiding light that is coming from within, it attracts others to us and makes what we do more intentional.
(30:29) How and why do mantras work?: We all have the power to change our thinking. Why? Neuroplasticity – basically our brain is play-doh, and with the right tools we have the ability to move that play-doh around in whatever way works for us. Rachel says that as you direct your brain to think certain thoughts, you can start to move towards those thoughts – which means you can be the one to help yourself show up.
Get your copy of Rachel's new book "Relatable: How to Connect with Anyone Anywhere Even If It Scares You." here!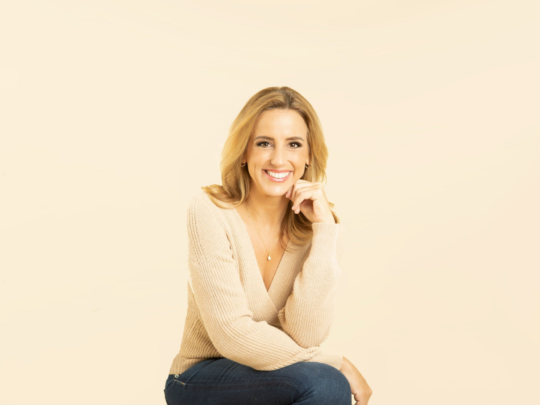 DEAR DAMONA (32:34)
Submit your questions on  Instagram, Twitter, or Facebook and hear our answers live on the show! Here's what our listeners asked about this week:
Instagram Message from Anonymous –

I met a guy on hinge (like you suggested). He is recently out of a 10 year marriage and then 2 year relationship and has 2 kids (8+10 yrs). He made a vow to himself to not get into a serious relationship too fast again but we went 0 to 60 on our first date and it was amazing with incredible chemistry. I heard from him consistently (calls and texts) until I called him out on our second (amazing date). He says he wants to keep dating each other and other people so our feelings don't grow too quickly and I said I like him and am willing to give him that time and space but at some point know that I will want more or will move on. Now I'm afraid I've left the ball in his court and I'm giving him too much power – but I want to support him at the same time. Do I cut it off? Or proceed with caution? Is he taking advantage of a nice girl like me? Final note – I really like him (I never like anyone) and could see us working out if timing was better. He seems worth the wait.

Instagram Message from Ella –

Hi Damona, I hope you don't mind me asking. I'm 43f, never been married and currently wading the online dating waters. How long do you think is the "normal" time to keep on trying on the app and when should you admit that it's time to pack up?
https://damonahoffman.com/wp-content/uploads/rachel-dealto.png
900
1200
Leah Schell
/wp-content/uploads/damona-hoffman-logo-209-1-1.png
Leah Schell
2021-09-07 21:30:24
2022-04-20 19:01:23
So Relatable & Your Best Dating App