Jewish Matchmaking & 5 Date Challenge
Are you dating in reverse?! It's easy to get caught up in appearances while you're doing your swiping but in the end does focusing on looks get you your dream partnership?
Probably not. You may have heard Damona mention her four pillars of long-term compatibility in previous episodes – common values, shared goals, trust and healthy communication. These are the things you SHOULD be basing your partner search on.
But shifting your focus is easier said than done, especially in a world that centers on appearances so much (hello Instagram). Luckily, there is plenty of inspo out there for how to date against the grain. We see it reflected in tv shows like Love Is Blind and Married At First Sight.
And, it's happening again in the newest series to tackle the quest for true love, Netflix's Jewish Matchmaking. The show stars matchmaker Aleeza Ben Shalom, as she helps Jewish singles find love across the US and Israel.
We're excited to share that Aleeza will give us her matchmaking tips, some secrets from the show, and a 5-Date Challenge that's going to blow your mind. 🤯
DATING DISH (2:20)
Modern dating only feels worse because we keep saying it is:
According to online publication The Face, four out of five US adults have emotional fatigue from online dating and three quarters of UK singles are burnt out from unrewarding interactions. Now, this isn't necessarily a new stat. But the article makes a crucial point – what we consume becomes our reality. So could it be that going on about how romance is rare, only makes it rarer? 
Damona goes over how to rewrite your "dating samskaras" (AKA our belief patterns about dating) and why we need to stop screenshotting our dating app conversations.
ALEEZA BEN SHALOM (14:05)
Aleeza Ben Shalom is a soulmate clarity coach, speaker, and author of two books, Get Real, Get Married, and Virtual Dating. She has appeared everywhere from BBC World News to NPR to HuffPost. 
Aleeza also trains dating coaches and matchmakers through her company Marriage Minded Mentor, and has helped over 200 singles manifest their soulmate.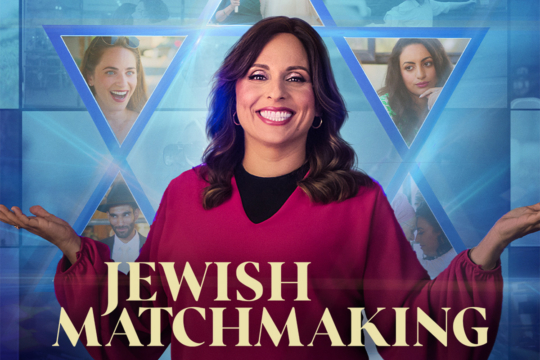 (14:40) Not all Jewsish matchmaking is the same…
Aleeza breaks down how matchmaking for Jewish families plays out with different communities. "Jewish matchmaking as a concept is the foundation, but the people that we work with are from all different backgrounds. So we do have a couple that's Orthodox, we have somebody who's traditional, somebody who's kind of middle of the road, we have people that are secular… we're taking the traditional Jewish wisdom of matchmaking, and we're bringing it to whatever dating world our people are in." 
Aleeza also divulges her biggest challenges with her clients on Jewish Matchmaking.
(19:30) Aleeza's 70/30 rule.
Relationships are built between two individuals, so there is always bound to be compromise. But Aleeza believes 70% of a relationship between these individuals needs to be aligned and balanced on its own. As for the other 30%, this can be where the work and communication comes into play. But all in all, Aleeza states that ZERO percent needs to be a potential dealbreaker, "because one deal breaker breaks the entire deal."
(23:50) The infamous 5-Date Challenge!
Aleeza compares her experience matchmaking with clients as playing on a playground, giving them challenges here and there. And thus the 5-Date Challenge was born (which you can download here)! 
"First of all, if you're gonna go out on one date, I want you mentally committing to 5 dates. You bothered to pick the person, you bothered to say yes. Get to know them! Can you break it off before five dates? If it's an absolute deal breaker." 
The most controversial thing about the challenge? No touching for those 5 dates.
(32:35) Recommendations on how to incorporate families into the matchmaking process?
We've all gotten ourselves on a dating app at some point. But when it comes to matchmaking, many of us don't even consider incorporating our families into the process. This is a huge aspect of how Aleeza collects her clients' options, as the wants and needs of the family are often weighed just as heavily as the client. 
With all her experience, Damona asks Aleeza how she navigates this dynamic and how others can begin including their family in the process if they so choose.
Be sure to follow Aleeza on Instagram @AleezaBenShalom and check out Jewish Matchmaking on Netflix! And if you want to take on Aleeza's 5-Date Challenge, you can find it on her website MarriageMindedMentor.com.
DEAR DAMONA (39:17)
Submit your questions on Instagram, Twitter, or Facebook and hear our answers live on the show! Here's what our listeners asked about this week:
Email from T – Dear Damona, love your podcast! Can people be single for too long? Are there people who just are too set in their ways to meet and keep a significant other?
https://damonahoffman.com/wp-content/uploads/DM-Aleeza-Ben-Shalom-Wordpress-Image.png
900
1200
Lindsey Kay Floyd
/wp-content/uploads/damona-hoffman-logo-209-1-1.png
Lindsey Kay Floyd
2023-05-09 19:42:38
2023-05-09 19:42:38
Jewish Matchmaking & 5 Date Challenge