Chaotic Singles Party & The Silent Treatment
Are you ready to party?! Okay, not really, but we are changing things UP today.
Y'all know that Damona talks A LOT about dating apps. It's how she met her husband and how she has helped so many others to find love.
But even still, Damona will be the first to tell you that online dating is just one tool you can use in your search. It shouldn't be your ONLY strategy.  You can also let your friends set you up on a date, try a matchmaker or pick up a new hobby to meet people. 
We all know that chatting with strangers can seem overwhelming but it is a great opportunity to find love and that's why we have Cassidy Davis, the founder of Chaotic Singles Party, joining us to talk about how to meet your match IRL.
DATING DISH (2:15)
It's time to embrace the awkward silence:
As this recent article in The Atlantic says, uncomfortable silences have always existed. But they're harder to avoid today than ever before. Our newfound reliance on Zoom also highlights the way awkward silences can permeate conversations through lag time, glitches, and not knowing who should speak first in a Zoom room full of people. Not to mention, coming out of the pandemic hasn't helped with practicing social skills. 
Damona dives into what makes silence feel awkward, shares her perspective on why we can all benefit from reframing the awkward pause to just be a "natural pause."
CASSIDY DAVIS (9:55)
Cassidy Davis is an actor, producer and the creator/host of the Chaotic Singles Party. Cassidy hosts parties monthly in LA and NYC.
She has been featured on Good Morning America, Insider, and the Wall Street Journal and on a little program that is near and dear to our hearts, The Drew Barrymore Show.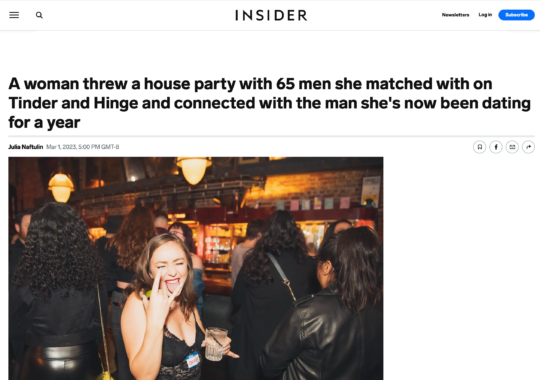 (10:30) What is a Chaotic Singles Party?
It all started when Cassidy was feeling "really sadly single for five years" and she had the idea for her and her friends to each invite someone single to a house party. But in a last minute panic, Cassidy invited 65 additional strangers off of Tinder to come to this party too! 
It was such a success (AKA no creeps, no robberies) that Cassidy began hosting these parties monthly. One year later, business is still booming. As Cassidy mentions, "it's better than going on dates alone, let's date together as a unit." 
Cassidy also shares some of her favorite CSP success stories.
(14:15) Making the "meeting IRL" fantasy a reality.
Cassidy says, "My best tip to find success is to really lean into it. It might be way out of your comfort zone to go to a singles event, it might be way out of your comfort zone to start approaching people at the singles event. But the most successful people really just embrace the chaos."
Cassidy also details why your hobbies (or finding new hobbies) are the key to meeting someone IRL.
(24:10) The ultimate opener…
So you get to the singles event, you've got your drink… now what? 
Damona asks for Cassidy's ideas on good openers for starting a conversation. She states that a compliment can always go a long way. Or if someone is wearing a unique piece of jewelry or a graphic tee (what Damona would call "conversation piece clothing"), point it out!
Damona continues that we can get too caught up in saying the perfect thing to make a lasting impression, and sometimes the simplest move can lead to the biggest payoff. That being said – Damona and Cassidy share the topics you should avoid talking about too much at a singles ever or on a first date.
Be sure to follow Cassidy on Instagram @cassidynashdavis and learn more about her events at chaoticsinglesparty.com.
DEAR DAMONA (34:45)
Submit your questions on Instagram, Twitter, or Facebook and hear our answers live on the show! Here's what our listeners asked about this week:
Text from Anya – Hi Damona! You totally changed the way I date and so far, so good, except – I met this guy on a matching app, and we get along SO WELL. We are both creative and have tried to live off our creativity so we both know the struggle. Even on other topics we agree on almost everything. On paper this guy is like, perfect. However, I'm not physically attracted to him! At all!! I'm a pretty sexual being but I don't feel like touching him in any way, let alone having sex…? Nope. He just feels like my brother or best friend and that's it. Should I trust my gut and tell him that? Or keep on dating him and see physical attraction grow out of… nothing? He is really a nice guy and I don't want to lead him on if someone he is meant to be with is out there, waiting for him. I also know myself to be hopelessly romantic and because of that, I wonder if I'm waiting for that butterfly to happen if I meet the "right" person. We just had 2 dates and he hasn't suggested anything intimate. So part of me hoped for him to say, he also doesn't feel the chemistry… ugh I. Don't. Know!! Help!!
https://damonahoffman.com/wp-content/uploads/DM-Cassidy-DavisWordpress-Image.png
900
1200
Lindsey Kay Floyd
/wp-content/uploads/damona-hoffman-logo-209-1-1.png
Lindsey Kay Floyd
2023-05-16 18:30:10
2023-05-16 18:38:16
Chaotic Singles Party & The Silent Treatment