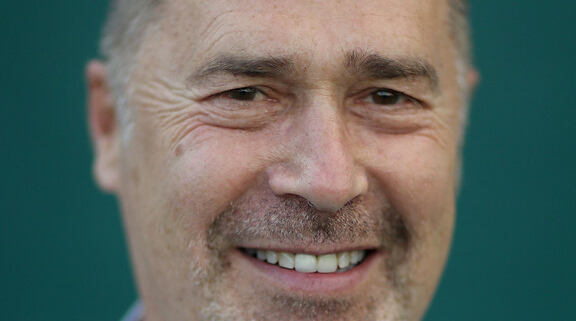 Deeper Dating & Comfortably Single
Most of us are looking for love, but is it possible some of us are doing it all wrong?
Psychotherapist Ken Page of the podcast Deeper Dating is here to share how self empowerment and a deeper understanding of oneself can lead to deeper and more optimistic dating.
DATING DISH (1:30)
(1:30) A new term for our Dating Dictionary:
This article in InStyle Magazine describes how "hesidating" is running rampant among singles right now. Plenty of Fish coined this new term, since a recent study of theirs showed how 70% of singles are unsure about their relationship status, and whether they want something serious or more casual. So in other words, they are hesidating (hesitating to date).
The article and Damona both agree that this heightened hesitancy is a downstream effect of the pandemic,  considering how none of us are sure when the pandemic will really subside. Damona brings up another article she spotted in the New York Times, which dove into the experience of languishing (which similarly mirrors the feelings behind hesidating). According to this article, languishing is this feeling of not quite being depressed, but not really being excited and optimistic. You're just languishing – you're in the middle. As a result, it just creates all of these icky feelings that bleed over into other areas of our lives.
Damona recounts all the highs and lows we in the dating scene have experienced as a result of the pandemic. When Covid first hit in the Spring of 2020, singles were using dating apps as a tool to connect amidst all the separation. Then there was the first Summer of Uncertainty, which bled into the Fall Haze (where languishing started to develop). By the following Summer (aka Hot Girl Summer), people were pulling away from dating apps and dating in general because of the Delta surge. Now, singles continue to hesitate in dating because all of the restrictions keep changing. Although we are still unsure how safe it is to be dating out in the streets, Damona states that partnerships and relationships are the things that fuels so much else, and could potentially be the key to moving on from languishing.
You can be on the apps… but if you're not really present with your swiping and are continuing to hesitate, it is wasting your time and energy. We have spent so much time behind our screens, cornered away in our own little worlds. It will take decisive action, not indecision, to move forward. It is okay to only be seeking casual dating right now (and maybe it's the answer to move you out of languishing) – own that, embrace it. But if you want something more serious, lead with that in your dating profile and on your in-person dates. Figure out what you need to shore up emotionally to come to the table as a whole person, because dating will bring out all your stuff. 
Need help expressing your relationship goals in your dating profile? Downloading my Profile Starter Kit may be the first step for you! Get your free kit HERE.
KEN PAGE (8:30)
Damona is here with Ken Page – LCSW, renowned psychotherapist, and host of the Deeper Dating Podcast. 
Ken is the co-founder of DeeperDating.com, an online dating experience for single people to meet in an environment that's kind, respectful and inspiring. He's been featured in Oprah Magazine, The New York Times, Cosmopolitan, Fox News, and is also the author of Deeper Dating: How to Drop the Games of Seduction and Discover the Power of Intimacy.
Ken is passionate about helping people understand the search for love as one of the greatest spiritual adventures in life.
(9:42) Our core gifts:
Before learning how to date successfully and finding his life partner, Ken notes how he carried the inherent belief that he was not attractive enough, and therefore wasn't confident enough, to attract the attention of other men. He went on this intense journey of becoming extremely buff and physically in shape (believing his "attractive" problem was fixed), only to find that it had made no difference in pulling in the kinds of people he wanted to date for a serious relationship.
Damona asks Ken what shifted in order for him to meet his husband. "The thing that made the difference was that an innate quality of goodness in me, that I had been embarrassed about my entire life – I finally learned to honor and dignify and treasure, and take it really seriously. And when that happened, that's when everything changed. And that made me begin to think, maybe there's a pattern here. The pattern being that there are places of passion and vulnerability that we think we need to hide to find love, because we're either not enough, or we're too much. Those parts are what I call our core gifts. And when we start to treasure those, and then we make this shift, we say I am only going to look for someone who treasures those qualities in me, and where it's mutual. And that is it. When we make that change, our world changes. And hope comes back because we start to see things change."
(13:20) Attractions of deprivation vs inspiration:
Ken often speaks of "becoming a student of your attractions" – meaning, instead of focusing on becoming irresistible to quality people, you have to become irresistible to the kind of person who is looking for someone just like you by being you. "The focus is on how to become more attractive. But the deeper focus is, who am I attracted to? What are my attraction patterns? And how can I begin to shift those?"
Damona then brings up another concept that Ken teaches, called Attractions of Deprivation vs Attractions of Inspiration. The idea here is that we cannot force our attractions, but we can educate them (although this process takes time). Ken lists two changes you can make regarding these attractions that will set you up for profound change: "The two changes I think are embracing those authentic qualities that we talked about… And the second is to choose your attractions of inspiration and saying no to your attractions of deprivation."
So how does Ken define both of these attractions? "Attractions of deprivation are the people who almost are able to commit, who almost treat you like they treasure you consistently. But no, they don't. They can't… And when you're hooked, then there's this feeling of the person pulling away or not being there, which triggers an ancient response of 'I cannot lose this person.' So this feels like love. But it's not love… It's an attraction of deprivation." Once Ken started to honor and champion his own core gifts, he developed more of a pull towards attractions of inspiration. "I realized I could also be attracted to people who were kind, decent, and smart and were available… It would be a different kind of attraction. It might not be as white hot as first, but something in my heart and soul would feel really good." 
In order to find your attractions of inspiration, Ken suggests asking yourself this question: "Does my deep heart feel safe with this person? And if the answer is pretty much consistently yes, you've got something to go on. Then all the other stuff follows."
(23:24) The wave of distancing:
Damona ponders how an Attraction of Inspiration might also feel more like a slow burn, rather than an instant spark. Ken expands into what he calls "the wave of distancing, which I think is the single greatest destroyer of healthy new love." The wave of distancing is the process of meeting someone who feels like an attraction of inspiration to you, and they are available and ready to build a relationship. Then out of the blue, things about them start to seem less exciting and not as desirable. "What that is, is a spasm of fear, in many cases, because you finally met someone that really could be available and that's scary as hell… But by not pressuring myself and giving myself space for this kind of thing that I have, that many people have, it went away."
(26:00) Valuing kindness in the scope of dating:
One of Ken's core values as a coach revolves around valuing and practicing kindness in one's dating life. He details that when you slow down and look for the goodness in someone, you create more space to notice the things about people that resonate with you simply for who they are. You begin to operate less from a fight or flight/sex vs flight/romance vs flight kind of place, because your values will change as well. And in turn, Ken says that you will make better choices overall when you practice kindness. Ken also continues with how dating apps can tend to hold us back: "When you're doing that quick thing of just swiping, you actually will be much more prone to choosing your scratch-the-itch type, which, according to a lot of couples theory, are the people who embody both the best but also the worst characteristics of your primary caregiver… Your ego wants to go back to the scene of the crime to finally get the perpetrator to love you, right. And that does not work so well… By making these deep shifts, you're actually going to notice different people, different sensors get activated, and they're much better sensors. [These] will lead you to a much happier future."
Check out Ken's podcast Deeper Dating and follow him on IG @deeper.dating for more advice!
And if you're curious, head over to Ken's website for more info on working with him.
DEAR DAMONA (31:38)
Submit your questions on  Instagram, Twitter, or Facebook and hear our answers live on the show! Here's what our listeners asked about this week:
VIP Question from T –

I have trouble identifying what value I bring to a relationship – do you have prompts to help? I have some complacency arising, feeling "comfortably single" when I think about taking action towards dating and the relationship I want – what's that about and how do I overcome it?
DAMONA'S DEALS
Download the OkCupid Dating App for free today!
Click

her

e to try Damona's free First Date Starter Kit!
https://damonahoffman.com/wp-content/uploads/portrait-1-Ken-Page.jpg
768
576
Lindsey Kay Floyd
/wp-content/uploads/damona-hoffman-logo-209-1-1.png
Lindsey Kay Floyd
2022-04-19 16:53:10
2022-08-25 11:31:05
Deeper Dating & Comfortably Single