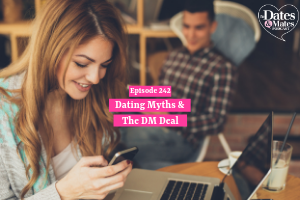 Dating Myths & The DM Deal
ARE YOU BEING TAKEN SERIOUSLY?
Did you know that women in the top 20% of attractiveness receive 5 times as many messages as women who are rated as "average attractiveness"? Today we welcomed Lindsey Pelas, social media influencer, model, activist, and entrepreneur to tell us the truth about your online image. Damona and Lindsey break down dating stereotypes and discuss how to be taken seriously on dating apps today no matter what your "Tinder ranking" is. Here's the rundown:
D'S DATING DISH (2:39)
Career or a sex life? Both?
You would think that the more you work, the less you have sex, right? Wrong. According to recent studies, people who work more actually have more sex. Damona and Lindsey discuss.
The $69 Billion Dollar Man
Just when you thought the Bezos' divorce couldn't get any wilder, it did. Damona and Lindsey break down the newest developments.
Hollywood's Newest Engagement
Spotted: Katherine Schwarzenegger with a FABULOUS new engagement ring from Chris Pratt. But did Chris Pratt do enough to warn Anna Faris? Damona doesn't think so.
Avoid these dating trends in 2017
Damona and Lindsey define Cookie Jarring, Pocketing, and Prowling.
GET SERIOUS (39:18)
In today's increasingly visual online dating environment, it can be a struggle to create a profile that is going to attract the right kind of attention. Damona hears the same problem from a lot of women: How do we get taken seriously when we match based mostly on looks? The answer: It's not easy, but not impossible.  
We invited Lindsey Pelas into the studio to help us break it down. In addition to her successful modeling and media career, Lindsey Pelas also has an IMPRESSIVE portfolio. She has a degree, she's an activist, she is a Instagram business early adopter, public speaker, and entrepreneur. Damona and Lindsey talked about A LOT:
#WomeninBusiness and Investing

Is it really easier to date if you're beautiful

What makes you more attractive? Is it different for men?

Confidence and Attractiveness

Pick Up Artist Theory

Why men are mean

How do slide in the DMs

Treating your partner well

Trash Talking your ex

Is it actually harder to date in LA?

And so much more!
TECHNICALLY DATING (36:02)
Submit your questions Instagram, Twitter, or Facebook and hear our answers live on the show! Here's what our listeners asked about this week:
Should you focus on school or a relationship?

How to deal with a flaky Tinder match
DAMONA'S DIATRIBE (39:18)
BBC Released a video calling dating apps "pathalogical" and "narcissistic." Damona responds. 
YOU NEED A PLAN TO MEET YOUR MAN
Ladies – If you feel exhausted, frustrated, and overwhelmed with dating today, it's time for a change. You can go about dating the way you did in 2018 but let's face it, doing the same thing will probably get you the same results. You need a plan. You need a plan to meet your man. It's all inside The 30 Day Dating Playbook program which is available for you now at MeetYourManin30Days.com. Get your copy today!  
https://damonahoffman.com/wp-content/uploads/242-Blog.png
200
300
Leah Schell
/wp-content/uploads/damona-hoffman-logo-209-1-1.png
Leah Schell
2019-01-22 01:25:59
2022-12-08 19:54:45
Dating Myths & The DM Deal