Are you using all of the available tools to find your match? We know about dating apps. We talked recently about singles parties. And, we've even talked about letting your friends set you up. But have you tried flirting on Instagram?
Okay, that last one may feel forward but with so much of our time spent online these days, it actually makes sense. Even still there's a right way and a wrong way to do it and that's why my guest today is the perfect person to be joining us. She and her boyfriend have been together for over a YEAR and it all started with a casual DM she sent.
Joy Ofodu is a celebrated voice actor and the host of Dating Unsettled! She will be sharing her IG love story and her top tips for how YOU can use Instagram to find your match. 
DATING DISH (1:52)
How to Fall in Love When You Don't Speak the Same Language:
In this deep dive from the Atlantic, this article author spoke to different couples all around the globe who were in relationships with someone who spoke a different native tongue. Multilingual relationships are more possible today than ever, with translation apps and learning resources like Duolingo. There are also numerous pros, as well as some obvious obstacles, to dating someone who speaks another language. 
Damona breaks it down, including the unexpected ways speaking different languages can actually benefit your relationship.
JOY OFODU (9:50)
Joy Ofodu is a Creative Executive and voice actor whose voice can be heard in her partnerships with HBO Max, Adult Swim, Netflix, Refinery 29, Meta, Credit Karma, DIRECTV, Upenndo! and more!
She has drawn over 30M views to her original digital comedy content and countless more to inclusion-centered, global marketing campaigns at Instagram. 
Joy is also the host of Dating Unsettled, an audio show designed to validate women daters, available now on all podcast platforms.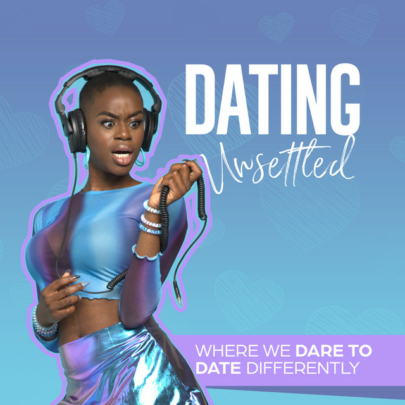 (12:50) What's happening in these dating streets??
Joy breaks down some of the most common missed opportunities in online dating, including how she ended up with her current partner through a spur of the moment direct message. In her words – "I'm gonna make some people mad. Online dating is the best, quickest, most efficient way to find somebody that you are compatible with on multiple fronts that you can actually kind of control."
(20:50) Leave some room for grace.
We all know ghosting has been kind of rampant in dating culture as of late, but Damona points out that as a result, we are becoming more quick to cut someone off at the first sign of flakiness. Is there room to give people some grace and remember that nobody's perfect? 
Joy points out that someone else's dating rules or deal breakers will not always work for you, and that's okay. She gives some other pointers on navigating your own dating journey, most importantly to remember to listen to your intuition.
(25:40) The voice note is our dating superpower.
Being a voice actor herself, Joy is the first to recognize there's something about the power of the human voice. "I think it kind of simulates what you would be experiencing on the date before you even get there, without giving them a full plate. So it's a teaser. It's romantic. It's exciting."
(32:20) Hardcore Instagram flirting hacks…
On her own podcast, Joy is all about giving her listeners actionable dating advice. She goes over her top IG flirting hacks, including taking advantage of your Close Friends story and making the most of their newest "status" feature.
Be sure to follow Joy on Instagram @joyofodu and listen to Dating Unsettled wherever you listen to Dates & Mates!
DEAR DAMONA (40:30)
Submit your questions on Instagram, Twitter, or Facebook and hear our answers live on the show! Here's what our listeners asked about this week:
IG Message from Sean –

Hi Damona. In your opinion, who should ask if the relationship is "official or exclusive"? The man or the woman? Also in your episode with Lauren Zoeller, you say not to put all the eggs in one a basket until 60-90 days. Does this mean the two should NOT think about becoming exclusive until at least 3 months? Thanks!
https://damonahoffman.com/wp-content/uploads/DM-Joy-Ofodu-Wordpress-Image.png
900
1200
Lindsey Kay Floyd
/wp-content/uploads/damona-hoffman-logo-209-1-1.png
Lindsey Kay Floyd
2023-06-06 21:03:44
2023-06-06 21:03:44
Language of Love & DM Dating