DATES & MATES SUCCESS STORY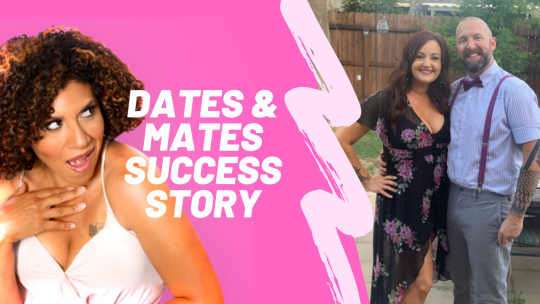 This year, both Shannon and Mel completed some of my programs and were able to find their dream relationships.
In Shannon's own words: 
"Normally I'm pretty picky about like distance. So I normally kind of do the whole five left like nope, nope, nope, too far no piece too short. Nope. I mean, I listened to your podcast and I was laughing like, that's kind of me. I kind of go through that and don't even really dig deeper because the superficial stuff. So this time around, I was like, Okay, I need to listen to the voice I've been hearing from damona. And so this guy pops up. So I messaged him and so we started chatting and just kind of hit it off and he's lived an hour away. But I thought you know what he needed to be open minded to go for this. And instantly he was had great questions. He was interested in me he was like, if he remembered things he'd ask me a question and then you know, the next day he might remember what he asked me the day before and check in on me and just really was just all around proving to me quickly that he was pretty amazing. We went out on a Tuesday and We did the whole phone call first because I know that's a big thing too. I was like, okay, gotta do the phone call before we leave here. So all this was like, right smack before, you know all the quarantine stuff. And so we had planned to see each other again on March 15. Our plan was I was going to go to where he lives and I was going to come and see him for the day. Well, that Friday was when they shut everything down. From then on. We've just had these like quarantine pipes at home, get to know you fast forward. No clutter, no people around kind of experience. And I know there's probably a little bit of pros and cons with that. I think I'm typically kind of a fast relationship person, I need people and it kind of goes too fast and we get to know each other and the kids are involved in the families involved in a big ordeal. But this time, it went fast in a way that was just he and I like totally getting to know each other totally, you know Trying to figure out okay, well we're gonna hang out for the next three days. What should we do? Like we can't go anywhere. We can't go to restaurants we can't go to the movies like we can't go to bars like we would typically do on a date. And so you know, we went on hike, and we took the dog for a walk and we ordered food in and we played cars, we played dominoes, we put a puzzle together and we cook together I bought a smashing little aprons and we cook together. And we were just kind of doing what we could do is what we had. And in the meantime, when we weren't seeing each other, it was kind of funny because I have it on my phone. So we have this whole list in our in our notes on our phone that we've shared, of all the things we want to do when everything opens up because we've now said I love you. We've now like fully committed to each other and all of a sudden is debt. But yet I've never been to the movie with him. I've never been really in a bar with him. We haven't done any Have those traditional things that you would do? Yeah, it's been pretty interesting. And we've spent the time away from each other really digging deep and getting to know each other and like there's definitely been a lot of God signs where we are things that just prove that okay, maybe maybe this is the one I've finally been waiting for."
Shannon also shared with us the perfect quarantine date she had with her man. You should ABSOLUTELY steal this idea:
Dates & Mates Success Story from Damona on Vimeo.
Here are a few more picture that she sent us of her special night!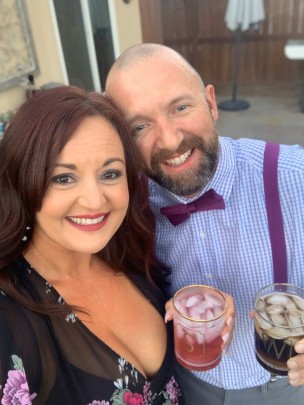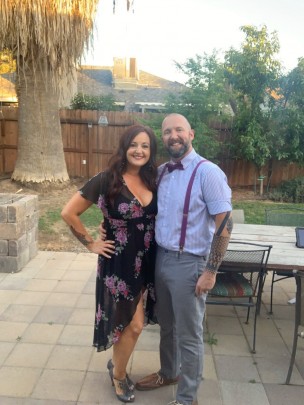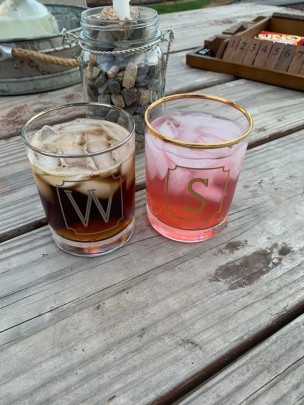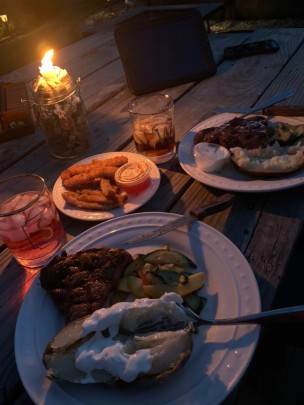 Mel received a profile polish (You can too! By joining the Patreon Friends with Benefits program at the $100 level!). Soon after, she saw amazing results and found love. Here's Mel's story in her own words:
I started listening to Dates & Mates about a year ago and started intentionally dating and then damona sent me information on how to polish my profile. Then a month later, I met this great guy. We been together now for over three months and it's going really well. quarantine definitely slowed down our relationship but definitely in a good way, because it really got us thinking, just creative ways to keep the relationship going. Because we both knew we were still interested in each other. We played games with each other like audio, and video dates. We also like, talked about different date ideas like ordering each other, like takeout food. And watching in a movie together, we've made lists about movies that he's seen that I haven't and movies that I've seen that he hasn't. So we were we got really creative with dates. For us, it's worked out really great, because we feel so much closer and so much more comfortable with each other then, either one of us expected to at this point in our relationship And to be honest, if we hadn't had all that time, like apart, and like forced into like, so many situations where like we have to talk and really make effort for a relationship, we probably wouldn't be meeting each other's parents. We keep talking about actually how it feels like we've been dating longer than we actually have, but in a good way.
If you're interested in the resources that helped Shannon and Mel find love, maybe it's time we changed our relationship status.  
You are invited to become a
Friend with Benefits.
This exclusive program includes bonus content from the show, secret training sessions, voting power to influence future episodes, a private online community, and more.
JOIN NOW!
https://damonahoffman.com/wp-content/uploads/Copy-of-success.png
200
300
Leah Schell
/wp-content/uploads/damona-hoffman-logo-209-1-1.png
Leah Schell
2020-05-18 22:03:19
2021-05-14 22:23:56
Dates & Mates Success Stories: Finding Love in Quarantine