A DEFINITIVE TIMELINE FOR ALL THE SEXY THINGS
Almost every week, Dates & Mates Podcast listeners and clients ask the same question on intimacy: when should we go all the way?
Enter one of the top experts in dating and sex: Dr. Emily Morse of the Sex with Emily Podcast!! She joins Damona on this week's episode to get clear ONCE AND FOR ALL on the intimacy timeline.
More on that later, first Damona covers headlines!
DATING DISH (3:01)
Will dating be forever changed by COVID-19?
Pandemic shutdowns have thrown a curve-ball at dating and relationships. What are the repercussions to this? To name a few: anxiety over a ticking biological clock, a change in the intimacy timeline, and better dating for introverts. It's not all bad. Damona breaks it down.
Is Will and Jada's relationship in trouble?
On a recent episode of Red Table Talk, Jada Pinkett Smith reveals that she doesn't really even know Will Smith anymore. What does this mean for their relationship?
The safest places to get your freak on during the pandemic shutdown
You may have heard that Zoom is monitoring closely to shut down virtual sex. Bummer right? Well if you're into it, Adult Friend Finder has released the very first virtual orgy platform: Virgy. Damona has thoughts.
ARE YOU READY TO GO ALL THE WAY? (16:00)
One of the biggest issues in dating and relationships is intimacy.  Whether you are trying to find love virtually right now and you're not getting enough of it, or you're quarantined with your loved one and you're getting too much of it, everyone's kind of struggling. 
As always, but especially In this crazy COVID world, intimacy and sex are part of healthy relationships. But we're not always clear on how to build and maintain intimacy in a healthy way.
So today, we get clear once and for all on the "intimacy timeline" with one of the top experts in the field: Dr. Emily Morse of the Sex with Emily Podcast.
We've listened to her show for years and now we're delighted to welcome her to Dates & Mates. We talk:
The Four Stages of Intimacy

The Infatuation Phases and "Honeymoon Period"

Conflict and the power struggle

True Intimacy and Unconditional Support

Why there's no such thing as "Love At First Sight"

When to take some time to reevaluate what the next step is

Therapy For Intimacy?

The timeline depends on how much you grow as a person independently

Only 5% of couples get to the final stage of unconditional support

And so much more!
If you want more Emily, check out her podcast and other content at SexWithEmily.Com
TECHNICALLY DATING (34:50)
Submit your questions Instagram, Twitter, or Facebook and hear our answers live on the show! Here's what our listeners asked about this week:
Tweet from Katie: My husband needs a few days between sex sessions or he can't get hard. Is this normal? She's 31, he's 37. She says she's never noticed the refractory time before but with the quarantine, I've noticed that if I try to initiate again that day or days following it doesn't lead anywhere and he's not able to. Should I be concerned? A couple of days seems like quite a long time.

Ashlee from Twitter: My boyfriend can't climax from a BJ. Trying to deal with my ego thinking it's just me. Tips?

IG: What does it mean when your new boyfriend goes limp when you get on top of him? He says he had this problem in his last relationship too. He can function in other positions but he climaxes quickly.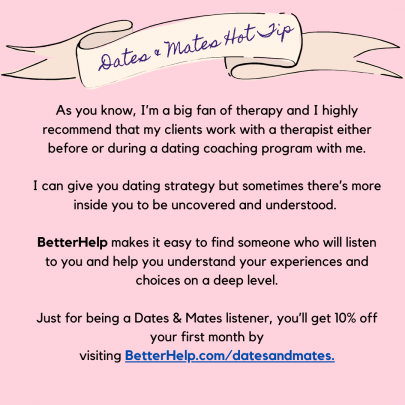 Best of all, it's super affordable – Dates & Mates listeners like you get 10% off your first month with discount code DATESANDMATES 
So why not get started today? We all need someone to talk to right now. Go to BetterHelp.com/datesandmates so you can fill out a questionnaire to help them assess your needs and get matched with a counselor you'll love.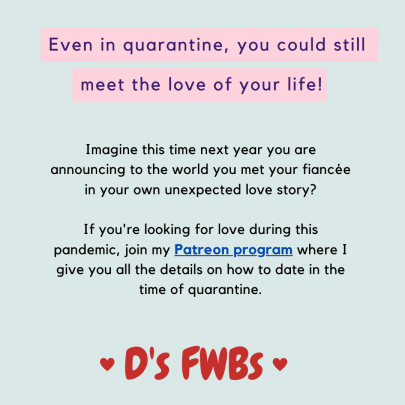 What is Patreon?
Patreon is a platform that allows you to support creators like me to keep making helpful content that you want to hear and allow you to get amazing listener benefits by participating
Our page is Patreon.com/datesandmates
What will you get if you sign up?
There are three different tiers. One for our loyal listeners who want to connect with others and keep this show going strong for another 7 seasons.
Sign up at patreon.com/datesandmates for: 
an opportunity to work with Damona directly

to get quality advice that is tailored to your dating challenges

and to become part of a community that will help you find the healthiest, most loving relationships this year
WANT TO GO EVEN DEEPER? HERE IS A TRANSCRIPT OF THE SHOW IF YOU WANT TO FOLLOW ALONG!
Damona  0:12  
Hello lovers, welcome to Dates & Mates!
Damona  0:21  
one of the biggest issues in dating and relationships is intimacy. Whether you're trying to find love virtually right now and you're not getting enough of it, or you're quarantine with your loved one, and maybe you're getting too much of it. We are all struggling right now, as always, but especially in this crazy COVID world. intimacy and sex are a part of healthy relationships. But we're not always clear on how to build and maintain intimacy in a healthy way.
Unknown Speaker  0:51  
So today,
Damona  0:52  
we are once and for all going to get clear on the intimacy timeline with one of the top experts in this field. Dr. Emily Morse of the sex with Emily podcast. I've listened to her show for years and now I'm delighted to welcome her finally to dates and mates. But before you get all hot and bothered, we have headlines including will dating be forever changed by COVID-19? And could jayda and Will's relationship be in trouble plus the safest places to get your free guide on during the pandemic shutdown? And then in technically dating Emily and I will answer your questions like what to do if you and your partner have different sexual needs and how to deal with insecurities in the bedroom. All that and more on today's very hot dates and maids This one is definitely not one to listen to in the room with the kiddos. Explicit warning, I'm saying it now it's going to be hot but you're going to want to hear everything that Emily and I talked about. You ready For the dates in mates,
Unknown Speaker  2:02  
let's dish these dating dish.
Damona  2:07  
According to time dating will be permanently changed by COVID-19. A lot of people have been asking my opinion on this from NPR, you may have heard me do a couple of segments in the last few weeks. You may have read in my new column in the LA Times about this. There are a lot of people speculating about what this will mean for intimacy. So let me just take a snapshot of where I think we are right now. And I can make a guess about where I think it will go. And I'll also tell you what some of the other experts that time interviewed said, and you can make your own determination about what you think will happen when quarantine opens up and people are able to return to some sense of normalcy. So now we're in this place where just speaking of dating specifically, people are unable to meet face to face. So I'm hearing a couple of different things I'm hearing there are a lot of people that are really excited by the ability to make new connections without all that pressure. So many of my listeners have been timid about online dating. Well, you know, I've always been very bullish about it. But part of the reason is that, that awkwardness of moving offline and into the real world so it's allowed a lot of new people to step into the space and play in the dating space and the chat space in the flirtation space and see if this could be a good avenue for them to date. So I think dating apps will continue to be on the rise. They've already all said that they are having a huge increase in new users and new chats, but we don't we don't know what that will look like when there are other avenues available for dating but I do believe it will consistently be up. Now people are having to do virtual dates, and be really clever with quarantine dates and what I love about This is that it's causing people to be a little more mindful to slow down and also to be more creative and really get to know one another people have been obsessed we talked about love is blind on the show a few weeks ago, people have been obsessed with this idea of finding love without the confusion, I guess of what someone looks like and, and the visual seeing them face to face. But we all know like not every couple made it on love is blind. I'm not saying any spoilers or anything, but not every couple makes it. And so there's this almost fantasy playing out where people are thinking that this is going to be the answer to unlock all of these problems in dating, that dating timelines are going to slow which you've heard me say on the show before and that people are going to become more mindful of who they're having sex with the thought we talked about the other Netflix show too hot to handle recently. As well, what I think is really going to happen is that it's, it's we're going to return to how it was before but we are going to have new filters in place. Like being able to do that video chat and having it not be weird. I that's the biggest thing that I think will come away from COVID-19. With as far as dating is concerned, a lot of things that we once thought were weird, are no longer going to be weird video chat dating is not going to be weird. calling someone on the phone who you've never met is no longer going to be weird. It's going to be normal again, like it once was. So I think this is a really great time, but we're going to go through a little bit of an ebb and flow. They interviewed one of my favorite experts for this time magazine article, Helen Fisher, and she is a she's a social scientist. She works at the Kinsey Institute. She's studied the brain on love, and she says that thirst and hunger are not going to do And therefore, neither are the feelings of love and attachment that allow you to pass your DNA on to the next generation. So that's what we have to remember. Like, I can get all intellectual about dating and dating plans and processes. But when it comes down to it, that drive for procreation and that drive for connection is the strongest thing in the world. That is, that is what drives everything, because we are wired to keep the human race going. And that is not going away just because of COVID-19. So there's a lot of talk of people abstaining from sex, there was this government. I think it was a New York City slogan about you are your own safest sex partner right now, which is true and which has always been true, but people aren't just going to forget about having sex or having connection because we had COVID-19. I think what we're going to see if I can predict for a moment is that once the restrictions are lifted, There are going to be a couple of weird moments, like a first dance at prom, where people are like, I don't want to be the first one to get out there and hit the dance floor like I don't want to look weird or be the first one to make a fool of myself. So people are a little shy to enter the dance floor. And then a couple of brave people jump in, and everybody's like, oh, there, you look cool, that looks fine. I want to do that too. And then everybody is on the dance floor, and then all of a sudden, the dance floor is gonna get really crowded. And people are going to realize that there is a risk right now in dating and making connections with people in holding hands kissing, touching other things that we'll talk about later in the show. And I think there's going to be a little bit of a balancing and a retraction where people are going to slow down again, and that's where I hope we will land in this sweet spot of love and relationships. So check out this article. I'll put it in the show notes. There was also a mention of really interesting experiment that they're doing at you Pan. That's sort of a love Love is blind inspired experiment where they're trying to help people fall in love over email. During quarantine. I can't wait to see what the results of that study are. I'm sure we will cover it on dates and mates but it is making me believe in love again. You know one couple that is love goals for life. Everybody has known of the romance between Jada Pinkett Smith and Will Smith. And we all look to them. We see red Table Talk and we see them out together and we're like, they're the perfect couple. They've got it all. They've got it all. But on read Table Talk recently jayda revealed that being in quarantine has made her realize that she and will don't really know each other anymore. They've grown apart to some extent and they've been together over 20 years. And there is this lull in the relationship where you start to almost take your partner for granted and then you look at them and you think oh How could you take your partner for granted? This is Will Smith or how could you take jayda Pinkett Smith they're both so amazing in their own right. But I love in the show how real jayda makes the issues that she's going through and how grounded they are to make you realize that even though we idealize their relationship, and she is saying she was even idealizing, who her partner was, we can learn so much by hearing her honest take on what's going on. And she's saying that in this time, it's also an opportunity. If you're in a relationship right now, it's an opportunity to get to know your partner again, on a deeper level. I've been doing like 20 questions and playing all these fun games with my husband, and really getting to see a different side of him. I don't feel like it's quite at the level of what Jayla said like I don't know him at all. But I do feel like I have learned things that maybe if we hadn't had that time to really slow down and really bond together that I may not have taken the time to stop and ask some of these questions that I've had answered. So this is a great reminder for us to not be complacent in marriage or in relationships and to always try to find that spark and that ability to be curious. You know, I'm always talking about that with dating, right. Be curious about your partner. And I think that is the silver lining on all of this, not just for jayda and will but for us as well.
Turns out, a lot of people may not be satisfied in their relationships right now because according to adult friend finder, they are seeing a big surge in new users. And this is a casual dating and camping site. So actually all of the so called cheating sites are seeing a big surge and That's a lot of people trying to escape the reality like it's intense in there. It's intense when you are 24 seven with somebody that you, you maybe you really have strong feelings for them or maybe you have been growing apart for a while. And this intensity is just the thing to drive the wedge between you and where you're seeking, seeking fulfillment from other sources. But here's the thing on Adult friend finder, they also are helping people move into like virtual sec situations. And they had to launch a new platform called Virgie. I didn't make it that name, y'all. It's a platform that provides a safe environment for people looking to explore orgies during COVID-19. So some of these people may be in relationships. Some may be single, but a lot of these common video chat sites that We use like zoom, did you know this, like you cannot have relations on zoom, and not that they're peeking in on everybody's video chats, but there is an element of them monitoring what's happening. And so these virtual sex parties could no longer happen on zoom, and they had to find another avenue for allowing the people that come to their site to be able to do the things that they want to do. So this is just to remind you that there's something out there for everyone and whatever your need is right now, whether it's an emotional or an intimate need or simply a sexual need. There's no shame in the game y'all. You can find what you're looking for. Online. The Google machine has made anything that you want possible and animation to you at the click of a button. So I encourage you to go out there and find what you're looking for speaking of finding what you're looking for getting your needs met, and let's face it speaking of sex, we have a very hot guest for you today. As I mentioned at the top of the show, one of my inspirations Dr. Emily Morse will be joining me in just a moment, she's going to tell us everything we need to know about building intimacy from first time sex and consent, all the way to reigniting the passion in a long term relationship. So if you've ever asked after what date Should I sleep with him? Does this sex mean the same thing to her as it means to me? am I even doing this right? Then this is the episode for you don't go anywhere. Dr. Emily Morris is coming up in just
Unknown Speaker  13:49  
a moment.
Unknown Speaker  13:57  
We are back and I am here
Damona  13:59  
with the One and only Dr. Emily Morris. She has a PhD of human sexuality and she is the powerhouse behind one of my favorite podcasts sex with Emily. Please, please, please put your lips together give big smooches to Dr. Emily Morris. Hello.
Unknown Speaker  14:19  
Thank you for having me. I'm excited to be here.
Damona  14:22  
I am so glad to have you here. People have questions and like, I can only take them so far. But you can take them all the way. Emily, wave ready to go. And I will just talk first about your mission with sex with Emily. You talk about make wanting to make sex. Easy to talk about and yeah, so it's so listable and like topics that a lot of people are sort of
Unknown Speaker  14:45  
sensitive about
Damona  14:47  
you make it just you just bring down the walls and make it so simple.
Unknown Speaker  14:51  
Exactly. I mean, that's my main mission is because most of us are not comfortable talking about sex because we don't have any great models for it. Our parents weren't Talking about it most likely our friends weren't talking about it. We have a lot of shame around it. We think love is good girls don't talk about sex and and you know, then what is it? What What message Am I sending if I talk about sex, so there's just, there's just a way that I want people to feel more, you know,
Damona  15:18  
take away the shame and the and the stigma around it and just make it comfortable. Because really, when we're sexually healthy, we're healthy overall, it contributes to a healthy lifestyle overall. So I just try to get people to understand that that's, it's something that we need to do to have an overall healthy life get comfortable talking about sex, and then that actually improves our sex life. Absolutely. And so many of our listeners realize that it's an important part of a relationship and many of them are single right now and wishing for that right relationship. So I want to talk a little bit about building intimacy through the different phases. Let's begin at the beginning with the people that are just starting like let's say COVID aside, quarantine aside, they are just beginning new relationships and beginning to be intimate one.
Unknown Speaker  16:04  
So this there are actually like for some say it's five, there's about four stages of intimacy that we talked about in relationships. And the first one is the infatuation phase. This is the honeymoon phase, the phase that we all crave. And we want to we always, are always trying to get back to this phase. And this is when we first meet someone and we just think, Wow, this person is so perfect for me. everything lines up. It's like, like, we're so alike. It's sort of the infatuation stage and the kind of the diffusion stage. And it's sort of like and there's also a powerful like, neurochemical thing going on in our brains where we feel like a kind of altered state of consciousness going on. And it's sort of like they look at the brainwave patterns of, of people like falling in love, and they're like, God, it looks like either they're in love or they do some kind of drugs because it's very similar, right? It's a very similar pairing, and there's a good feeling of euphoria and connection. So that's like the first stage that we just were like, wow, we are so fused. Everything is just this person is my everything.
Unknown Speaker  17:07  
Yeah.
Damona  17:08  
So then we move past that because I've had like, they're my listeners are tired of me saying this so much, but there's no such thing as love at first sight. Like there's lust at first sight.
Unknown Speaker  17:18  
I say that too. I'm like you not love it is lost and that is totally fine. Lust happens, but you are not in love.
Unknown Speaker  17:27  
Okay, so how, how can we move on to love what's the next stage they might Okay,
Unknown Speaker  17:32  
the next stage is the conflict and the power struggle.
Unknown Speaker  17:36  
This is when you have your first fight.
Unknown Speaker  17:39  
This is when you think, oh, like how do I differentiate myself from my partner? Like, maybe we're not so much alike. You know, we struggle to exert like our individuality in a relationship. And there's like conflict and you're like, how can there be conflict in paradise? I didn't realize, but that is the second stage. And that's kind of where You know, people kind of last through this stage because some do. But the third stage, if you want me to skip to that that's adjustment we call the adjustment and consolidation. And that's where couples end up. This is where couples end the relationship. This is where divorce happens. This is where drugs addictions happen, people start drinking more. And a lot of people don't get through these stages, it becomes a lot uglier. In this stage. We think Oh, wow. Like I remember the first stage. We're like, Oh, my God, we are so perfect together. Everything's amazing. And this is the stage where we're like, there's nothing we are nothing alike. And what am I going to do with each other?
Damona  18:34  
I'm sure a lot of people are feeling that right now.
Unknown Speaker  18:36  
Exactly, exactly. If this is the stage, we crave to get back to stage one. But I think a lot of people are in this stage right now. They might never have seen themselves going into this stage but because maybe we're quarantined with somebody, and there's so much strife and there's we don't have the conflict resolution skills to get us past the stages is is really where people are, are stuck right? And so I urge people to, you know, to kind of take a beat and realize that we've never been in this place before. And there's like a, there's an anxiety level that's like in the ether in the universe right now we're sort of all experiencing it from every angle, at work and at home and just the consciousness of everyone is sort of a heightened state of unknown anxiety, confusion. And then you put on top of that the person that has to be your most comfort in your joy. Now they're giving you some strife, it feels like so I just, I mean, I recommend people reaching out and using their resources. I'm a huge fan of therapy. And I think that right now, there's a lot of therapists I'd say the majority of them are offering online therapy and online coaching right now. And just know that it's okay. You don't have to solve it on your own because it's this kind of language and dialogue that you have with your partner that's gotten you here. So you're going to need someone else you're going to need some more tools from the outside to help you and it's totally okay. Just like we hire a coach for work, a business coach, a trainer to get in shape a nutritionist, you might need one for your relationship right now. Absolutely. I totally believe in that if you're single, like, same thing, we agree on the right therapy right now. Right?
Damona  20:14  
Right. So what's on the other side of that Emily? solve the conflicts. Right.
Unknown Speaker  20:18  
Okay. So, um, the conflict, right? And, and when you get to this is the stage where this is the maturation stage where you mature, you have learned to differentiate, and this is true intimacy, like you've worked through your deepest wounds, you have really figured out, you know, who you are, you've gone to the dark places of intimacy as you shared it with your partner. And this is the stage where you say, Wow, we are nothing alike. And that's beautiful. We are nothing alike. And that's why we work because we support each other. We come together with these beautiful skills. And we've, we've, we've matured together, we've grown it and again, this doesn't mean that you've been together 25 years. This could happen quickly. I mean, this can happen over a year this year. You know, it typically won't happen in less than a year. But it depends how much work you've done individually coming together as well. The comments have you grown? How much have you looked at your past? wounds your childhood, your past relationships? have you dealt with abuse and trauma and anger? And, you know, there's always work to do, but how much and how much are you both willing to work? Like, sometimes there's one person who, who's so into growth mindset and growing together and there's someone's like, no, we're fine. I everything I've done is fine. I need to work and grow. I'm really good here. And that's, that's tough. Yeah,
Unknown Speaker  21:34  
one person wants to grow and another person does not.
Damona  21:37  
Yeah, absolutely. You both have to be on the same page. And it's also I would, I would add into the mix, you have to also be able to trust one another. And that's, and I know that's an element of all the work that you do, like if you are going to be intimate with someone whether it's emotionally intimate or sexually intimate. There's a level of trust you have to build when you say
Unknown Speaker  21:57  
absolutely, I mean, that's the other thing is that you've built trust. See, I just kind of ran through those like quickly, but it's like you. Yes, I mean trust is. Trust is something that you when you have it you have in your relationship and you don't really think about it because it's there. But once trust is broken in a relationship, it can be really difficult to heal, especially on your own. And the couples who like I hear from couples all the time, who say or it's one person who says, well, but partner cheated on me and it's been rough ever since. But I should be over it already. Or then the or the person who did the cheating says to me, why isn't my partner over? And it's like, well, what work have you done? Just saying I'm sorry, doesn't gonna do it, or just because years or has passed, those wounds are still there. So you have to sort of rebuild, but you have to do that together. And again, I believe that can best be done in therapy. And it's very hard to rebuild trust on your own. But yeah, trust is huge. That's a big part of intimacy is couples like, like having trust, having integrity in the relationship. You know, broke broke through. It's messy. They broken things down. They've rebuilt them. And they've they've stayed together and, and only like they say like only 5% of couples get to that that last stage of intimacy that really get there and really do it. Yeah. I mean,
Unknown Speaker  23:11  
I'm hoping I'm their girl.
Damona  23:14  
Living the dream, living the dream, but like, I want to go back for the listeners that are still single. When you're building trust with someone new, that's really, really hard. And a lot of times I get the question about when to be intimate with someone when to have sex. And then how do you even talk like, should you talk about it before you have sex? What's the a DA, being? Sexy?
Unknown Speaker  23:40  
It's a great question. I mean, I do believe that. That in order for us to be in a sexually healthy relationship with to be if we're going to be having sex with someone, we have to be comfortable talking about it. The problem is where we're at today in 2020s, that most people no matter what their age are, their their their backgrounds, their everything. They will not come through with it. We don't have models. We don't have people have done it. But I do believe and I do know this, the couples who are the healthiest and have the best sex lives are able to talk about it. And so I think before you talk about your before you have sex somewhat with someone how great to just say like, how important is sex to you in the relationship? You know, what kind of things are you into? I actually you could say I, it's something that I've been on a journey to figuring out or getting comfortable talking about sex. I don't have a lot of experience with talking about sex, but I know that it's important. So would you be willing to be a partner that could talk about it with me, we could talk about what we like and what we're into and what we don't like or if we've never done this a we can figure it out together. But I know that sex is a really important part of a relationship. And I think, yeah, I mean, I think the sooner we talk about it, the better especially after you start having sex with someone. I don't believe in this. Let's wait a few months while it's still really great. Cuz that's when you should talk about it. Maybe just talk about how great it is or the things that you really liked about it. But it's fun. Because we're in relationships, and we'll talk about like, we go to a movie, and we'll talk about how much we liked the movie will have gone to dinner and we'll say like, wasn't a delicious meal. Well, yeah. didn't love the appetizers. But I really enjoyed the, the main course. Well, we I don't know if I'd go back there again. But sex we just like, we have the sex, and then it's over. And then we don't ever talk about it. And then no one knows
Unknown Speaker  25:20  
how it went.
Unknown Speaker  25:23  
Down.
Unknown Speaker  25:25  
Like, were we in a different, like, read a different thing here. We read different movies where we had a different,
Damona  25:30  
but a lot of times people are in different movies when they're there.
Unknown Speaker  25:33  
They
Unknown Speaker  25:35  
thought that's great. And the other is like, this is terrible. I don't want to do this again. We're sex in
Unknown Speaker  25:39  
my life. Exactly. So how great to be able to talk about it and a lot of my show. It's funny. People hear the name sex with me. They think Oh, God, I don't know if I'm ready for that. And I have to tell you that most of what I talk about is getting people comfortable communicating about it. I always say communication is a lubrication. And the more that we talk about taxi, we get comfortable with sex the much better stuff We're going to have but it's just getting to that place of, of breaking down the walls together and saying, like, I know this is awkward, but I really think it's I know that it's going to help us. So yeah, kind of talking about what your greatest memories are together, like, give her if it's new thing, like, let's talk about what did you like about last night and you don't have to get into what you didn't like yet because I have a whole process for that. But maybe to start off by complimenting your parents, and God, I really enjoyed the way you kissed my neck. When you kissed my neck, I felt these things run through my body that I haven't felt in forever. And just affirming. So they know because maybe there was other things that you didn't like, the let's lead with the positive. I think we all like to hear the things that you do well, so that's kind of like for early stage of relationships. I've other practices for the stuff we don't like but I think just really enforcing reinforcing things that went well is harmful.
Damona  26:52  
I want to get into how you talk about this stuff if you don't like and you have some questions actually in the next segment about that.
Unknown Speaker  26:57  
But consent comes up A lot
Damona  27:00  
for my listeners that are dating and just beginning to have sex. You know, Emily, I'm just going to ask you, I had a conversation off air with another with a male dating coach. I know. And we were talking about consent, and he was talking about like sexy ways that guys can ask for consent. And then he said, I don't believe in asking for consent for a kiss. And I was like, Well, now we're like, separating the process of intimacy. I want to get your take on that.
Unknown Speaker  27:30  
Well, I believe that there's a really I think that in this day and age, there's that Yeah, ask for consent for case i think i think there's ways that you could do it. That's really consensual. That's really like, consensually, it's positive. Again, consensual comes off as consensual, not offensive and kind of sexy. So you could just say I
Unknown Speaker  27:52  
What about just like, I'd really like to kiss you right now. Yeah, I can't stop thinking about kissing you. Would you Be open i mean i'm really thinking about I can't stop thinking about kissing you Would that be okay? How would you feel about that? And like looking at someone in their eyes and saying like,
Unknown Speaker  28:10  
like that's the way it's not like
Unknown Speaker  28:11  
I would you mind if I kissed you right now like it's all it's all energy yeah I think saying like you know I would really like to kiss you right now how how does that feel to you it's just a really honest Looking in their eyes you feel seen and maybe you don't want to but I've had guys say that to me. And even though it was really sweet I'm like, oh God, thank you for letting me know that. I'm not feeling that right now but I so I let's keep talking I'll let you know if I if that if my position on that changes. You know,
Unknown Speaker  28:42  
I'm glad that you can be so honest about that moment. I think a lot of women feel bad saying no to a case or even saying no to sex.
Unknown Speaker  28:54  
You're such a good point here. Yeah,
Damona  28:56  
I hate that. We we don't even you know, we we're kind of Meaning that we are supposed to be polite, like, how can we get that kind of
Unknown Speaker  29:04  
confidence? Right to Mona like, this is the thing is that people is that. So I've talked about this a lot on my show. My show as well is that so many women we just have like we just say yes, because it's so much easier than saying no, like I always I did a speech once. I was like, how many of you have just had sex? Because it was easier than saying now like, how many of you like given that blow job because you're like,
Unknown Speaker  29:27  
raising my hand.
Unknown Speaker  29:29  
Same thing, and it's like, why is it so hard? And I think it's because we don't we're pleasers. We don't want to hurt anyone's feelings. We don't want to come off as prude. We don't want to come off as we don't want to deal with conflict. And so it's like, and I love that we're having this conversation because I think it's like first off for some women. They're like, Oh, I can say no, like literally they don't know they can say no. Well, the person already came to my room. I've already invited him to my home or we're already on a date and they bought me a nice dinner and donate. Oh, oh them. You don't know what else You don't owe anybody anything but your real truth and your real honesty said in the most, in the kindest way possible in the most like, me doesn't have to be kind of someone's being aggressive. But I would, I would, I've learned that there's nuances that to it, and I think of how to say no. And so. So usually what's happened perhaps, historically, is that and this is sort of a somatic practice. As a medic therapy practice, I'm a trained somatic sex therapist as well. And what I mean by somatic is, is it being in your body, so embodied and really paying attention to when someone comes towards you, or someone's touching you? How does it make you feel? And so what happens is so So an example would be, let's say, someone and we probably had this experience where perhaps they just escalated a little bit too quickly. Like maybe the kiss happened. Like, I'll give you the example of the kiss I just use so maybe someone tried to kiss me. I just I've had guys say, like, should we just kiss right now and get over it? And I'm like, no. No, not right now. But just because I say no doesn't mean that maybe we truly could revisit this later. Or maybe Okay, so no better example that's maybe more relatable to people is say you start making out with someone, and it's getting hot and heavy, and then they start to put their hand on your pants. And it's not like you wouldn't want that. Eventually, maybe in an hour, maybe next time I see you, maybe in a month from now. But sometimes the whole it shuts out. We just wanted to what we really wanted that moment was just keep making out. We loved making out with this person. And so so so my experience be getting in touch and feeling like, Oh, I felt me get tense right now I'm not ready for that. And then being able to have the word say, put your hand on their, you know, on their hand and say, I'm not feeling that right now. But I'm really enjoying making out with you. So let's keep doing that. Or I need to take a beat for a moment. Can we just pause on that for a second? I'm so loved loving getting to know you right now. So that signals to them I'm not saying gay. Go home, get in your car leave my house. I'm saying this is escalating beyond where I want it to go right now. And I'm sort of enjoying the arousal process of getting to know you the kissing. And I think we will often either just think we got to shut it down or we got to keep going. And we don't realize that there's a nuance to the process of arousal because most men if we're talking about heterosexual relationships, for example, men escalate quicker than women. Men get aroused and turned on they have more of a responsive desire they respond to things happening in the moment or women or women are more responsive like we need things to build where men are spontaneous, they get aroused a lot quicker. Women are slow cookers and men are frying pan. So literally in that same moment of making out there ready to go to third base to us little tournament. We're like no, I love getting to know your lips. So sad. Yeah,
Unknown Speaker  32:53  
yeah. And I love how you keep
Damona  32:54  
reiterating what it is that you like and even when you are giving a credit direction or a reset of the energy. It's still with a reminder that you like where you are what
Unknown Speaker  33:08  
if you just
Unknown Speaker  33:10  
don't you're not feeling it at all and you need to send a very Okay,
Unknown Speaker  33:13  
great distinction so I think if you're not feeling it you just stop and you say and this happened to me very recently.
Unknown Speaker  33:20  
Tell us about it.
Unknown Speaker  33:21  
Oh god you guys I'm telling you this is this work is not it's not like I'm a pro at it I just in the moment sometimes it's still always a little bit uncomfortable because you feel bad and all those things come up. I'm just telling you ways to do it that are you know, that are a little more that feel good to everybody involved. So I had to say I we were going to make no for round and I thought I'm not feeling this guy anymore. It's just it. I had already had some hesitations. And I just stopped and I looked him I said, you know, what, can we slow down for a second? And I said, I I gotta tell you, I so love spending time with you. But but but in this moment, right now, I'm feeling like we got to just kind of take a pause. And can we just get up and just kind of go back to my living room. Just kind of chat and then we move down he was it okay. Okay, I said Listen, I've just so I have a lot of things happening in my life right now. And this is all true. And I just said I I'm not feeling like I'm in a place to be really physical with you right now but I've so enjoyed our time and let's just do need a glass of water and let's talk and I was just, I was working through in the moment as well because I've learned that if I am not fully on board and my whole body's out of hell, yes, I can it's a violation to who I am as a woman as myself. I can't keep going so I had to say it but I'm saying can be clunky and I feel bad but then I'm he got it though it is it okay. Like I understand you. Let's talk. I wasn't saying get the hell out. I wasn't I was like, let me explain my process. So
Unknown Speaker  34:41  
yeah, the other thing that you did
Damona  34:42  
that's really great is you really stayed in the moment like I'm always telling my listeners not to get ahead of themselves, like you weren't, like, This guy has to get out right now because I don't know where this is going. You just are like right now this doesn't feel right to me. And so I'm just going to react to this moment. Exactly, yeah. And that's a lot of pressure off yourself, right? Because when you're when you start thinking about, like, what happened before what happened after I mean, that's another thing like people that have had sex before that realize they don't want to have sex with someone again, it's kind of like you were saying earlier, there's this feeling like, well, if we've already had sex, we might as well just have sex again. Now, right, you always have a chance to choose right?
Unknown Speaker  35:21  
Every you have a chance to choose in every moment and with every relationship and with every encounter, to be to, to to change your mind. And when we're present. So what we're talking about is when we go into an experience like that, where we're like, I gotta get out, we go into fight or flight. And we go into the future in the past. We don't make great decisions for ourselves. So to say, we'll say like, go back to right now in this moment, I am not feeling it. We have totally we have agency over that and you don't owe anybody anything. You don't owe anybody another kiss, another sex another date, like really don't and I think that is women. This is just like we're breaking, you know, so many years of this stigma and this feeling that women just have to and we owe it to men, and we just don't We don't, and we could take care of ourselves and it's our bodies, our choices, and all those things are really real. And I think the more that we do that in every situation, we're going to be just so much, so much better set up for our relationship that we can teach our daughters or nieces or the women in our life. How to do that as well.
Unknown Speaker  36:17  
Yeah, paradigm. It is. Thank you for reiterating that. Okay, I want to go back, you said that you had some tips in case you you need to give someone some
Unknown Speaker  36:32  
constructive criticism. Yes. How do we do that?
Unknown Speaker  36:36  
Okay, I love the compliment sandwich. So, do you want to give me an example of something you might want to correct? It can be from your life damona or anywhere else? Like what would be something that you might want to give feedback or that you've heard from your listeners? Oh, I don't like the way.
Damona  36:50  
Is there anything? Actually I did get a DM when I was asking for questions about a woman who said she has trouble climaxing during oral sex
Unknown Speaker  37:01  
with boyfriend. All right. So that is such a common a common thing. So I, so well that's, that's interesting because so what she might be saying is,
Unknown Speaker  37:12  
Okay, here we go. So she'd say babe, sweetie, okay, here's my first step
Unknown Speaker  37:17  
outside the bedroom. Number one, you do not have the conversations about what you'd like to change, or giving feedback to your partner in the bedroom after a sex act. Because we're in a heightened state of arousal. Maybe we've just we're connected where I like the bedrooms. I like that for sleeping and for sex. But when we're gonna have a conversation about our sex life, do it when you are in an environment where you're kind of chilling, you keep it light, maybe you've just had a drink, you're at dinner, you're going for a walk. I love walking and having conversations on a road trip because these conversations can be so awkward and uncomfortable at first. You don't have to make eye contact if you're driving your car like okay, babe, I think we should talk about our sex like that. That concept
Unknown Speaker  38:01  
is the environment for any conflict IV.
Unknown Speaker  38:04  
any conflict, get in the car time to walk the dog with you again. So then so then you say okay, so I realized that I want to talk to you about I've been thinking about our sex life. This is the compliment sandwich. And, and you start with something you love. I think that it's been lately the way you've been. The way it's been a lot slower lately. And I love the way you've been like making out and that thing you did with your tongue and my on my neck or my ear felt so good. Like, I feel like we've really been, you know, connecting lately in that way. And I realized that when you go down on me it is so it's like my favorite thing. It's so hot. I get really aroused. And lately I haven't been able to orgasm. I was thinking that perhaps if we took a little bit more time with it, and I could have a few more. You know, sometimes I feel guilty because I feel like I'm taking too much time. And I feel like if we He just kind of settle in, I knew that you were kind of into it as well that I would definitely have the most explosive orgasms, and then the last piece of the bread would be, and I know that when I'm really turned on and having orgasms, it just makes me want to have sex every day. He
Unknown Speaker  39:15  
want and that's what he wants. He never wants
Unknown Speaker  39:18  
So I mean, that was a lot. You know, that was. That was I was also answering the A common question that women have about why can I orgasm during oral sex? And typically, it's because women are, well, we can sum up the compliment sandwich first and I'll get into oral like, but typically you want to be very positive. You want to stay curious. You don't want to be accusatory or blame I've told you so many times to go down. I mean more, why doesn't this happen? Because the second you do that they're just out the door. So really, it's just here's what I love. Here's why this would be great in a suggestion and then ending with like, the reason why it's great for both of you is my best tip.
Damona  39:53  
I love that. I love the compliment sandwich. I have so many questions Emily. I would love to just keep on talking You feel like questions, but so many people have submitted their questions. So I'm gonna roll on into our next segment. Do you have questions and Emily and I have answers. So now it's time for your favorite segment. And I just want to remind everybody, these are going to be a little bit more R rated than usual. But Emily, I'm sure these are no biggie for you. You got it? Yeah, no questions like this all the time. Our first one comes to us from Katie from Canada. She says, My husband needs a few days between sex sessions, or he can't get hard. Is this normal? And just to give you a little bit more background, because I followed up with her She said she's 31 He's 37. She's never noticed the refractory time before, but since the quarantine she's noticed that if she tries to initiate again that day or days following it doesn't lead anywhere or he's not able to and that feels like a long time.
Unknown Speaker  41:00  
Okay, got it? That's that's a great question. And I love that she gave me his age because when people email me their questions, it's really important to people's age and to know where they're at So, so, if you're 37 if he's 37 so here's what I think the refractory time for men meaning the time it takes for them to be able to have sex again after they ejaculate. You know, when you're younger men can kind of keep going. And when they get a little bit older, it can be challenging, but 37 is still young, typically, men start to see challenges around erections. And around in their 40s is when there's a drop in testosterone. And so what I would think what my first hit from this is that what the first thing is, it could be medical, it could be testosterone drop, it could be if he's taking any medications, the first thing to look at is as you change anything at all, is he drinking more? Is he on a medication, there's a lot of medications that actually impact our ability to get to have an erection to have an orgasm. So that's what we got to look at a lot anything medical, and then we take away all of that. Listen We are in a time of tremendous stress and anxiety, which already before quarantine is the number one killer of our sex drive. When we are stressed, and we are anxious, especially men, I find this in men more than women, when men are concerned about money, their job, something happening, their ability to be in the masculine and take care of the family like that really has an impact on their desire. And so I don't know that you should be concerned. But I think that maybe I would tell Katie to go a little bit deeper. And just like how I said, to have the conversation about sex in a neutral environment, the same thing goes for this kind of thing. Just say, I've been thinking about you. And I know you said it's gonna take a few days is it you know, tell me about how you feel? Is there anything we could do? You're doing in a way to help that like, I can't believe it, you're not getting turned on because a lot of times what women we do is we think oh, he's not attracted to me anymore. Something's wrong with me. Or, you know, and just being like, supportive and saying like, well, let's take a look at it. Let's take a look at like your medication, or do you think it could be something stressful Something I could do to help you more like relax right now because a couple days is a long time, like in the sense of like, I'm sure he could still get turned on but I feel like there he might just have other things on his mind right now is what is what I'm thinking. Yeah,
Damona  43:14  
I've been hearing that couples in quarantine together are actually having more sex right now. So I wonder also if she's been like, does this
Unknown Speaker  43:23  
I don't know that you're hearing everything Okay, so I'm hearing that there's some couples who are like, Oh my god, it's so great. We're both home now. I'm not traveling as much for work and we're just having this time that we've always craved. other couples are like, I'm going to there's nothing sexy about living in this one bedroom apartment and I'll be doing and staring each other and that is not hot. Because something about you becoming one of candles eroticism when you don't have the surprise and the mystery in the spotlight at all that is just washed away with this quarantine. So I actually, I don't want to put any more pressure on everyone. Like I think it's different across the board. But but maybe Yeah, maybe Katie's feeling like she wants it more because maybe he's been away a lot now. Homework. And maybe he's trying to figure out how to work at home. And how do I make sense of this all. And he's just really stressed and is more distracted right now. And so maybe creating a space for them and their relationship where they can separate from work and creating a time where they're scheduling sex, which is one of my best tips for couples always and right now to say, I know that we're having sex these three days this week, so you're not one of you isn't feeling like you're always rejecting their partner, or someone wants it more than the other. But when you can plan it, and you know, like sex is happening eight o'clock on Saturday, you can kind of start to look forward to it. You can get ready, you can shower, you can shave what you can like, talk about the things you want to do. And then that becomes your activity that you're both going to share and it works better for for both usually.
Damona  44:43  
Yeah, and what else do we have to do right now? Exactly right. I'm all about the date night so I had to make a date night appointment with my husband like after the kids go to bed. Saturday night, your mind. Now he knows this. He knows what's coming. Okay. We talked about women and oral sex but from the other side This question comes to us from Ashley on Instagram. She says, My boyfriend can't climax from a blow job trying to deal with my ego thinking it's just me any tips?
Unknown Speaker  45:17  
Great question, Ashley. I hear this all the time. First off, it is not you I wish I could just talk to the collective conscious of women and be like most of the things that are happening with your boyfriend's your partner's penis has nothing to do with you. It's very common that men cannot orgasm from blowjob and and so it could be a lot of reasons it could be the way he masturbates. It could be the way he's holding his penis. It could be because he's watching a lot of porn. And it is harder for him to masturbate with with a mouse there is. Now also I want to say yeah, maybe there's something else that he wants sexually. And you're allowed to say to him God, I really love performing oral on you. I'd love to know your best tips of how I can make it the best blow job ever. But I wouldn't ask him in the moment, I would say I'm going to or I would say I want to start asking your next time when you show me what you love because I want to be your best ever. You could do that as well, Ashley but there are I'm hearing this more and more lately that there's just a lot of men who just aren't orgasming from blowjobs and I just I've always heard it but something lately and I have a hunch it has to do with porn. Because I believe that men are watching so much that's a whole nother show. We could do more and watching But yeah, I do believe that I'm not like anti porn by any means I get that it serves its purpose. But when we have one way of holding ourselves and one way of generating pleasing ourselves, it can be challenging to bring anyone else into the mix even if she's like a you know, expert porn star, whatever like doesn't for a living, it can still be challenging. So best take your ego out of it and just get some healthy communication with your partner.
Unknown Speaker  46:53  
That's great advice, Emily.
Damona  46:55  
Okay, this one is another Instagram question from Shannon. She says, what does it mean when your new boyfriend goes limp when you get on top of them? He says he's had this problem in his last relationships, too. He can function in other positions, but he climaxes quickly.
Unknown Speaker  47:15  
Okay, Shannon, this is a great question too. It's like, I wish we knew her age, but I'm telling you, it sounds like she might be a little bit. I don't know, younger. I don't know why I have this sense. But I feel that men have penis challenges, trust him that he has that trust that it's happened in his past relationship.
Unknown Speaker  47:33  
And
Unknown Speaker  47:36  
when you get on top of him,
Unknown Speaker  47:40  
I mean, okay, so most of the challenges that men face with their penis have to do with anxiety and has to do with things that have happened in a situation that's happened in the past. And all men want to do is perform. They want to be great lovers. They want to stay at heart and they want to keep going. But sometimes if things have happened in the past, it even only takes one time. We're like, Oh, no, I'm going to get soft and this isn't, you know, this, this, this keeps happening over and over again. And then they are they're reinforcing it and their behavior. It's a what it means is I think again, you have to kind of understand what kind of like what positions, he functions in other positions, but he climaxes quickly does he climax. So what I'm hearing then is that in every position, he climax quickly, but then when you get on top, he gets soft. So it's just it's almost like you're having, these are challenges that you're having. And
Unknown Speaker  48:33  
yeah, and that's her favorite position. She was saying that's the that's the position that she can come in most easily. But he can't perform in that can perform that
Unknown Speaker  48:44  
way. Well, here's the other thing I want to say is what I believe that if he gets limp, he can probably he can get harder again. So what we have to do when our partners get limp is not freaked out and not ended just because they're like, Oh my god, I can't believe it. You could be like it's okay baby and then you could go down And again, you can start to touch him, you can use some lube, you can like, get him hard again, because just because he got soft, doesn't mean that it can't come back and again in a moment, but it's the both of you that collective, he's going, I didn't say that often you're like, he's not hard, and then it becomes a thing, but just be like, it's okay, babe. And then you could kind of work around, make out again, do some other things. And I guarantee you, he's going to get hard again. I mean, I'll come back. And that's a training thing, and then you get back on top of them. And then if it happens, again, you go back down again. And I think once you both realize that he can get hard again, it's gonna be able to come back. This is what I've experienced with with people, it's just a matter of retraining, what what means sex is over what means you know what I mean? So I think baby does have experience with that position. And he really think the reason why he's getting soft is because I think he probably really wants to be there and deliver and he just can't. So it's kind of retraining. It's almost like creating new neural pathways in the brain. That's what it's about.
Damona  49:56  
Knowing Yes, well, and it sounds like this relationship is knew, but I often hear from people in long term relationships that they want to try new things or they get to this Roadblock, and they don't really know how to take things in a different direction. What do you say to that?
Unknown Speaker  50:15  
Oh, it's it's a great question because that is so common that couples are like, what what do we do? What where do we go? We've got
Damona  50:19  
our friend Emily.
Unknown Speaker  50:21  
Exactly. I was gonna say, Come on, girl. It's okay. But the first thing is, is communicating about it and saying what? I think we can both agree that we want to be the greatest lovers to each other ever. And I love all these things about relationship but there's I feel like there's so much more that we don't even know we've been together so long would you can we can we make this our thing right now? Can we figure out what would be super hot for both of us? And a great place to start is you each talk about maybe you will share the most memorable time you've had sex like what is the top three moments for you? Like it could be like something that happened or position or glance or a look? And then just by you explaining that And then your partner coming back to you and saying his times, there's so much detail. There's so much information just in those moments like, like, the most memorable time could be, you know, when you guys were on vacation, and oftentimes on vacation because there's no distractions, and maybe you were in a hotel room, and then all of a sudden, like someone else walked in and saw you. And then you're like, Okay, well, there was no distractions, the window was open, and then someone else walked in. So there was like, the element of surprise, or maybe voyeurism. Or maybe it was it was going really slow. And he was slowly it was the way that he slowly addressed you. Or maybe you had a blindfold on. I mean, there's intelligence in these in these moments. So I think once we find out these are the things that that worked, and why you like them, and then your partner would share the same things and you can say, Okay, well, let's do more of that. So that's a great place to start. Another thing is just to get smart together and a lot of couples Listen, I've found over the years I've been doing this for 15 years. The podcasts a lot of couples listen together to my show. And they're like, Oh, well Emily says this and, you know, use me like, I don't care if people blame me and they're like, well, like you can stop and be like, what do you think about us trying watching porn together or buying some sex toys together? That is mostly what we're missing. It's not that we don't love our partner, but we're missing novelty. We're missing something new and different. So it's like toys, getting ideas, research, reading a book together, listening to my show, just finding new ways to connect. You know, it could just be even outside the bedroom, like our same bedroom over day over day can get boring. Everything does after a while,
Damona  52:36  
especially sex. Thank you for those tips. I'll be sure to pass them on to my friend. This was awesome. Thank you so much for joining me Emily. I'm so glad to have you on dates and maybe
Unknown Speaker  52:47  
you for having me. I'm so honored. And
Damona  52:52  
y'all you got to get listening to the sex with Emily podcast or check her out on Sirius XM stars channel 109. She's on every day. You can find her on your favorite podcast platform. And hey, like she said, you can use the podcast as a jumping off point for your next sex talk. Thanks so much for being here.
Unknown Speaker  53:11  
Thank you for having me.
Damona  53:13  
We have made it through Episode 308 of dates and mates. I actually did an interview on Emily's podcast too, and I'll put a link in the show notes or you can join Patreon, where I'm adding the cliffsnotes versions of all of my media interviews and podcasts that I've appeared on. I'll bullet out everything you need to know so you can follow along and soak up the most important info. But that's not everything you would get from being in my patreon Friends with Benefits Program. I also have a step by step video training on how to start online dating today. Plus in a few days on Wednesday, the sixth of May, I'll be dropping a new video training on how to tell if someone is good match for you on Tinder. Just using Facial analysis techniques work. Yes, watch the mind of some of our listeners being blown as they experience the brilliance of a live facial analysis by Susan. I bet, y'all Honestly, this is like a game changer info. It's all going down in the Patreon. You can get all of these resources for you starting at just five bucks a month@patreon.com, slash dates and mates. I'd love to have you join the community. In the meantime, please, let's let's connect. I'm on all the socials at damona Hoffman. And I love hearing from you all all of these questions that we've been getting are so rich and layered. And I know that there are a lot of you nodding your head to these questions going, Oh, that's a problem for me too. And if you're thinking that then I want to hear what your question is, because I guarantee you it's going to help somebody else who is listening to the show. Don't forget to share, share what you've learned, share this episode and Please join me again next week all my subscribers get the episodes the minute that they post until next week.
Unknown Speaker  55:06  
I wish you comfortable face masks and happy dating
https://damonahoffman.com/wp-content/uploads/308.png
200
300
Leah Schell
/wp-content/uploads/damona-hoffman-logo-209-1-1.png
Leah Schell
2020-05-04 21:29:01
2021-05-14 22:23:56
Intimacy & New Dating Norms