DATING LIKE A CEO
If you're reading this right now, we know you are a Boss – the CEO of your life, if you will. But sometimes those CEO qualities just don't match up with your dating life.
Today we're learning from dating coach and image consultant, Neely Steinberg who will show us how to boss up in our love lives the way we do in business. BE THE CEO OF YOUR LOVE LIFE!! Remember that Love Lessons episode on first impressions? Well, she also has some fab style tips on how to present yourself the way you want to be seen. 
Bye Little Black Dress. Buh- bye.
But first, Damona covers headlines:
DATING DISH (1:28)
Demi Lovato's relationship is running on quarantine standard time
Did you see who Demi Lovato is dating? Excuse us… Engaged to (according to our sources) ?
FBI WARNING:
Dating Scams are on the rise! HighSpeedInternet.com gives us all the stats.
The Kinsey Institute tells men to just… please… keep it in your pants.
New study on dick pics from the Kinsey Institute! Damona breaks it down.
BE THE CEO OF YOUR DATING LIFE (11:00)
Damona is joined by Neely Steinberg, a dating coach and personal image consultant who helps smart, savvy women take back their power and become the CEO of their dating and love lives. Neely has a Masters degree in Counseling and has been running her business for a decade.
We leave it all on the table
Is Match the best dating app out there?
How to "massage" the dating app algorithm
How to boss up and CEO your dating life
How to dress for your body shape
Make sure to check Damona out on Going to Bed with Garcelle later this season!
TECHNICALLY DATING (29:40)
Submit your questions Instagram, Twitter, or Facebook and hear our answers live on the show! Here's what our listeners asked about this week:
I met a guy on match and we've done an audio call in a video call and where having a masked walk and talk tomorro w. I'm trying to be open minded but he is 10 years older 64!

I wrote my crush a love letter a week ago and haven't received a real response. (Y'all she sent me the love letter and it was beautifully written)

He hasn't responded to the letter, but he let me know that he's read it and has been keeping distance so he can process. What should I do?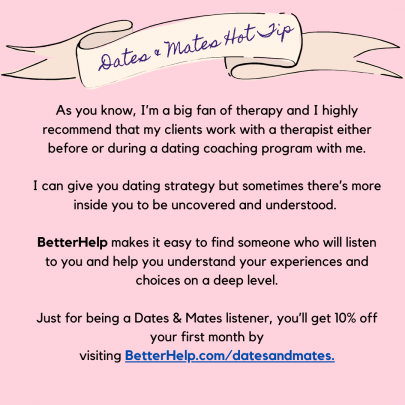 Best of all, it's super affordable – Dates & Mates listeners like you get 10% off your first month with discount code DATESANDMATES 
So why not get started today? We all need someone to talk to right now. Go to BetterHelp.com/datesandmates so you can fill out a questionnaire to help them assess your needs and get matched with a counselor you'll love.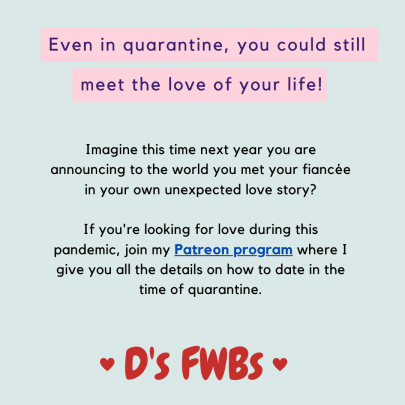 What is Patreon?
Patreon is a platform that allows you to support creators like me to keep making helpful content that you want to hear and allow you to get amazing listener benefits by participating
Our page is Patreon.com/datesandmates
What will you get if you sign up?
There are three different tiers. One for our loyal listeners who want to connect with others and keep this show going strong for another 7 seasons.
Sign up at patreon.com/datesandmates for: 
an opportunity to work with Damona directly

to get quality advice that is tailored to your dating challenges

and to become part of a community that will help you find the healthiest, most loving relationships this year
WANT TO GO EVEN DEEPER? HERE IS A TRANSCRIPT OF THE SHOW IF YOU WANT TO FOLLOW ALONG!
https://damonahoffman.com/wp-content/uploads/323.png
200
300
Leah Schell
/wp-content/uploads/damona-hoffman-logo-209-1-1.png
Leah Schell
2020-08-20 00:13:58
2021-05-14 22:23:56
Dating CEO & Romance Scams