QUESTION FOR THE LADIES: WOULD YOU EVER PROPOSE TO YOUR MAN?
I hope you were inspired by the success stories that we featured in last week's episode Quarantine Love Questions. Hearing stories of new love made us want to share more success stories with you. So today's episode is about the BIG moment in one couple's relationship.
You know that moment when a guy gets down on one knee and asks the girl to marry him? Well this story is exactly like that but the roles are reversed and the woman is the one doing the proposing.
Today we'll explore why women don't feel comfortable making the first move with Jenn and Sean, an engaged couple who is writing their own rules on love.
More on that later, first Damona covers headlines! 
DATING DISH (3:15)
Megan Fox and Brian Austin Green call in quits
The first Hollywood couple to report that their relationship ended in quarantine. Damona reports.
How to weather the oncoming financial crisis
It is widely known that a lot of conflict in relationships centers around finances. In this current financial crisis, the University of Arizona gives us a study on how couples can ease the burden on their relationship.
COVID Season's Hottest Dating Profile Musthave
Singles across the country are flaunting their coronavirus antibody results. Is this actually hot or not?
HOW DO YOU LIKE TO BE LOVED? (10:45)
Question for the ladies: Would you ever propose to your man?
Way back when my husband and I were dating, there was a period where I was just waiting for the proposal to happen. 
He knew he was going to propose. He knew I knew he was going to propose. But the days kept coming and there was no ring in sight.
I thought about proposing to him, but I just couldn't do it. However this week, I talked to one woman who took the reins into her own hands.
A few months ago, Jenn got down on her knee and proposed to her boyfriend, Sean! 
When I heard their story, I had A TON of questions, and I know you do, too.
On today's episode of Dates & Mates, they share their story and I analyze what modern daters can learn from it.
This is a really cute story but we also get a better understanding of when and why women should make the first move plus take a peek inside the mind of men who are ready for commitment.
Here's a pic they snapped just before they went on their life-changing hike!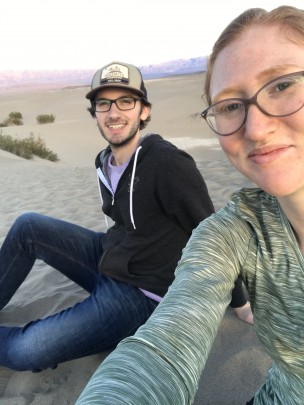 TECHNICALLY DATING (32:00)
Submit your questions Instagram, Twitter, or Facebook and hear our answers live on the show! Here's what our listeners asked about this week:
Voicemail: What's a good response for when someone asks you "why have you not been married?" I always answer that I haven't found the right one

 Iris in San Diego, sent us these questions: "What will be the impact on marriages? Will the divorce rate go up?" 

I went through a breakup last month…and shortly after I lost an extended family member. I feel that I can't properly grieve either one of these events. Do you have any advice?
WANT TO GO EVEN DEEPER? HERE IS A TRANSCRIPT OF THE SHOW IF YOU WANT TO FOLLOW ALONG!
Damona  0:12
Hello lovers. Welcome to dates in mates. I hope you were inspired by the love stories that we featured on last week's episode, quarantined love questions. You know, hearing stories of new love just made me want to share more success stories with you. So today's episode is about the big moment in one couples relationship. You know, that moment when a guy gets down on one knee and asks the girl to marry him? Well, this story is exactly like that. But the roles are reversed and the woman is the one who did the proposing. My nine year old daughter asked me the other day, why is it that the man always asks the woman My husband who was in the room at the time, he replied, he was kind of burying some male shame when he said this, that it was a relic of another time in history when women couldn't really choose who they married. So he goes on. Do you know who the man used to propose to? And she looked at him confused. And he says, the father of the bride. And for the sake of future generations, I was glad to see that this response totally threw her for a loop. She had no idea what he meant by that. And it always bothered my husband that there was this expectation that he had to ask for my hand in marriage, since he saw me as my own individual person with freewill not a piece of property belonging to the Resnick family. Yeah, so ultimately, my husband did propose and he did, as he says, alert my parents to his plans, although he will swear that he did not Call it asking for permission. My dad looks at another way. Regardless, we all got the outcome that we wanted. But as a feminist I have always wondered, why didn't? Why did we even have to go through that ridiculous dance at all? Why didn't I just ask him? I knew months and months, maybe even a year earlier that I wanted to marry this man. What was it that kept me from just proposing to him? Well, today, I'll explore that question with Jen and Shawn and engaged couple who are writing their own rules on love. But first, we got to get you up to speed on this week's headlines. We'll talk about a new study on how couples can weather the oncoming financial COVID storm and spring's hottest dating profile must have plus our first major celebrity breakup announcement of Corona season. Then we'll be answering your questions like How do you respond to the Why haven't you been married question and will Coronavirus increase your chance of divorce All that and more on today's dates and mates Now,
Unknown Speaker  3:15  
let's dish these dating dish.
Damona  3:19  
Brian Austin green and Megan Fox are officially calling it quits on his podcast with Brian Austin green. You got you guys know Brian Austin green. He was on Beverly Hills 90210. And then the reboot of Beverly Hills nine to one. Oh, well, he said that he and Megan Fox who's like maybe the hottest woman ever born. They have been separated for months after realizing that they've grown apart and Megan actually said something in an interview about traveling for work and realizing that she was happier away from her husband than she was together with him and I'm sure for Brian Austin Korean must really sting Like, he's definitely not going to find a sexier wife, like megan fox is the pinnacle. But it also goes to show you that sometimes you don't know what's under the surface of a relationship. And we know the relationship has been Rocky. They started dating in 2004. They got married in 2010. And then apparently they were going to split I think we even covered on the show before, they filed for divorce in 2015. But then they reconciled before the birth of their third child. So now they have three, three kids together. And Megan is saying they're still going to do family vacations together. And I know a lot of couples want to do this. When there's a breakup, they're like, we just want to keep everything like it was. But it's not like it was you're not romantically involved together. And believe me, I know of couples that have done this successfully, but I just want to take our foot off the gas and if you're finding yourself in this situation, we can say what we ideally want to happen in the future. But don't be too hard on yourself to try to make everything okay for the kids, especially in the middle of a pandemic, something as serious as this, things are going to unfold the way they're going to unfold. And I for one, I'm sorry that this couple didn't make it, but I'm sure they will both move on and be happier in the long run. If you are facing some financial trouble. Turns out your relationship may also be in trouble too. There was an interesting article that came out on how couples can weather the COVID financial storm and it gave a lot of great just general relationship advice on how to manage this time including they call it relationship maintenance behaviors, like respecting one another being there for one another and showing love and affection for one another. Which is great and easy to say. And I know a lot of you guys listen to this show, or hear me on other shows talking about like just communicate just just work through it together. But it really is at the core of, of your relationship lasting. So if we just break that down to like what is showing love and affection for one another look like, like at the end of each day. At this point, I'm doing a lot more work than my husband is I produce this podcast, I also produce another podcast called I make a living for the freshbooks brand. I have dating coaching clients, there's a lot happening. And so my husband is taking on the burden right now of managing the kids and homeschooling. So I make sure at the end of every day, I just say to him, I love you, I appreciate you, thank you for doing this so that I can provide for our family and do other things that are really important. So that might be a good place to start if you're starting to feel some of those, that friction. And then this article also reminded that receiving financial support from family and friends was associated with higher levels of commitment. For the couples that were studied in, in the study that this article references, so I know a lot of you, you, you want to feel like you can do it on your own, but this is the time to remember that it takes a village. It really does. And you may need to lean on your parents, your brothers and sisters, your extended family a little bit right now so that you can keep yourself from going underwater. It's the reality that those who are struggling financially are going to have a tougher time making it through Coronavirus and the quarantines and the safer at home and I'm sure a lot of you. I'm speaking to a lot of you right now who are listening to this podcast. But just remember that there are resources out there for you and there are people in your, in your circle in your community, or in your family that want to support you through this because it's not worth it to lose your relationship over financial challenges if it can be worked through it. You've heard me say on the show before, that a lot of times the financial challenges are an indicator of something else. So see if you can get to the root of what's really going on. And make sure that you're doing those things like respecting one another, showing love and affection and being there for each other during this time.
If you're still single though, Coronavirus, might actually help you out in getting a date. There was an article that said singles are flaunting their COVID antibody test results now in dating profiles. I really wonder would you guys do this? Would you put your like, I'm, I'm negative. Like some some people have asked me if they should put STD test results in their dating profile. I think this is all a step a little bit too far. And this to me also shows a bit of a desperation for that connection or for having sex and moving offline really quickly and making people feel a little bit more comfortable that you are not that you do not have COVID. It's the antibody test that they're talking about. But I'm sure people are doing it also with the the current COVID test, which I actually just had today, and it was super easy. I live in California where it's free, and anyone can sign up for it. If you're not somewhere where you can get a test like See if you can go in your doctor's office, because it's just great for peace of mind. I don't believe that I have it. I guess I'll let you guys know next week. But just to know where I stand and as as we start to open our circle out more as we start to move back into dating. You want to know your status. And so it is sort of like the new STI, you have to know where you stand and then communicate that to someone else if you're going to be intimate, but I do think putting it on your dating profile, maybe a step too far. Those are the headlines for this week. But I have an epic love story coming your way in just a moment. So don't go anywhere.
Welcome back. As most of you know, I classify myself as a feminist dating coach, and I want to push more women to take initiative in their love lives. But a lot of times we have this fear that making the first move will come off as desperate, or will intimidate men. But I know for a fact that this takes a lot of pressure off of men and can actually ease the connection and make you more likely to move into the relationship of your dreams. So I got to interview one couple who shows us what it looks like when a woman takes charge in their relationship. A few months ago, Jen got down on one knee and proposed to her boyfriend, Shawn. Yeah, you heard that right. She asked him to marry her. Obviously, I had tons of questions, and I'm sure you do too. So I'm excited to share their love story with you In a nutshell, Shawn and Jen met in their undergrad dorm hot tub seven years ago and have been together ever since. I also did ask questions about the dorm hot tub. I'm like, how do you get this dorm hot tub? I can't even get a hot tub in my house and they had it at school. But that I digress. Jen has always taken the lead in their relationship. She actually was the first to add him on Facebook. This was like the beginning of their relationship. And that was a huge relief to Shawn. I was like, Oh, cool.
Unknown Speaker  11:33  
Yeah, 50% of the legwork.
Damona  11:38  
Yes. Wait, talk to me more about that. Because a lot of times people I say that all the time on the show that women should be proactive. And I know we're gonna be talking about more about women being proactive in your relationship, but I get a lot of pushback. What was keeping you from reaching out to her first
Unknown Speaker  11:55  
at the time, I was very nervous of like, just like communicating with the audience. It sucks because it wasn't my strong suit. So this thing is really cool because it already has kind of started us off on this whole connection thing. Just like a whole new world.
Damona  12:10  
You messaged her first though.
Unknown Speaker  12:12  
Uh, yeah, I messaged her and said something to the effect of I don't mean to be that guy asking someone out over Facebook, but, uh, maybe you would you want to go get coffee sometime. And then I said,
Unknown Speaker  12:27  
Well, I don't really like coffee, but I'll go get hot chocolate with you.
Unknown Speaker  12:31  
Yeah. And then I was like, Well, I don't like coffee either. So let's both get hot chocolate.
Damona  12:36  
Oh my gosh, you this is the perfect love story. I love it. You asked her out for a date that you didn't even want to go out.
Unknown Speaker  12:45  
I didn't know what to say. I was like, coffee is what people do right.
Damona  12:50  
And the rest is history. Within a year they moved in together, and their relationship moved quickly. But they agreed to take things one day at a time. You've heard me say that. on the show before, Jen had some relationship fears, though, that brought her to this defining moment in their love story.
Unknown Speaker  13:07  
I had some issues, you know, you always have your first heartbreak. And I work in theater. So I would travel and do summer stock theater and things. And the first summer after we had got together, I offered basically, if he wanted to just have an open relationship for the summer because I didn't want to get cheated on. Because that I found out that that had happened to me before he kind of in that moment, like, pulled me in and said, No, I don't want to do that.
Unknown Speaker  13:38  
I was like, that's not really something I'm comfortable with. So I'm gonna go with no but thank you from
Damona  13:44  
Yeah, that's so interesting. That's so interesting because you were operating Jen based off of your prior experiences, even though nothing that Shawn was telling you in the in that moment, it sounded like lead you believe that's what he wanted. And it sounds like it wasn't really what you wanted. And it
Unknown Speaker  14:04  
yeah, it wasn't. And it definitely made me emotional and made me really appreciate him. And I knew a lot like more in my heart that he was there for me.
Damona  14:16  
Yeah. And being a relationship minded, female and dating coach. I'm really curious, Shawn, what is going through your head in that moment? And what it takes for a man to commit I do have a lot of female listeners on the show. And many of them would tell me that they feel men are afraid of commitment that if they say anything, like if that conversation had gone differently, and Jen was like, I need you to commit right now. Like, are we is this relationship going anywhere? that that would make a man run away. So what was it the way that she phrased it that helped you realize the role that she really played in your life, or were there certain characteristics that you were looking for in a long term relationship that she lined up with? Or maybe something else?
Unknown Speaker  15:09  
And in that particular moment, like I could tell she's very vulnerable. She was, you know, kind of opening herself up to me. And I didn't. I don't know, it never really sat right with me of, like, dating around. I just, I don't know, I kind of always have been just like, I'm focusing on one thing at a time, so I'm kind of committed to this. Mm hmm.
Damona  15:34  
Can you guys talk to me about your parents, relationships and the relationships that were modeled for you when you were young?
Unknown Speaker  15:42  
Yeah,
Unknown Speaker  15:43  
yeah. So both of our parents were divorced.
Unknown Speaker  15:46  
Both of our dads went on to remarry,
Unknown Speaker  15:51  
mind multiple times.
Unknown Speaker  15:54  
And both of our moms are single and happy that way. Not Not looking for. Yeah,
Unknown Speaker  16:02  
something new. And both of both of our moms are pretty much our central parental figure. Yeah.
Damona  16:10  
So Did either of you have either before the time that you met or during the relationship, have a vision of what a healthy relationship would look like for you or what your relationship goals were at the time, we both wanted one partner that we would commit to neither of us were afraid of commitment. So let's fast forward a year together now for many years for over 77 years. And you met an undergrad, so you're still relatively young. But that's a long time to be with someone. And also, that's a sort of pivotal time in people's lives, where they're figuring out what, who they want to be who they want to be with. And you're going through that, considering the needs also Have a partner How did that? Did you ever feel like you were missing out on, you know, playing the field and being 20 something and foolish?
Unknown Speaker  17:14  
No. I do like get a lot of almost social pressure of people saying like, like, if you haven't been with other guys, how do you know that? That's what you want. For me. It's just kind of like, I've never not been happy with what I have. Why would I? Why would I like ruin this to go find out that this is what I wanted the whole time.
Unknown Speaker  17:40  
And that's pretty much how it feels for me as well. Like I've been happy the past seven years. Like why would I give up something that brings me joy?
Unknown Speaker  17:48  
Yeah. I love that.
Damona  17:50  
So you're together seven years. Talk me through the proposal. I want to hear it from both sides of this story. This is really You know, I've also been asked, I, in my relationship sort of a lead through a lot of the milestones. And at the time when my husband and I were dating, I was making a lot more money than he was. And that was sort of a sticking point for him. He didn't want to propose until he felt like he had his financial life together, and he could be a caretaker for another person or for a family. And people have asked me Well, why didn't you just propose them because there was this whole period of just like waiting and waiting and waiting for him to feel secure enough, even though we both knew that the relationship was what we wanted. And I have to admit, like I am super modern on most relationship norms, but this was one area where I was like, I don't know why I just couldn't do it. So that takes a lot of chutzpah as my people would JOHN, for you to take the initiative in a world where it's so it's just not really considered traditional. It's not traditional for a woman to be the one proposing. Yeah. Did you ever grapple with like these big questions of what does that mean for our relationship or who I am as a woman? Oh, I had,
Unknown Speaker  19:21  
you know, I went through a lot of the same thoughts as you. And there was a time where I told Sean, I wasn't going to propose to him. He had to do it. And it was it, you know, when I decided like, when I finally decided in that moment, I had been like, MIT This is stupid. Like, I'm not gonna wait for I'm sure he can explain you know, what he was thinking, but I was like, I'm not gonna wait for whatever, you know, he feels like needs to happen for him to feel like he's in a good spot to propose because I'm in a good spot to propose. And, you know, we either we know this is happening, or we'll have to figure things out.
Damona  20:12  
You know that she's the one, right, what's stopping you from taking the bull by the horns.
Unknown Speaker  20:18  
So it's kind of funny. I was in a bit of a similar situation, as you'd mentioned with your husband and always finances. So 2019 was a pretty rough year for me because I had racked up quite a bit of credit card debt from going to grad school and my car was on its last limb because I had about 338,000 miles on it and how to get in a car. So
Damona  20:46  
that's impressive. You got it that far. Yeah.
Unknown Speaker  20:48  
Toyota, everybody by Toyota.
Unknown Speaker  20:53  
had that. I'm not being paid, I swear.
Unknown Speaker  20:57  
But uh, you know, I just couldn't On this huge financial transaction, I was like diverting a ton of my money to paying off credit card debt. And then I had finished paying off all my credit card debt at the end of the year. I was like, Alright, this is gonna be the big year. We're gonna do some traveling finally started talking about like, you know, future house plans to start coming up, even though we live in LA and I don't know how we're ever gonna afford a house out here.
Damona  21:30  
But Jen knew what she wanted. She decided to propose anyway.
Unknown Speaker  21:34  
People say there's the Seven Year Itch like people who have gotten married start to realize they're not right for each other something and we're at that point, and we're realizing that were even more right for each other, but about, I don't know, half a year ago or so we opened up into even deeper conversation about, like fears of the future and maybe doubts that we had with each other and communicated about that. And it was really, honestly a really rough conversation. Like things that people who do not want to be in relationships look at. And they're like, yeah, that's exactly what I don't want. We got through that night, and I made the decision, right. And that I was going to propose to Sean, I was going to ask him at some point. So I guess that might have been the moment that you know, I knew I was going to lock him in. When you flip and it's not normal for the woman to propose. There's not like the same expectations. So I had to figure out about like, doing a ring, what I would do, I wanted to get a ring, but I really wanted Shawn to like it. I really didn't know what Shawn was. Want for that? So I decided to get some cufflinks and then a few engagement presidents for the day. Also knew I knew the first thing I knew is that I wanted to do it somewhere out in nature with just the two of us. Because you know, Sean is not a crowds person. Yeah, he wouldn't appreciate a big, like crazy fancy proposal, you know, coordinating dancing or singing or anything like that. So I had to get him. I had to like, figure out a way to get him to agree to go to Death Valley National Park we hadn't been to yet. And so we took my car, which made it easy for me to pack in all of the presence without him seeing and the cufflinks and my side door on the driver side. I had to keep stopping him from like, going in the Trying to get anything when we were setting up I would keep like I would find ways to like either if he was going to the trunk grab the stuff he wanted really quick first and put it out so that he would grab it before getting to the trunk.
Damona  24:12  
Yeah, I mean we have our she acting weird. Yeah.
Unknown Speaker  24:14  
I was just like, Oh, cool. She'd be nice. Like, she's just gonna get
Damona  24:20  
I don't know, I hadn't seen you have no idea
Unknown Speaker  24:22  
at this. No, I had not noticed that. She was like, actively stopping me from going to the car.
Unknown Speaker  24:29  
He didn't know until the moment of
Unknown Speaker  24:32  
Yeah, I did not know until quite literally, like started off with the speech which we'll get to. Then, um, her getting down on one knee. So
Damona  24:44  
yeah, um, Okay, tell me about the speech. I want to hear both.
Unknown Speaker  24:47  
So I wanted to go to artists palette and Death Valley, which is really like Scott, all these C's Painted Hills. I knew that we could find a place where we'd be alone. There. My plan was we share a backpack when we hike. So my plan was to put the cufflinks in the backpack and carry the backpack. But we get there and Shawn immediately grabs the backpack. And so I had, I was like, Oh, great. Now what do I do? Sean wouldn't put down the camera. I was taking so many pictures taking off. Like, being a goofball. Like he is and him taking pictures of me and I was like, how do I get him to be serious for a second? And then I started you know, making more eye contact with him and, and not like being a little quieter. And then I think I I think maybe I actually told him put the camera down for a second. Yeah. So finally, like I had his attention, and he actually snapped a picture right before I proposed of me, which was amazing. And so I started saying, you know, hey, love. We've been together for over seven years now. And we're doing better than we could have imagined. And I start at the end and he cuts me off and he says, Oh, I see. I get it, I get it. You're dropping hints like this would be a great place for me to propose to you. And I was like, No, that's not what I'm
Unknown Speaker  26:32  
doing. dropping a much bigger hint.
Unknown Speaker  26:35  
And kind of like, he caught my momentum there. So I was fumbling a little, and that I don't really know what I said next. And I swear it took eternity for me to get the cufflinks out of the box. And that I in that moment, I didn't know if I didn't plan beforehand. If I I was going to get down on one knee because I thought, you know, it might be weird. I don't know how I feel about it yet. But in that moment, I totally understood. And I got down on one knee because you feel completely vulnerable. And you know, your life is in the other person's hands. It feels like and I opened up the box and I said, Will you marry me? And
Unknown Speaker  27:28  
he was shocked.
Unknown Speaker  27:30  
Yeah, I was pretty much completely taken aback. He
Unknown Speaker  27:34  
stopped talking.
Damona  27:37  
How and how long was this pause before he replied.
Unknown Speaker  27:40  
No, like eternity.
Unknown Speaker  27:42  
I don't know. I probably want to say a couple of seconds. Yes,
Unknown Speaker  27:45  
probably. Yeah, ultimately, I'm
Unknown Speaker  27:47  
sure it felt like the absolute worst three seconds of her before
Unknown Speaker  27:53  
pounding.
Unknown Speaker  27:56  
Oh, I didn't say yes. He said.
Unknown Speaker  27:57  
Yeah.
Unknown Speaker  27:59  
Yeah. case that
Unknown Speaker  28:00  
gratulate me down.
Damona  28:04  
For a second, I was like, what's he gonna say? So now you're engaged. And you've got to tell everybody else in your world about this. I imagine. Like, I come from a somewhat traditional gender roles family. I and, and there was this whole thing of like, my dad wanted my husband to call, he's probably listening right now I'm gonna get hate mail from him. He wanted my husband to call and ask his permission to ask me to marry him. And my husband didn't. He's like, you're your own person. Like you're, you're not a piece of property that I need to get permission to take away. Yeah. So
Unknown Speaker  28:47  
he,
Damona  28:48  
so he did say I'm planning to ask him to marry. Did you like get anyone's quote permission to ask Shawn and how did your parents react when you finally told you
Unknown Speaker  29:00  
I thought about it, you know, I thought about honestly actually going to his mom. But I ended up deciding not to I wanted it to be more of a surprise. At this point. Everyone had been asking us when you get married Anyway, you know, since we were in Death Valley National Park, we didn't have any service for a lot of the time. So we could get some text out to some people. But obviously, we didn't want to tell our parents through text.
Unknown Speaker  29:31  
Hey, by the way, got engaged.
Unknown Speaker  29:32  
Yeah. So we waited and we were driving out later that night and we called our parents we told them and they were they were all pretty supportive for the most part. My favorite story is that I we called and we told my grandparents on my mom's side, and my grandma answered the phone and I say Hey Grandma, just calling let you know that Shawn and I are engaged. And she's like, Oh my gosh, that's great. And I said, I propose to him, you know, cuz I was so proud of myself, right? She's like, Oh, wow. And she turns and you can hear my grandpa in the background and she turns to my grandpa and says, Jenny and Shawna engaged. She proposed to him. My grandpa in the background says yeah, cuz he wasn't gonna do it.
Unknown Speaker  30:32  
And then my grandma turns back on the phone and says, He says that's really sweet.
Damona  30:41  
You can totally hear him
Unknown Speaker  30:43  
had a total there's a question though relationship with her grandparents or grandpa specifically but then he threw all that shade I never seen them.
Unknown Speaker  30:53  
Oh, he's harmless. I you know what, Larry, Shawn
Damona  30:56  
there's there's sometimes truth in kidding. So good. No, what would you have? Would you have proposed? If she had waited?
Unknown Speaker  31:05  
Yes, this was the year this is gonna be the big year.
Damona  31:09  
So honest question do you feel at all like, robbed of that opportunity to be the one who did the proposing?
Unknown Speaker  31:16  
No, because we're in this together. Like, she got to have that moment. But I mean, I'm sharing it too, because now we're engaged.
Damona  31:24  
Oh, that's so beautiful. I love beautiful stories like this. So thank you for giving us faith that sometimes you don't have to do things the way that we've always seen in the movies and the fairy tales, you can carve your own path. Thank you so much for being here.
Unknown Speaker  31:37  
Thank you.
Damona  31:39  
Jen says they're taking this quarantine one day at a time as well. And they plan to get married in the fall of next year. I love love, don't you and I love people who write their own love stories. Congratulations to Jen and Shawn. I hope all of you can have a happy ending just like theirs. And if you do, I would love to share it on a future episode. Out of this show to help you get to your happy ever after I have answers to your relationship questions coming right up. Welcome back to dates and mates. Do you have serious dating and relationship worries right now, if you need more support and love or if you just want to get access to special bonus content, our first 200 episodes, live community chats and other special resources inside of the private dates and mates community. I invite you to join me@patreon.com slash dates and mates. The entry level is just five bucks and your membership dollars will go towards bigger and better things that we have planned and we will be bringing to you on dates and mates. If you've been listening to the show for a while and you've learned a new dating or relationship skill or you just enjoy hearing me talk about what's happening and dating news and hearing other people's questions getting answered. We would love to have your support Again, you just go to patreon.com, slash dates and mates. And then you can join the club and become one of my friends with benefits. All right, on to the questions. This one is a voicemail that came in from our listener, Jacqueline, what's a good response for the question of why have you not been married before, and the example I'm going to use is myself. I am 48. I have been in relationships, and I have dated and been on online sites and I've taken breaks and so now I'm looking to get back out there again. And I just wanted to know what you would say to someone who asked that, because I feel like what I say and what my answer is, just doesn't really work and needs a new spin. Mine is because I haven't found the right one
Unknown Speaker  33:52  
yet. So I would be very curious as to what you would say to this question. People be so nosy on
Damona  33:58  
dating apps. Don't Jacqueline, why have you not been married as if it's their business as if that's not information that is to be earned further down the road? There are so many reasons I'm sure why someone has not yet been married. You. I mean, I took my time to choose the right person. And people would always ask me like, why are you still single? That's another question I'm sure that you've heard before. Because you are choosing you're not just falling into a relationship with the wrong person. Or maybe there's other stuff that you're working through either in your family history or your personal life, or maybe you've just had some other life goals, whatever it is. It's none of their business and it doesn't relate to the relationship at hand. Now I have gotten I have gotten statements from listeners before that say, Well, I won't date anyone. I won't date a guy who Is unmarried over 40 because it means XYZ or I won't date a woman who's never been married, because it means something we're attaching meaning to prior relationship history, we're attaching meaning to stories that we've heard. And that's not fair to you. And that's not fair to them because they may be cutting off the potential for something really great with you. Because they're asking his dumb question that they think might actually tell them how the relationship is going to play out. Because really, that's at the root of that question, right? If I invest my time in a relationship with you, and if I fall in love with you, what will happen to me? Will you be willing to marry me? Will you break my heart? Will you Is there some sort of a red flag that I can see now, that can prevent me from that sort of heartache? But you know, if you've been listening to the show, we we have to go through the process. You are going to get knocked out A few times before you can stay up. So I would say twist it around in a flirty way. And do not answer that question. directly. You could say, well, why do you want to know? Or you could say, well, because I haven't met you yet, or you could say anything that lets them know that that question is not going to be on the table until you are further down the line in your relationship. Iris in San Diego sent us this question, what will be the impact on marriages of Coronavirus? Will the divorce rate go up? Now, you heard me say on the show before right at the beginning of when Coronavirus was hitting in the United States. China was coming out of there several week lockdown and according to stats that I saw there, the divorce filings were up about 25% as the lockdown restrictions are easing. So what this tells me is that Corona A virus is an amplifier. There's the aspect of, you know, the life and death aspect and in making you really take stock of your life and how you want to spend it and who you want to spend it with, then there's the added stress of just being in close quarters with someone that you're not used to spending all day every day with. But I'm hopeful that that means it just brought those relationship challenges to a head more quickly and all at the same time. And that in the following years, we will see a decline and more of a stabilization of the relationships that made it through it because honestly, if you can make it through this with your partner, you can make it through anything. This is hard as hell you guys. This is super hard, and if you can stay together through it, then I really have confidence that you can last. This person sent their question to NPR as well. He said I went through a breakup last month and shortly after I lost an extended family member I feel that I can't properly grieve either one of these events. Do you have any advice? Well, first of all, I just want to say, I'm so sorry that you went through that. And that you are, you are in this grieving place. A lot of us have lost people close to us. And a lot of people have lost relationships too, and losing a relationship. Even though it's not necessarily as serious as losing a life of someone in your life. It is losing that person in your life, all the same. And so it does need a grieving process. Whether you were together for a month or a year or 10 years, you do have to give yourself time to process what happened and, and how you feel about that and where it's leaving you right now. So if you can't say what you wish you could say to that person, maybe try writing them a letter and this is a letter that you will need Never, ever, ever, ever send. And maybe you will burn in a cathartic ritual when you're done. But maybe write them a letter to say the things that you wish you could have said. And sometimes that's enough to just get those feelings out. Sometimes that can get you closer to the healing. And then I'll go back to something that I said earlier in the show, remember that you have people around you, to support you. And don't be afraid to reach out and be a little bit vulnerable, be a little bit messy. Tell your friends or tell your siblings or your parents, that you're hurting right now and you need someone to talk to. And even if we can't see one another face to face right now, sometimes a phone call or a video chat can be what we need to just bridge that divide and remind you that even though we're separated, we are not alone. That's it for today's episode. This is 311 of dates and mates. Don't be shy send me your dating and relationship questions. I am here to help. You can DM me on Twitter or Facebook or Instagram. I'm at damona Hoffman, or leave me a voicemail. That number is 424-246-6255. And just like Jacqueline, you can hear your beautiful voice and I can hear your beautiful voice on the show. And let's spread the love today. Why don't you share this episode with a friend, someone who needs to hear some of the advice that I just gave in technically dating or someone who needs to hear the story of Shawn and Jen. I will be back next week with Aaron Murkowski who teaches flirting skills for the Art of Charm. And she's going to give us advice on how to start moving back into the real world with flirtatiousness and fun. Until next week. I wish you happy dating
https://damonahoffman.com/wp-content/uploads/311.png
200
300
Leah Schell
/wp-content/uploads/damona-hoffman-logo-209-1-1.png
Leah Schell
2020-05-24 23:46:27
2021-05-14 22:23:56
Proposing to Him & Couple Covid Finances