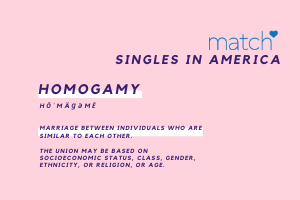 CALLING ALL SINGLES IN AMERICA
Match released their 2020 Singles in America study and we are so excited to share some key points that we found super relevant to Dates & Mates listeners:
SEX WITH ROOMMATES 
The study found 1 in 4 singles had sex with a non-romantic roommate. That's about 24% of singles who had sex with their roommate during lockdown. Sexologists call this "situational sexual behavior", which means social or environmental factors cause people to express sexual behaviors differently than their previous preferences. 
Damona says to be mindful of your choices, because they do have repercussions.
CHANGES IN ATTRACTION AND IDEAL MATE QUALITIES
Singles are now practicing slow love: 63% said they are spending more time getting to know their partners. About 69% of app daters said they are more honest with their potential partners on things like the kind of relationship they're looking for, the qualities they're looking for, and chatting with people they won't meet with in person.
Now 53% of singles say prioritizing their search for a relationship more now than they did before the pandemic. Singles are focusing less on physical attraction than before.
INTERRACIAL DATING/SOCIAL JUSTICE AS A MATCH FILTER
This is the first time Match has studied this particular subject and we are so excited to see that more people are open to new dating possibilities!
In the past, singles tended to seek partnerships with people with cultural similarities (same race, religion, socioeconomic status, etc.). This is called homogamy.
Now 64% of singles say they cannot have a relationship with someone who has a very different view about racial equality. Women feel stronger about this than men (72% of women vs. 59% of men).
Since the murder of George Floyd and the re-start of the Black Lives Matter movement, 24% of singles are now open to dating people of a different race or ethnicity. 
How has the changing political climate affected your views on interracial dating? Are choices in dating accurately reflecting these views? If you don't know, check out Damona's article in the Washington Post on Racial Bias in Dating.
https://damonahoffman.com/wp-content/uploads/homogamy-2.png
200
300
Leah Schell
/wp-content/uploads/damona-hoffman-logo-209-1-1.png
Leah Schell
2020-10-14 22:27:29
2021-05-14 22:23:56
Singles In America