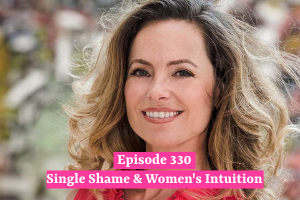 Single Shame & Women's Intuition
SINGLE SHAME
So right now I'm feeling some frustrated big single energy from some of my listeners.
Many of you are writing in, feeling like time is passing you by – especially right now.
So, today is all about refocusing that energy and reexamining any shame you're carrying around singlehood so you can move on with your love life.
To do this I'll be welcoming to the show to Dr. Karin Abrell, author and host of the "love and life" podcast.
She spent 27 years as a single woman looking for the love of her life and thought she was doing something wrong. Her story has a happy ending and I can't wait for her to tell you what she learned along the way.
Let's dish!
Dating Dish (2:16)
Eric Benet
Eric Benet believes birth control is being given to the wrong gender. Damona weighs in.
Beard Baiting
Men have been growing out their beard to increase their dating success, a term that has now been called "beard baiting". 
Danica Patrick
Danica Patrick says she now know what she's looking for after her recent breakup.
DEMI LOVATO (9:03)
Demi Lovato breaks off her engagement with Max Elrich. They were only dating three months before getting engaged. Damona weighs in.
THE POSITIVE OF BEING SINGLE (12:55)
Dr. Karin Abril shares tips she learned from her experience of 27 years in the dating scene.
encouragement and empowerment to singles to help them remain strong in the midst of single shaming, stay true to themselves

never settle for a less than extraordinary relationship

Be happy, hopeful, and positive because the happier you are when single, the happier you'll be when married!

Resist the "you need to change to snag a man" protocol of typical self-help fare.
The audio version of the book is coming out next month "Single is the New Black: Don't Wear White 'Til It's Right"
TECHNICALLY DATING (36:20)
Submit your questions Instagram, Twitter, or Facebook and hear our answers live on the show! Here's what our listeners asked about this week:
Instagram:

Any dating advice for high libido demisexuals?

Patreon:

I was being nosy and looked into his wallet because I thought he was hiding something (which he may not have been). He was embarrassed and we got into a fight at dinner. It was heated and I accidentally spilled our drinks all over him. I feel kind of bad now. Is there a way to get out of the dog house?
https://damonahoffman.com/wp-content/uploads/330.png
200
300
Leah Schell
/wp-content/uploads/damona-hoffman-logo-209-1-1.png
Leah Schell
2020-10-12 21:27:57
2021-05-14 22:23:56
Single Shame & Women's Intuition