Rejection Reframe & Good Moms, Bad Choices
Disclaimer – this is going to be another spicy episode. We marked it explicit for a reason, but you'll find out why in a moment…
We all know that the old "first comes love, then comes marriage, then comes the baby in the baby carriage" narrative gets shoved down our throats from a young age. But life doesn't always work out this way – and that's the beauty of it all. Life is unpredictable, and we can redefine these relationship timelines to suit our needs, no matter what order we proceed in.
That's why Erica and Milah, hosts of the Good Moms, Bad Choices podcast, are here to talk about their experiences navigating dating as single parents.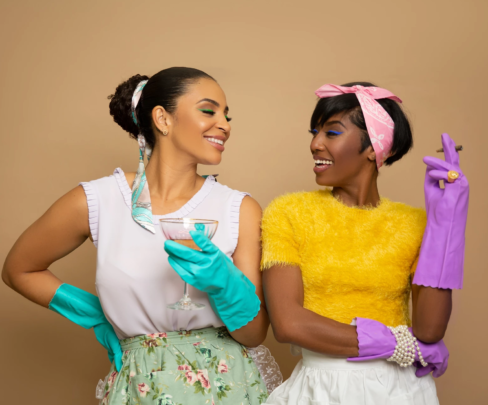 DATING DISH (1:51)
Are you really being sexually rejected… or is it all in your head?:
Mel Magazine came out with an article last week all about rejection… and how couples see rejection that isn't there. A new study published in the Archives of Sexual Behavior found evidence that in established relationships, a lot of partners take sexual rejection way harder than they should when their partners may just not be the mood.
In this particular study, researchers focused on 200 heterosexual couples who had been together for at least two years. They had the couples keep individual diaries for 28 days, logging the degree of sexual interest or disinterest in their partners, and then rating their overall relationship satisfaction. In another part of the study, couples who were cohabitating also maintained diaries for 28 days about their experiences with sexual rejection. And when they felt rejected, participants were asked to describe what happened including the degree to which they felt rejected.
The results? After analyzing all the diary entries, men were found to be better at detecting rejection, whereas women were better at recognizing when they weren't being rejected.
When we have a tendency to take this rejection personally, it can be detrimental to our relationships – you get shut down, then you internalize the rejection as being something more than it is, and finally, you just stop trying. But rather than giving up on your relationship, use this as an opportunity to learn and grow.  Damona says that if you're not relating to your intimate partner in an intimate way, it's time to take a deeper look.  There's something underneath all that that needs to be examined (whether you're not expressing your needs clearly, your partner has a low libido, or maybe they're depressed or exhausted).
Damona points out how we also use rejection as a way to support the narratives we put ourselves in. "If you have this belief in your mind that your partner's rejecting you or that you're always rejected by women when you approach them, and that is the narrative that you are looking to confirm, you will continue to see these experiences as confirmation [of those stories]. That's our confirmation bias."
All in all, Damona believes we should try to reframe those moments of the rejection and the feelings that come up with them as a breakdown in communication, not as a refusal. And look at it this way – when you have a breakdown in communication, you then have an opportunity to look at the situation from a new perspective, to find new tools, to find new language, and to find another way to connect.
Had enough rejection? Let Damona help you redesign your dating profile with the Profile Starter Kit to get you online easily and on to your dating success story. Get yours for free HERE!
ERICA AND MILAH (10:26)
Erica and Milah are the hosts of the Good Moms, Bad Choices podcast. Uncensored and outspoken, they are redefining what modern motherhood looks like and breaking life's archaic stereotypes.
They are currently in the process of writing their book, "A Good Mom's Guide to Making Bad Choices".  And they recently launched The Good Vibe Retreat – a 6 day retreat in Costa Rica which allows women to tap into their feminine energy and learn to manifest life's greatest visions.
(12:04) Talking to the kiddies:
With Erica and Milah being so open to taboo subjects, Damona asks the moms how much they think their daughters are privy to. Although both their kids aren't exactly thinking about the technicalities of birds and the bees yet, Erica says the sex talk isn't something she's afraid of. "I'm excited for it. Like, I don't shy away from it. Because I think when I was growing up, it was something that was really not talked about much. Only when certain things happened, like when my period started and then I was told I could have babies. And so for me, it's just an ongoing conversation." 
Damona gives a glimpse into this dynamic with her own kids, and something she's coined as The 8:30 Rule. "At 8:30 my door gets closed, and the kids do not come in. And usually [my husband and I are] just watching Netflix or whatever. But I might want to Netflix and chill, I don't know, I'm a married lady. But she will always knock on the door."
Erica then poses the question – would you rather your daughter's first experience be to hear strangers having sex, or would you rather it be you and your partner? In a way, is it better if it's you? Milah comes out swinging with her answer – "No, I think it's gonna scar them for fucking life. Like, I think we're talking about it with your mom or your parents makes it less weird when it does happen. But I'm just thinking… hearing people have sex really bothers me sometimes. Like, I've heard my friends have sex in the other room and it bothers me. And I'm thinking, is it because maybe I heard my parents have sex at a young age or some shit? But I'm like, 'what is wrong with you that you're so triggered, you sex positive lady?'"
(16:27) The non-existent sex talk:
Much of Milah and Erica's gravitation towards radically honest conversations stems from their experiences growing up, where talking about sex and consent and pleasure was nearly nonexistent. Erica recalls being extremely curious about sex as a child, while also feeling extremely unprepared to explore that curiousity. "I was asking teenagers and 12 year olds about sex, whose parents also weren't talking about sex. We were all learning from TV and hearsay… So we were learning from other kids, basically. I wish that I would have known a lot more things… Like, I didn't need to talk about everything with my parents, but there needed to be more conversation around sex and consent. And to really have autonomy over my body, and realize that, like, my pleasure is the top priority and it's not about boys."
Erica points out how when young girls first learn about sex, it's interpreted as such a male-centric experience. We learn from the get-go that those intimate experiences are not about us. But in terms of approaching their own children with the sex talk, Erica concludes that "you have to do what's good for you. Like, what's good for me isn't good for you, or may feel really uncomfortable for you. You also have to know who your child is. Different kids have different needs, but I think honesty through and through is always like the best policy."
(18:23) Dating as a single mom:
Damona describes feeling very desexualized when she became a mom. "It took me a long time to feel comfortable in my body again, once I had kids.  It's probably something I still struggle with a little bit now."  So, she asks, was it difficult for Milah and Erica to rekindle their relationships with their sexuality? "I think for sure we can all, as mothers, relate to that strange aftermath of giving birth and feeling so foreign in your skin. And yeah, being of service to everyone else and just being a machine, not a human being," Milah begins. "I was also in a relationship that really wasn't the relationship for me, which also makes you feel alienated. And I was going through an experience alone that none of my friends had experienced yet… It took me a long time to come to terms with that. And in fact, it took me just getting completely comfortable with that being the case… so I think I deliberately, really tried hard to get out of that space by going out, by being sexy, by putting on makeup when I didn't feel like it. Like that was a big step for me, and even bigger was leaving that relationship that also didn't make me really feel like myself… So it was just a series of conscious decisions to get back in my body."
Damona wonders how having kids with a previous partner may affect a woman's ability to move on, and feel free of all the "stuff" that came with that previous relationship. Erica chimes in: "When you have a child with someone, you are connected to them. It's this weird, unconditional attachment you have until, I don't know, there is a severing that has to happen. But I think dating helps. I think hopefully there's forgiveness, hopefully you have someone who you can have closure with in that way. But I think it's different for everyone…" Erica recounts having her own defining moment, much like how Stella got her groove back. "When my relationship ended, I joined Tinder. And I remember the first date I went on, and he was kind of a nerd. And I was kind of a nerd. You know, I was just like, how the fuck do you do this? And then it was kind of fun! Like, I can really have access to so many different types of people so quickly. And for me, I needed to go on a date with someone that was going to validate me, period. That's what I needed, and I got that."
For Erica, it was also really important to stop suppressing her own needs and the things she wanted to explore – one of which was being intimate with another couple. "I'd never been able to do that because I'd been in a relationship for so long… [The experience] actually gave me exactly what I needed at that time. For me, in my relationship, there was a lot of distrust, there was a lot of poor communication. And seeing how [this couple] communicated and the trust that they had for one another, restored my faith in relationships. And just the fact that I could see them be so vulnerable and so honest with one another, and share with one another. Like, that really was transformational for me. Especially coming out of a relationship and still choosing to be single, I was like, 'Okay, I'm gonna wait until I find something that feels like this.'"
(28:27) State of the Union:
So what is the current state of the union in Erica and Milah's love lives? Erica starts, "What I'm ready to receive is someone that I can just be myself with, and that I can have that really authentic and radical honesty with. Someone who is nurturing to my daughter, who wants to invest time into her and wants to enrich her life and take an active role in her life… and someone I can just have fun with, because I'm fucking fun." Erica adds how she's gone through so many phases of wanting a relationship, then wanting casual sex, then wanting to focus on work, and etc. But now is the time when she'd like to take on balancing her work and love lives.
Milah describes her current relationship status with her lover/friend/non-monogamous partner. "We are really good friends, we are really honest with each other… I've realized it has really been difficult because I'm triggered a lot. But I've also realized, like, I've been triggered a lot in a lot of relationships. And I would rather be on the same page as my person and be honest, and they receive it and vice versa. It's been difficult to navigate. But overall, I feel like it's been really rewarding. And I'm learning a lot of lessons about myself through the process."
Be sure to check out the Good Moms, Bad Choices podcast wherever you like to listen. Plus, you can follow Erica and Milah on Instagram @watcherica & @milah_mapp, and the podcast @goodmoms_badchoices. 
If you want to join Erica and Milah on their amazing retreat this summer, all the info can be found here.
DEAR DAMONA (32:30)
Submit your questions on Instagram, Twitter, or Facebook and hear our answers live on the show! Here's what our listeners asked about this week:
Email from 'Not A Clock Watcher' –

Hi Damona! I'm getting back in the dating saddle again. I'm finding that guys I'm matching with on OKCupid are looking for immediate responses to communication, both on the app and after exchanging contact information. I'm not always on my phone, so sometimes I won't respond for a day. Therefore I'm losing the opportunity to even meet these people IRL. Should I be making an effort to respond faster or is this "their issue"?
DAMONA'S DEALS 
Get your free Profile Starter Kit at

DamonaHoffman.com

Get a free 1 year supply of immune-supporting Vitamin D and 5 free travel packs with your first purchase of Athletic Greens at athleticgreens.com/DATESANDMATES

Download the OkCupid app for free today!
https://damonahoffman.com/wp-content/uploads/Screen-Shot-2022-05-24-at-10.03.29-AM-edited.png
1290
1553
Lindsey Kay Floyd
/wp-content/uploads/damona-hoffman-logo-209-1-1.png
Lindsey Kay Floyd
2022-05-24 17:53:43
2022-06-02 21:55:45
Rejection Reframe & Good Moms, Bad Choices