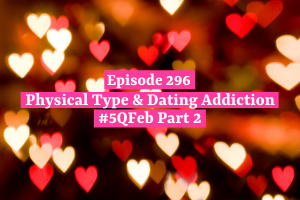 Physical Type & Dating Addiction: Love Month Part 2
VALENTINE'S DAY IS HERE!
It's February and you know what that means – Valentine's Day is upon us! And to celebrate the month of love, we'll be doing something special. We have 4 of the top prior Dates & Mates guest love experts who will be joining me for the next 4 weeks.
This is episode two of our Love Month five-question February series. We're using the hashtag #5QFeb if you want to get in on the conversation.
Today we sat down with Julie Spira – an award-winning dating coach, media personality, and bestselling author. She was an early adopter of the Internet and has been coaching singles on finding love online for 25 years. 
You've seen her on ABC, BBC, CBS, CNN, E!, FOX, and so much more! She's been a friend and mentor to me since I started in this business over a decade ago.
Fun fact: she actually holds the record for most guest appearances on Dates & Mates!
More on that later, first we have headlines!
DATING DISH (2:00)
Mental Health & Dating Apps
The latest study on mental health and dating apps comes from The University of Saskatchewan. The concern is that dating apps may be degrading mental health because of the constant exposure to rejection. Damona and Julie have thoughts. 
Sheryl Sandberg turns her tragic love story into a happy ending
Five years after the tragic death of her husband, Facebook COO Sheryl Sandberg finds love again with Tom Bernthal.
Don't go broke this Valentine's Day!
According to Wallethub, men are 3x more likely to go into credit debt for Valentine's Gifts. Why do you think this is?
#5QFeb (15:00)
Damona asks Julie the 5 MOST IMPORTANT dating questions of our time:
What is the biggest challenge for daters today?

What is the best way to find love?

How can people change their patterns in love?

What are the elements of a strong, long lasting relationship?

Whose relationship do you admire and why?
TECHNICALLY DATING (36:00)
Submit your questions Instagram, Twitter, or Facebook and hear our answers live on the show! Here's what our listeners asked about this week:
Email – I'm wondering your thoughts on having a "type" physically and criteria wise when it comes to picking men on the apps. I feel like out and about meeting men in the wild there is conversation and sparks that might lead to attraction outside of your "type". The apps feel more like reading resumes looking for alignment in terms of interest, education, values and physical attraction. So do I break this pattern? Should I break this pattern? On the one hand I'm worried I might miss someone, on the other should I be setting up dates with guys that don't seem interesting or attractive to me? Am I doing these apps wrong?

From Twitter – How do I quit online dating. I keep having really bad experiences. I'm called a bitch on a daily basis for dating with intention. And I'm objectified by creeps with every other message. But I feel like I'm longing for a relationship so badly. I can't bring myself to stop.
WANT TO GO EVEN DEEPER? HERE IS A TRANSCRIPT OF THE SHOW IF YOU WANT TO FOLLOW ALONG!
Damona  0:12  
Happy Valentine's week lovers. This is Episode Two of our love month five question February series during which I will interview your favorite dates and mates prior guests to ask the most pressing questions about love. Today we are using the hashtag five q fab if you want to get in on the conversation, and today's guest is one of my personal faves. Julie aspira is an award winning dating coach, a media personality and best selling author. She was an early adopter of the internet and has been coaching singles on finding love for 25 years. Yes, finding love online for 25 years. You've seen her on ABC, NBC, CBS, CNN, ie Fox, basically any three letter channel any two letter or one letter channel. She's been on it, and she's also been a friend and a mentor to me since I started in this business over a decade ago. So, before I get big smooches, I have to tell you that she also is now holding the record for the most dates and mates appearances. Please give big speeches to my friend Julie aspira.
Julie Spira  1:21  
Hi.
Damona  1:23  
Welcome back to the show. I'm so excited to talk with you Valentine's week. You are the person that I had to have on this week's show.
Julie Spira  1:31  
Oh, thank you for having me. It's always fun to be on the show. But yes, right now love is on steroids. So we really need chatting about you know what to do in anticipation of Valentine's Day.
Damona  1:42  
Well, we have all these headlines that are all about how love is on steroids. This week we have the newest study on how dating apps could be affecting your mental health. And Facebook CEO Sheryl Sandberg has turned her tragic love story into a happy ending. Some good news is Valentine's Day. Plus it's Valentine's week. But do you need to go broke to express your love? We'll be covering those headlines and then we'll be answering your questions including should you swipe according to your type? I really wasn't trying to rhyme there but was pretty cute. And how can you quit your online dating addiction? Julie, are you ready to do these headlines? Let's do it. Mental health and dating apps we are both of us have been in the online dating space for a long time. And we've read a lot of these headlines people have been talking about the effect of online dating on your safety and the rise and STDs which people sometimes linked to dating apps. But one thing that we don't hear a lot about is mental health. And there isn't a lot of research on the way that dating apps are actually impacting our emotions the way we feel. And according to this article, which will link in the show notes, the researchers are saying that the amount of rejection that one can experience on a dating app app is higher than you would normally experience through traditional dating avenues. I'm curious as someone that's been in the space for a long time, Julie, do you feel like dating apps are making people more depressed today?
Julie Spira  3:18  
I think people can find a variety of ways of getting depressed. And here's the thing with dating apps, you're getting more rejection, because you're getting more matches. It's just a numbers game. So if you went out on three dates prior to joining a dating app, and maybe you like one out of three people, and you were rejected by two, it's just you know, too bad dates with you, next week will be better. But when you're chatting with 20 people at a time, 10 people at a time, you've got 50 matches, you're swiping, you're chatting, you're matching, and then you know you find out they've met someone else or you find out that you're not their type, you know, it stings and and it makes sense You really feel bad, but it's still a numbers game. So if you're matching with 50 people and you get 10 rejections, maybe it's eight more than what I refer to before, but it's still percentage wise, a volume issue, and you just need to be prepared that the rejection actually is a good thing. Because then they weren't your type. And I'm telling you, you dodged a bullet.
Damona  4:22  
Yes, I always say rejection is your protection. And I had this philosophy that dating app messages are sort of like coins in the fountain, you know, you toss toss them and you make a wish. And if they come true, it's wonderful. You got the relationship that you wanted, but if you didn't, it's like, are you going to be really upset over a penny? And I say, I've been saying this Julie for like, over 10 years, but at the same time, I know it's not. It's not so easy to just be like, I was rejected, no big deal. How do you how do you recommend that your clients keep a thick skin about it or reframe their Thinking around sending outgoing messages and swiping right and not getting the reaction that they are hoping for every time.
Julie Spira  5:09  
Well, no one's going to get a home run every time just like no one's going to buy the winning lottery ticket. Maybe you'll maybe you'll get three on the scratch or something and you'll make $5. And so I think the point is, is managing expectations is so key to what both you and I do. And when someone comes to me and says, Oh, I really don't want to try online dating. I did it. It didn't work. And I see that they've had the last profile and they barely log on. I have to say, no one, neither myself. No one has the magic wand that's going to make Mr. Right or news right up here within the first week. And while you might dread thinking of going on three dates and 52 weeks on your dating app. If somebody told you on the 53rd week you were going to have the greatest love ever and you were going to meet your soulmate. You really wouldn't mind that. It's 53 weeks away. Because you know, there's a pot of gold. So it's managing expectations and realizing that it takes time and new people join every single day. And you're going to suffer through online dating fatigue, or online dating anxiety disorder, I always call it oh da dee. And And when that happens, take break. Just take a break, and don't, don't open the app for a week. And then new people are joining all the time, people breaking up all the time, and everybody's looking for the chance to truly, really connect with someone. So it's okay to go on bad days because you learn from them more about who you don't want to be with. So when the right one comes along, it's much more parent.
Damona  6:44  
Hmm, well, the right one did come along. For someone who's been in the news, Sheryl Sandberg, who you all probably know is the CEO of Facebook. She also was the author of lean in and the whole philosophy of women leaning in and work and getting ahead My interpretation when I read that book was that a big part of her ability to lean in was the support of her husband, Dave Goldberg. And unfortunately five years ago he passed away unexpectedly and she was was left having to juggle all these things on our own. But here's the here's that pot of gold but you're saying at the end of the rainbow, she is now engaged to Tom bernthal who is you might recognize the last name he is the richer and more handsome brother of actor john Burton. And I'm sure the two of them both thought they wouldn't find someone again but here they are loving another time and being engaged Do you think
Julie Spira  7:47  
I you know I've
Damona  7:48  
never had to deal with love finding love again after a loss like that. And five years is a pretty good amount of time for someone to take before they are ready to jump into it, but it was pretty fast. Julie, they've just they just got together in April. And now they're already getting engaged. What are your thoughts on on this relationship?
Julie Spira  8:09  
My thoughts are she's had these five years to mourn. And she's got a very responsible job and responsible for family. And she met someone who basically can really just move into her life and she can move into his life, and they can build a life together with both of their families. And I think that everybody desires companionship, and people go to bereavement groups or people sometimes whether it's a death of a partner or even a devastating divorce, when you thought you were going to go the distance, that's a death that feels like a death as well when you're going through a divorce or a bad breakup. So when you suddenly can meet someone, and it's not going to be the same as you've had in your previous husband or partner or relationship, but someone where you can have a great companionship, and together you can actually have find love again. I think it's fabulous. But then again, my grandfather got remarried at 87 years old. And so I believe there's no expiration date on love. Oh, wow.
Damona  9:09  
Yeah. I'm glad that you mentioned that to Julian. And I know you do coach a lot of daters that are older and that maybe haven't dealt with dating apps or haven't even dated in in decades. I think she's 50
Julie Spira  9:22  
now
Damona  9:24  
and getting remarried. So it's actually one one more vote for the over 50 married again, and finding love club.
Julie Spira  9:35  
I'm very happy for her great news. Yeah.
Damona  9:38  
Well, we did mention it is Valentine's week. If you've been living under a rock. It's been it's Valentine's week all week. And there was a new spending survey from wallet hub. I actually had read an article earlier. That said the according to the National Retail Federation, Americans were projected to spend $27 billion on Valentine's gifts this year. I thought that was insane. While it helped did this similar survey, and they looked at what people are spending their money on. And it said, most people are going to buy candy cards and flowers. I'm so inspired by this Julie
Julie Spira  10:18  
right. And repeat. Right?
Damona  10:20  
Right. What are some better gifts you think that people can be thinking of? You know, if you're listening to this on Monday, you still have time to get a better gift. Candy To me, it just seems like you ran out of time you didn't really care then you just like grabbed a box of chocolate.
Julie Spira  10:36  
I'll never forget the time and a former boyfriend. Valentine's Day showed up with this box of drugstore candy that I know he picked up along the way. And I'm like, really? And so I feel as though these items Yes, people would like flowers. And you know what women do like flowers. Men actually like flowers too. You can get my guy a bouquet of tulips and in And in color other than red, but you don't need to break the bank. And I'm not really spending a lot on Valentine's Day this year, probably because I'm going to be tired. But But what I am doing is I'm recommending that people create experiences. So what that means is maybe Valentine's day you'll get a gift card. If somebody really loves books, get a gift card to a bookstore. If someone's anxious to see a play, and they really love plays, and that it's something you can go to together or concert tickets, something you can go to together. Or better yet, if you really can't splurge on StubHub for that fabulous sold out rock concert, then look and see other events that are free. There's always a pre museum day or a museum night and create an event and give your partner a coupon for a future date, where you're going to go museum hopping for the day and maybe you know, a little gift from the museum store.
Damona  11:55  
I love that I'm very big into experiences and I've always said that to my husband since the beginning like Don't give me stuff. I'm not into stuff. Although I told him long ago that I really wasn't into flowers. But there have been some instances where I was like, you're good, I got me flowers, you have to be you have to be careful what you what you tell them early on, right. But
Julie Spira  12:13  
there's nothing wrong with flowers. And here's the thing I recommend, if you can't afford, you know, the flowers that are delivered that suddenly are $99, go to the grocery store and pick up a dozen red tulips and just show up with something and a card that shows that you you're thinking out of the box, you recognize that this is a romantic day, but you don't know to need to go to Tiffany and buy really expensive jewelry and you just need to do something, you know, that's within your budget. And if you're in a relationship that's not new, it's great to talk about the Valentine's budget. So where do you Where do you like to go? Um, you know, going to the post six restaurants on Valentine's Day may not be an option. So the good news is Valentine's Day is a On a three day weekend was actually for if you think about it, because it's because of, I think it's Presidents Day. So you can celebrate on Friday and spend a lot of money at a restaurant or bring in takeout and have in room dining, or you can instead, you know, Happy Valentine's Day celebrated when it's less chaotic and we're, you know, hurt your bankbook as much. And that would be on Saturday, Sunday. And if you're lucky enough not to have to work on Monday, Monday, see a lot of other options to do things that other people are spending a lot of money on Friday, that won't as I said, it won't kill your wallet on Saturday, Sunday or Monday.
Damona  13:37  
Yeah, I was shocked from this article. They said that men are three times more likely to go into credit card debt for Valentine's Day gifts. Guys, you don't need to go into credit card debt. It's not that serious. But one thing that surprised me Julie is they asked men and women if they thought that the bill should be split on Valentine's Day. 38% of men said yes and 31 percent of women also thought that they should split the check. I just have to know where you land on that.
Julie Spira  14:07  
I don't believe in splitting the check on Valentine's Day or your birthday, or anything that's really that significant when it comes to love and romance or first date, of course. But it really depends on what you're doing. I mean, if you're cooking first class tickets to go something pairs for Petland time today, which most of us aren't, but then go ahead and use miles or split the check. But outside of that, I think that for a heterosexual relationship, the man wants to be the hero on Valentine's Day. So let them pick up the bill.
Damona  14:36  
All right, you have had the final word in that segment. Julie, we are going to be back with your five q fab. The five questions we've been asking are for repeat, dating experts on dates and mates. Since you're still listening, you must like what you hear. And if you do, why not take a moment to hit the subscribe button on whichever podcast platform you're listening to. Right now and that way you will be immediately notified whenever we drop a new episode. Or for example, a bonus episode ahem which will be happening on Valentine's Day my friends, so don't forget to subscribe and leave us a review while you're there so we can reach more people and heal more hearts this Valentine's Day. We will be back with Julie spirent answering our five questions for five q FEHB. In just a moment. We are back with Julie aspira, the cyber dating expert and we are doing our love month five q FEHB. So, Julie, I've known you for a long time. And I very much trust and respect your your advice on everything dating and relationships. So I'm really curious what your answers are to the five questions that we have teed up for this month. Are
Julie Spira  15:52  
you ready for this? Go for it.
Damona  15:55  
Julie Spira What is the biggest challenge for daters today
Julie Spira  16:01  
I think the biggest challenge for dangerous today if there are too many choices, and I guess that's a good news, bad news answer, because without all of these choices, we wouldn't be able to meet so many people and actually form relationships. But because we have too many choices, it's hard for people to be able to make a decision to say, you know, I really like you and maybe I should take my profile down, or let's see where it goes. If it doesn't work out, well, we can always rejoin people are hesitant to take the profiles down because of all the the abundance of options, you know, they call it the Paradox of Choice. And as a result, they're giving up good opportunities. And then suddenly they circle back and we'll see that guys in a committed relationship. So we need to learn to be aware when someone really great comes along, and I'm telling you, he or she won't be perfect because none of us are perfect, but if they have, you know, three out of the five of your top traits and give them a second chance Go on a second date going a third date, and at a particular time, move it forward or move on.
Damona  17:07  
I want to pause to talk about that DTR conversation because I have been getting a lot of questions from listeners and from clients about when is the right time. And just as you said, there's that question of, are you taking your profile down? I don't know. I don't want to, like, mention it and then have him think that I'm trying to move things too fast. And I actually had a client recently where we literally spent maybe a month of sessions talking about how to bridge the conversation. And my advice to her was like, just wait a little bit longer, a little longer. I feel like women want to have that cup DTR conversation usually, before the men are ready.
Julie Spira  17:48  
Do you do say, I think it used to be that way and what I'm finding now there's a shift because I'm working with men who are like I met her and I'm done. I mean, they they want to hunt and they want to like grab their prey now. And so what they're doing is they're chasing women away because they're saying, Okay, so here's my boundary, this is what I can offer you. And this is what I want to take you and this is how I want to live our life and can we be exclusive, and the women are freaking out and going, Hey, I've only been dating you in six days, or six dates or whatever it may be. And so don't so quick to seal the deal because I love the different phases of courtship. But when it comes to being sexually intimate, you've got to decide you know, are you okay? in an open relationship? people I work with are not are, are you? If you're about to have sex? Do you want them to go get tested, I mean, that's the perfect time to talk about defining the next phase of your relationship. And that doesn't mean you putting a ring on it. It just means if you want to be sexually exclusive, let's go together and get tested I know doesn't sound very romantic, but it's responsible. And while we're doing it, you know, I really don't feel comforted. dating somebody who has an active dating profile. So I'm going to take mine down. But I'm not going to ask you to take your stand until you're ready. And when you say that, you know, usually someone will just catch up in time. I'm glad
Damona  19:14  
that you you phrased it that way like you make it about you. It's not you need to take down your profile right now because things are getting serious. It's, I'm going to take down my profile, you can do what you want. I'm just letting you know where I stand and how I feel. And that takes a level of bravery, Julie, because so many times we are afraid to really express how we feel because if we say we like this person, and they don't feel the same way yet, then we there there comes the rejection. Again, we feel like we've been rejected,
Julie Spira  19:46  
but before you you know, put that big in a scarlet letter are on your face. And then here's another one that won't commit to make as they're playing the field and you must be a player. Make sure you say and I hope you catch up and that doesn't mean they will Or they won't, but you're not putting this like pressure on man. And when you say I hope they'll catch up, you're just giving them a little nudge. And chances are they'll catch up a little sooner than they might have been had you not have to have the conversation.
Damona  20:13  
Yes, I'm a big fan for just just voicing just voicing that thing that you're feeling. And maybe if you're a guy, and you're six days, six days into dating someone, and your instinct is to tell them that you love them. Maybe
Julie Spira  20:27  
that's too soon.
Damona  20:28  
But like, if you've been dating for a little while, and you're really feeling bonded to someone to say how you feel the end of the story with my client is that last weekend, she she was introducing this guy, she's been dating to friends. And we came up with her just saying, I'm excited for you to meet my friends. How do you want me to introduce you? And then he said, I'd like to be introduced as your boyfriend. Is that okay? You know, and here there's like four months this elephant in the room of like, We both feel like we're exclusive, but nobody really wants to say it. And she was like, I was amazed at how easy it was. And I've just seen this happen time and time again, where we make it so much harder, because the different outcomes are so become so much bigger and so much more weighted in our minds.
Julie Spira  21:17  
And I think happy ending and does but you know, relationship labels, I think they're more important, generally speaking for women than for men. A guy feels good in the relationship. He sees you every Saturday night. He calls you every day texts you in between, you know, as far as he's concerned, he's in a relationship. But if you say, you know, I want to be called girlfriend, I want you to call me your girlfriend when you introduce me. You know, he might not be ready to say that just yet. And so it's really important to understand that doesn't mean there's not a level of commitment if you don't have a label. Labels aren't important to everybody. That's a really good point.
Damona  21:56  
Okay, second question of five q fab, Julie. What is the best way to find love.
Julie Spira  22:03  
The best way to find love, okay, I'm feeling I know what you're gonna say. But
Julie Spira  22:09  
it's not because you know, I've been doing online dating coaching for 25 years. It's because I love this new research that came out from Stanford, and University of New Mexico that showed that 39% of singles met through online dating number one, as compared to 20%, who met through friends. Now, everyone tells me I want to meet someone that someone knows and I'd like to meet a friend of a friend, but the numbers double Okay, the closest second is through friends at 20% and almost 40% are meeting through dating apps. So if you're not using a digital dating strategy, along with going out and being your fabulous self and going to your favorite events and going into your hiking clubs, and whatever you may do, just live your life but have an online and an offline strategy because the number First don't lie and you're going to be missing out.
Damona  23:03  
Okay, I'm glad you brought up the S word strategy. And you may remember like way back when when we first met and we exchanged business cards, my business card actually said, online dating strategist and people were like, what is that? That sounds super unromantic. I want no part of strategy. But it's a big part of my philosophy. And I want to know how it is incorporated into your philosophies cyber dating expert.
Julie Spira  23:31  
Well, I you know, it's romantic to call the business love But love is a multi billion dollar business if you I mean, just look at the number of the amount of people are spending on Valentine's alone. And we're looking at dating apps, you know, in the billions of swipes and the multi billions of such an enormous industry that that there is a strategy that is very similar to looking for your dream job. And when you're looking for your dream job and maybe you'll go on LinkedIn and you Look for a few things. And maybe you'll go to networking events and you'll hand out your card or you'll swap digits or whatever. The fact is, if you get to the point of finally getting a job interview after doing all of this work, to be prepared to look your best to have the best block and resume out there, and you go on an interview, and you don't get the job, because there's a 100 other candidates, you go on the next interview, and if you don't get the job, because there were 200 candidates, you go on the next interview, because you probably need to pay your rent and put food on the table. And so that same strategy, I transfer that to online dating, and if you've had three bad dates, you don't say I'm not going to go on another bad day because I met people that didn't look like their profile, because you say okay, I want to find love. I'm going to go on the next day and maybe you'll have a better experience.
Damona  24:52  
Hmm, that's that's a really good point. And like you I like looking at dating in a way as Your own social experiment, where each time you go out with someone, you're learning about yourself, you're iterating you're improving your dating skills, your dating strategy, and then you're fine tuning to get closer to what you're looking for. Can we go a level deeper? Julie? Okay. How can this is the actual third question, how can people change their patterns in love? A lot of our listeners don't like the path that they're on right now in love. How can they change their patterns?
Julie Spira  25:33  
Well, if you don't like the path you're on, you need to hop off that saddle and here's the problem. We are so used to what is comfortable for us, even if it's bad for us, therefore, people go after the same type over and over again. And maybe it's a commitment phobe and then they find another commitment phobe or the down someone that's just gotten divorced, and then they find someone else who's newly single and isn't over their ex yet. And so I think it's It's really important to jump out of that comfort circle and date somebody completely different than your last three relationships. Because if you have a type, you know, it's it's wired into your brain that this is your type, even if it is bad for you. I mean, if you think about what happens when you bond with someone when you have sex with them, and you know that they've, there's no long term possibilities in that relationship. The next thing you know, they're on a pedestal, you're fantasizing about them, you know, the, the hormones are kicking in, and they become better than they really are in real life. So you've got to date somebody completely different from your type, and whether they're shorter or whether they live farther away, or whether, you know, they didn't have this kind of degree that you thought that you were hoping they would have, whatever it may be, you need to date somebody different and see what it's like and get uncomfortable for a little bit and give them a couple of chances. Because the Maybe the person who actually would be a great match for you, especially since the other ones didn't go the distance.
Damona  27:07  
We actually one of our questions today is about type. So I'm going to, I'm going to leave a little bit of this for our technically dating segment. But I just want to say also like identifying your type, because I think we tend to look at just what the physical type is. But identifying what is that pattern, right? Like if you, maybe you date people who are wildly different in physical types, but like the, the relationships have all ended the same way or you feel the same way and the relationships. They're probably some commonalities that you don't realize are even there if you go back and connect the dots.
Julie Spira  27:47  
And I think it's important to just again, make a list now make it a list that's, you know, got 100 items on it, but make a list of the most important character traits and this is outside of like, What does someone look like? Life is looks changed, we I mean, looks really changed as you get older. But, but make a list of the type of person you want to be with the type of relationship you want, whether it's casual, they're committed, whether you want to be married or not. Whether you want a life partner or travel partner, make a list of all the things that you like to do, and then see if you can find someone that gets part of that list and then give them a shot.
Damona  28:27  
Alright, so we've been talking about finding that dream match that ideal person that has most of those qualities. What do you think for your, your fourth question for five key fab? What are the elements of a strong, long lasting relationship? Julie?
Julie Spira  28:44  
A strong, long lasting relationship. Number one, without a doubt, trust. If you can't trust the person you're with, why are you with them? If you're agonizing about why they didn't text you last night, maybe they fell asleep or you and you automatically Well, they're cheating on you because someone else had, and you're bringing that baggage to the table, if you're going to have a situation where eventually they won't, you know, they will betray your trust. If you keep feeling like you don't trust that person, trust takes a real long time to build and a split second to lose. And that is a really important thing. So again, for online dating, if you're taking your profile down, and you say you're going to be exclusive, don't say it just because you want to get into bed with this person. Say it because you mean it and you're going to live it and your words mean everything. And so I can't tell you that relationships once the trust, you know, has been broken, they can be fixed, but it takes a long time and it takes two committed people really working hard at regaining their trust. So don't lose it in the first place. be that person who you say you are and if they aren't, move on.
Damona  29:53  
Yes, and that that dovetails into something else that I always wind up coaching my clients on that it's it's about getting into the feeling of what it's like being with that person and sometimes,
Julie Spira  30:09  
like if you have trust issues,
Damona  30:11  
then you your automatic default is not to trust when you're with someone new. And the only way to tell if someone is trustworthy is by trusting them and seeing that they're being consistent. But I find it starts with getting into feeling on the date like how do you feel when you're with them? Do you feel safe? Do you feel like they are doing what they say they're going to do? What about for those people that already have the built in issue with trust? Maybe they have been they have been taken advantage of in a prior relationship or been cheated on? How can they learn to trust again so that they can have that long lasting relationship that they want?
Julie Spira  30:57  
This is a real issue. This is a real issue because I've met people that I've worked with, who saw their fathers cheat on their mothers. And therefore, they ended up with boyfriends who cheated on men, and if not what they want it, but for some reason, they repeated this patterns that they grew up with. And so I think, you know, breaking these patterns is clear, clearly the the first step that I see that people need to do, and then how do you do that we have to go back into self love. You have to realize that you know, you are lovable, you are the prize. And whenever someone feels insecure about going on a date, or they feel unhappy in their relationship, and they wish their boyfriend would be more committed, just look in the mirror and go, Hey, he's lucky to have me, I am the prize. And the more confident you are, the better off you will be in your relationships because a man doesn't want a needy woman and he doesn't want an insecure woman and he doesn't want someone you know, checking up on him and staring at his text messages when he's taking a nap.
Damona  32:00  
So true. Yep, you have to, you have to find that that faith and that courage to to trust again, and I know it takes a lot of work and it takes a lot of time to unravel those, those patterns and even if you saw it as a kid and didn't experience yourself or you've been through it before, it's not gonna happen overnight. There's one more question doing for five to fab, whose relationship do you admire and why?
Julie Spira  32:27  
Okay, I'm going to name two. Okay. The first one I'm going to say, would be Tom Hanks and Rita Wilson. And the reason I say that is because it's someone that most of us know. And I have admired them for a really long time. They're both just kind people. They have so much respect for each other. They live their lives as individuals and they live their lives as a couple and they've been married for over 30 years. So Hollywood romances are so so difficult, and this is one that you know I give you know, a five star review to because because I just think I've been around them and if anyone's watched them on TV or an award ceremonies, you can just see that they do adore each other. And they do have their independent projects, and they respect each other. So that's my, my, my Hollywood couple. And outside of that, I'm going to actually add in one more couple, and that is my parents. And I say that with so much love and respect because my parents have been married for 60 years, over 60 years, okay. At my mother met my father when she was a senior in high school. I think she's the only man she was ever with. And they have been together through thick and thin and they still love and adore each other and they are living, you know, their later years in an adult active retired community where they have this enormous social life and They love their children, they love their grandchildren. And they have it's still such great role models for me, looking at the love of a share, and that they shared over multiple decades. And I only hope that I get to celebrate a 70th anniversary with them.
Damona  34:16  
Well, that's beautiful Julie, and I've seen pictures of them online and they do look so cute. What do you think is the secret to their long lasting relationship?
Julie Spira  34:26  
That changes just like every relationship changes decade per decade, you want something different and different decades. At this point? I think the secret to their relationship is they watch TV in separate rooms and watch two different news channels. But But really, I think they have such a companionship, my father sends her a card every year on the anniversary of their first date. And in the end, their first date was on May 7. So he has this little poem that he writes, you know, he's 91 years old, you still write this poem. Remember the day the seventh of may and it was the day of the first day It was the day one year later that he proposed to her and they became engaged. And so he has these rituals of making sure that my mom My mother is loved, you know, all year long, but they never forget the anniversary of their first day. And I think that's fabulous. Oh my gosh, it gave me chills.
Julie Spira  35:19  
I have no idea when my first day was.
Julie Spira  35:23  
Better go look at the calendar.
Damona  35:25  
I better go look at the calendar. But yeah, it's a reminder that those little rituals that seems silly like with Valentine's Day coming up, people are thinking, How do I make this memorable? And sometimes it's, it's the little things it's sending that card. It's writing that poem, and even it's the same poem every year that she knows that that she can count on that and she can count on him is something that's really inspiring for us this Valentine's Day. Thank you for sharing. How you liking this five q fab. I want to know what what's your biggest takeaway from today's episode. You can tweet me or You can leave a comment on Instagram or message me on Facebook and use the hashtag five q fab. That's the number five q f Eb. And then we'll be following and sharing your responses about your big takeaways and aha moments from this month's episodes. Now she's answered my questions, but it's time for her to answer yours in the next segment. By the way, we are always doing technically dating so if you have a question, you can always submit it to me for the show on any social platform at damona Hoffman You can also message me through dates and mates.com or leave me a voicemail at 424-246-6255 Don't be shy. We love hearing your voice. We'll put all those links and, and instructions in the show notes. But this show works best when you tell me what is on your mind so that I can give you the dating and relationship advice that you need. And chances are if you're having a question, there's someone else listening right now to this podcast, who's going through the exact same thing that you are feeling right now. So you be brave and ask the question that you need an answer to and you could be helping yourself and others to have the love and relationship that you want this year. We'll be back right after this with more Julie Spyro. All right, we are here with Julie spire off for our final segment. You have sent in your questions and we are giving you answers and I am passing on your questions to Julie Spyro. Who's the cyber dating expert. And I hand picked these ones for Julie. So just want to say to anyone that submitted a question I know I've I'm I have a few questions in queue from previous weeks. But Julie is an expert in online dating so I wanted to make sure that I gave these specific questions to her. So this one came to us in an email from a woman will call Jay. Julie, she says I'm wondering your thoughts on having a type physically and criteria wise when it comes to picking men on the apps. I feel like When I'm out and about meeting men in the wild, she calls it, there's a cut, there is conversation and sparks that might lead to attraction outside of your type. The apps feel more like reading resumes looking for alignment in terms of interest, education values and physical attraction. So do I break this pattern? On one hand, I'm worried I might miss someone on the other eye. Should I be setting updates with guys that I don't that don't seem interesting or attractive to me? Or am I doing these apps wrong? And then she used the like, hands up. What do you do emoji?
Julie Spira  38:34  
Well, I'm doing it wrong. Maybe but maybe not. So I think you should really, my best advice is to look at it as a quantity thing. And how many dates Do you want to go on in a given week? And who in that given week really rises to the top of people you've been communicating with, that you think you have enough in common with I'm also a big fan of hopping on the phone. I know what an arcade thing but you Know swapping digits and getting on the phone. Because if you have a phone chemistry with someone, chances are you're going to have a good experience on the day. But if you're on the phone with them, and you're so bored, and you're like yawning, oh my gosh, I can't wait for this phone call to end and you take another incoming phone call just to get out of it, then don't schedule a date because it's going to be a bomb. And you're going to it's going to be a dating disaster. But yes, try and date people that are different than who you dated the week before. And but if you really feel like, Hey, we just have nothing in common. Our backgrounds are so different. I don't think I can have a good time. What am I going to talk about, then just take a pass because there are so many millions of other people that you could be chatting with. So don't be too rigid. loosen it up a little bit. But if you really know you're going to be on a bad date, just don't go your time is really precious.
Damona  39:56  
Yeah. I am all about one Quality, but also you have to get enough quantity in the mix to make those decisions. And this is this is a big problem with dating apps is that I think people forget that they're using a tool. The dating app is just the tool. It's not the it's not the chemistry, it's not the butterflies, it's just the means for you to meet the person. That's the way I look at it. So I'm like, drive to the date, get offline, get to the date, because all those things that she feels when she's out in the wild, as she says, and she feels those sparks and the chemistry, you probably aren't going to get them in the same way when you're swiping right.
Julie Spira  40:37  
You're not and the other problem that you have to be concerned about is the false expectation that you're in a relationship because you've been chatting you know, morning noon and night on on via text or WhatsApp or on the dating app. And all of this chatting and this what I call the digital foreplay. It's sort of advances your relationship where you think you really know someone and like Dimona said, you don't know them until you actually can get together in person and see what it's like to laugh at their jokes and see if you really feel enough to want to go on a second date. Because all first date really is, is the opportunity to decide at the end of the day or the evening, do you want to go out again and pull out your calendars and schedule something so it doesn't get lost in the Abyss?
Damona  41:21  
Yeah, what about this idea of type though, I do want to talk about that. Because I know I I've always had a physical type. And I went out with people that were way different from my physical type. But I ended up ultimately with someone who was like, straight down the middle, my exact physical type.
Julie Spira  41:41  
Well, you know, you got lucky, I got lucky.
Julie Spira  41:45  
Because here's the thing. I had a physical type and it was really interesting. I and then I ended up at one point marrying somebody who was completely opposite my physical type, and it was a bad choice not because of the physical type, but it was a bad choice, but I was at a point My life were, well, I want to get married, I want to settle down, it's time. And you know, other boxes got checked off. So I thought it was a good decision. So now I'm back to Well, I have a certain type. And sometimes when you meet someone that's not your type physically in a photo, first of all the photos you don't know necessarily that they're going to resemble what you they look like when you meet them in person, you have to hope for truth and advertising. But if you really know that you have a certain type, and you're comfortable with that type and you've had successful relationships with that type, then stick with that type and just, you know, go outside the box a little bit because you do have to go outside the box.
Damona  42:39  
Yeah, and I think sometimes our type is predicated on the experiences that we have, the more that we go out with someone who is 510 and slender, the more we will be attracted the next time to someone who's 510 and slender, but I think it can be dangerous and especially like I know y'all didn't Ask about this. But especially when it comes to race, a lot of times people will come to me with a very narrow view of the physical type, the race, the the ethnic background of someone. And I'm like, if you go a level deeper into the values, that person may be completely aligned with you. But you've never dated someone who's African American or Asian, because you just had it in your mind that you date Caucasian men. And we have to sort of shake that up a little bit. If you're really, if you're really opening up to finding love.
Julie Spira  43:31  
We have to shake it a lot, because there's so many great people. And I think that I believe in diversity, and I love you know, inclusion and I love such a variety, I would say the 64 colors of crayons in the Crayola crayon box, you know, and I know dimana you've talked about the ice cream flavors, but the fact is, there are so many different types of people and if you haven't had a chance to be with them, you really shouldn't say they're not your type because you don't know exactly
Damona  44:00  
Thank you for saying that and making me not the only one saying that because I know you believe it too. We have one more question Julie. This okay this is put a strap your seatbelt on. Because this is this is a this is a big one. Kayla on Twitter says how do I quit online dating? I keep having really bad experiences. I'm called a bitch on a daily basis pardon the language on a daily basis for dating with intention. I'm objectified by creeps with every other message but I feel like I'm longing for a relationship so badly that I can't bring myself to stop
Julie Spira  44:38  
when you're asking to stop but you don't want to stop you just want to get rid of the creeps. You know you don't want somebody sending a dick pic and you don't want somebody that you know is is calling you a bitch or whatever they want to say because you're a woman that is strong has strong values and you're stating your intentions. Keep stating your intentions because you are going to attract someone who's looking for Exactly what you're looking for. And as far as these debit guys, you know, swipe left block them, so you don't have to see them in a search again. And all the tools that these dating apps have right now make it very easy for you to not be bothered by people who are harassing you or make you uncomfortable for any reason.
Damona  45:17  
Yeah, I second that definitely use the block and report feature. They take those those complaints very seriously. But what do you think, Julie? If she's, I mean, I spent a lot of time on dating apps well, online dating before they were dating apps and I but I help my clients with with dating apps every day. I know you've done the same for 25 years. I've rarely been called a bitch. And I haven't seen my clients be called a bitch all that often. Do you think there's something that she's doing that maybe allowing these guys it or could it be the app that she's on? Or could it be something about the way that she's presenting herself, because like, I don't want her to be getting this abuse every day,
Julie Spira  45:59  
right? And also I've never gotten many views from that, you know, when I've been on dating apps, and I've seen for the most part, my clients have all had, you know, good experiences, they just didn't feel that they had enough in common or there wasn't a connection, but it didn't mean they were a bad person. And so I don't know what kind of messages are being sent out. I've seen dating profiles with disclaimers, don't contact me if this don't contact me if that I mean, don't say anything that's negative, you want people to contact you. So I don't know what your communications have been. I don't know what types of dates you want to go on. Some women really would prefer not investing a lot of time and going on coffee dates. There are other women that do not want to go on coffee dates, because they don't want to be in allowed Starbucks and they'd like to have a quieter like lunch conversation with someone even if it's over a cup of soup. So I think it's a question of how are you communicating with these guys, because deep down, they want to connect with someone and you want to connect with someone. You're obviously not a fit with these people, but there has to be another 80% of guys out there that aren't You a bitch. That's hope.
Damona  47:01  
Yes Yeah, definitely don't stand for it. But definitely don't give up if you really want that relationship keep listening to dates and mates and keep showing up for yourself and setting those boundaries and you'll find the right one.
Julie Spira  47:14  
Julie this has been such
Damona  47:16  
a blast talking to you again on data needs.
Julie Spira  47:20  
Thank you for having me and Happy Valentine's Day to everyone and don't forget you know, gallon times day is the day before Valentine's Day. So support you know, loving your friendships with your girlfriends ladies. And if you don't have a Valentine's date, have a blast on Valentine's Day.
Damona  47:36  
Thank you for reminding us of that. And thank you for being here. You can follow Julie at Julie aspira on Twitter and Instagram we will put the link to her socials in the show notes as well as her link to cyber dating expert calm which is where she gives dating advice. She has a wonderful blog there with lots of great resources and you can sign up there for her free weekly flirt newsletter which will also give you the seven secrets to finding love online. Thanks for being here. Julie. Thank you. Are you feeling overwhelmed by love month and looking for a little bit more support? And then you are the perfect person to become one of my friends with benefits. We are launching a special Patreon program this week in honor of Valentine's Day. For our listeners who are ready for more. What is Patreon? Patreon is a platform that allows you to support creators like me to keep making helpful content that you want to hear. And it allows you to get amazing listener benefits by participating. Our page is patreon.com slash dates and mates. What will you get if you sign up? Here's just a few of the benefits. You get access to a private Facebook group where you can chat with me and other listeners of the show. Maybe you'll make a love connection there. Maybe you'll get some more advice that you need that's directed specifically towards you. You'll also have an opportunity to join me for private group coaching sessions. These will be live these will be video and Phone chats that you'll be able to participate directly with me so you can get the support that you need in love. And you'll also get access to behind the scenes content from our nearly 300 episodes of dates and mates.
Julie Spira  49:13  
And for my really, really special
Damona  49:14  
top tier VIP, Fw B's, you can even get a dating profile analysis, with tips tailored just for you on how to make a magnetic profile that draws just the right kind of dates into you. The Patreon is live now@patreon.com, slash dates and mates. And don't worry if you've never used Patreon before, if you just click the link in the show notes, we will walk you through all of the different tiers and what you get and make it really easy for you to become a part of the community. And by the way, we also have a special bonus for anyone who signs up at the lover or VIP level through the month of February. You'll also get a free autographed copy of my book, but only if you sign up now before March 1. That's a special benefit for the lover or VIP level. So you can go to patreon.com slash dates and mates to see which tier is right for you. And I look forward to supporting you on a deeper level and inviting you inside the community as one of my friends with benefits. I hope you enjoyed Episode 296 of dates and mates again, I'm at damona Hoffman on all of the socials. I want to hear your love questions. And I want you to join me again next week when I will have Bella Gandhi who will be doing the five q fab thing with us. Until next week, I wish you Happy Valentine's Day and happy dating
https://damonahoffman.com/wp-content/uploads/296.png
200
300
Leah Schell
/wp-content/uploads/damona-hoffman-logo-209-1-1.png
Leah Schell
2020-02-10 20:38:57
2021-05-14 22:23:57
Physical Type & Dating Addiction: Love Month Part 2