[fusion_builder_container background_color="#5b2b82″ background_image="" background_parallax="none" enable_mobile="no" parallax_speed="0.1″ background_repeat="no-repeat" background_position="left top" video_url="" video_aspect_ratio="16:9″ video_webm="" video_mp4="" video_ogv="" video_preview_image="" overlay_color="" overlay_opacity="0.5″ video_mute="yes" video_loop="yes" fade="no" border_size="0px" border_color="" border_style="solid" padding_top="5″ padding_bottom="5″ padding_left="" padding_right="" hundred_percent="no" equal_height_columns="no" hide_on_mobile="no" menu_anchor="" class="" id=""][fusion_builder_row][fusion_builder_column type="1_1″ background_position="left top" background_color="" border_size="" border_color="" border_style="solid" spacing="yes" background_image="" background_repeat="no-repeat" padding="" margin_top="0px" margin_bottom="0px" class="" id="" animation_type="" animation_speed="0.3″ animation_direction="left" hide_on_mobile="no" center_content="no" min_height="none"][fusion_text]
The 30 Day Dating Playbook
[/fusion_text][/fusion_builder_column][/fusion_builder_row][/fusion_builder_container][fusion_builder_container hundred_percent="yes" overflow="visible" padding_right="30px" padding_left="30px" ][fusion_builder_row][fusion_builder_column type="1_1″ last="yes" spacing="yes" center_content="no" hide_on_mobile="no" background_color="" background_image="" background_repeat="no-repeat" background_position="left top" hover_type="none" link="" border_position="all" border_size="0px" border_color="" border_style="solid" padding="" margin_top="" margin_bottom="0″ animation_type="0″ animation_direction="down" animation_speed="0.1″ animation_offset="" class="" id=""][fusion_separator style_type="none" top_margin="30px" bottom_margin="" sep_color="" border_size="" icon="" icon_circle="" icon_circle_color="" width="" alignment="center" class="" id=""/][fusion_text]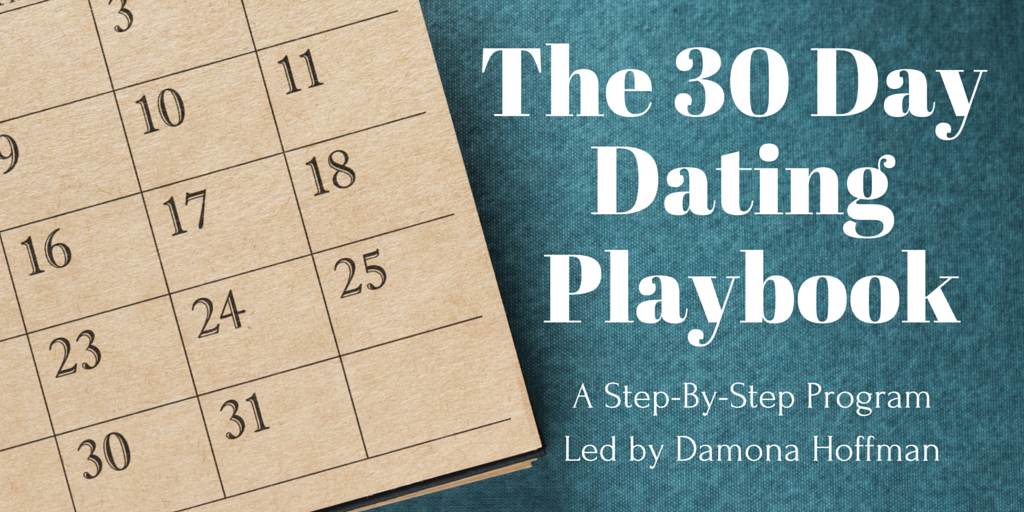 [fusion_separator style_type="none" top_margin="20″ bottom_margin="" sep_color="" border_size="" icon="" icon_circle="" icon_circle_color="" width="" alignment="center" class="" id=""/]
Congratulations on taking this monumental step in changing the course of your dating destiny! You are now on the path from "You" to becoming "You Two." You will get an email every day for the next 30 days that will guide you through this step-by-step program, and you won't want to miss a single one!
Here's a little prep work to get you started:
[/fusion_text][fusion_text]
STEP 1
ADD Damona@DamonaHoffman.com to your contacts to insure none of your program emails get lost or sent to spam.
STEP 2
CLICK LINK BELOW to request access to your Facebook group program
STEP 3
Starting today you can enjoy your amazing bonuses:
7 SIMPLE STEPS FOR A FLAWLESS FIRST DATE REPORT– CLICK HERE TO ACCESS
PROFILE STARTER KIT – CLICK HERE TO ACCESS
MODERN DATING DILEMMAS – CLICK HERE TO ACCESS
STEP 4
Mark your calendar for
Here are your call-in information for the LIVE Q & A group sessions:
605-475-4700
Access Code 974503#
You will also be sent a reminder the day of the call email with these details.
STEP 5
CHECK YOUR EMAIL NOW for an outline of what will happen from this point forward in the program.
If you do not receive an email within the next hour and you have checked your spam box, please contact Damona@DamonaHoffman.com right away to look into the issue.[/fusion_text][fusion_text][sc:Damona-Signature][/fusion_text][fusion_code]PHNjcmlwdCBzcmM9Imh0dHBzOi8vZGF0ZXNhbmRtYXRlcy5sZWFkcGFnZXMubmV0L2xlYWRib3gtODY5LmpzIiB0eXBlPSJ0ZXh0L2phdmFzY3JpcHQiIGRhdGEtbGVhZGJveD0iMTQwOTIyYTczZjcyYTI6MTVkZDA1OGNlYjQ2ZGMiIGRhdGEtdXJsPSJodHRwczovL2RhdGVzYW5kbWF0ZXMubGVhZHBhZ2VzLm5ldC9sZWFkYm94LzE0MDkyMmE3M2Y3MmEyJTNBMTVkZDA1OGNlYjQ2ZGMvNTY0MjkwNjQwODg0NTMxMi8iIGRhdGEtY29uZmlnPSIlN0IlN0QiPjwvc2NyaXB0Pg==[/fusion_code][/fusion_builder_column][/fusion_builder_row][/fusion_builder_container]