Body Image & The Sussex Situation
BODY POSITIVITY & FINDING LOVE
Story time: Damona had a little conversation with her client the other day who just got the COVID vaccine (yayy!!). They were talking about next steps in the dating process now that things maybe opening back up soon.
This client was so excited to finally get the vaccine but she was panicking because she'd gained a little weight during the pandemic and wasn't sure how that would affect her dating life.
There seems to be a lot of anxiety in the air righ now since many up us are kind of freaking out at the prospect of seeing people and looking our best and actually having to fit into pants again.
So today, Damona talks to body image expert, Veronica Grant with some really great tips on how to find love when you don't feel so good about the way you look. We've all been there so it's a really important topic.
But first, there's some controversy we need to address:
DATING DISH (2:30)
(2:30) We stand with Meghan Markle & Prince Harry
Meghan's Oprah tell-all is causing quite a stir around the world. Damona explains what this means for you and your dating life. Also, you can check out Damona's video on the subject if you want to join in on the conversation!
View this post on Instagram
(6:50) The latest controversial feature on Coffee Meets Bagel
Are you selecting your dates based on their vaccine status? Do you trust that people are being honest in dating right now? Damona gives us the skinny on why the app chose to include a vaccine option in their "About Me" section and how to decide whether to respond or not.
BODY IMAGE & LOVE (12:00)
Veronica Grant is a body image expert and host of the Love Life Connection Podcast. As we've pretty much established, this is a HUGE topic and brings up a lot of feelings for every body (See what we did there???). Damona and Veronica cover:
Here's the biggest truth that might make you examine the way you are approaching dating right now (13:00): 
You relate to men the way you relate to your body.
(15:00) People looking to date you aren't seeing your body insecurities and often can't even tell when your weight fluctuates. 
(16:00) If your potential partner hyper fixates on THIS, it's definitely not someone you want to date
(17:30) Why compliments from other people can hurt your self-esteem
(19:00) If you're only attracting people who want to be friends with benefits listen here
(22:00) If you believe something about yourself, you're going to attract the kinds of people who reflect those beliefs back
(25:00) The Deep Work Framework: finding real love begins with healing your inner child
(26:00) How to get better at dating: will you benefit more from healing your self esteem and dealing with the past or developing a dating strategy?
(31:00) The surprising things that are creating overwhelm and anxiety in your dating life
(36:00) What timeline should you expect when you're looking for love?
A Few Ways to find Veronica
5 Steps To Ending Overwhelm and Anxiety in Your Love Life: veronicagrant.com/workshop
Love Life Connection Podcast: veronicagrant.com/podcast
YOU'RE LIVIN' NOW! (38:30)
Damona brings in another perspective from past guest, Erica Faye Watson. Here's the video if you're interested: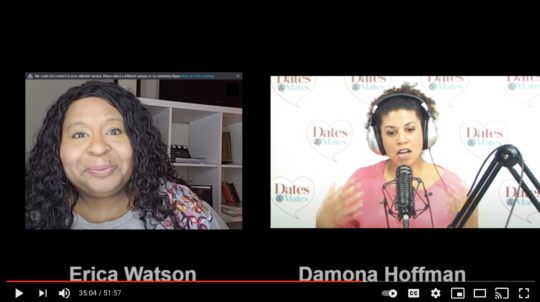 We are sad to say that Erica passed away two weeks ago due to complications from COVID 19. Erica truly was such an amazing person with an amazing perspective and she will be missed. Today's episode is dedicated to her memory.
DEAR DAMONA (40:28)
Submit your questions Instagram, Twitter, or Facebook and hear our answers live on the show! Here's what our listeners asked about this week:
Dillon (Email): I am a 26 year old Tech Guy living in a small ,East Coast city. Being my age, I am relatively open to anything. However, I definitely prefer something a little more serious. However, a problem has arose. I have struggled to find dates and have had a couple of people tell me that I would be someone women will want to settle down with and not necessarily date right now. How do I find where I'm going wrong? I workout, have my own place and am not some resentful guy. I want a relationship but feel myself getting upset with my myself because I am losing to men who just want casual sex.

Jodi (Voicemail): Hi, my name is Jodi, I'm 42 years old, I'm divorced. And I'm having a little bit of trouble navigating the dating world. And so I have so many questions for you. But I'll start with this. So I am on to online dating platforms and one like swipe app. So opportunity, where I can see who has made my profile, I become increasingly frustrated with men who visit my profile on a regular basis, but refuse to send the message. And so I'm trying to understand what their motivation is for returning to my profile time and time again, without reaching out. And I've just gotten exhausted from being the first one to reach out just because that's what Bumble makes me do. And I just, it's not really working out for me, I'm taking a little bit of a break of being the one to reach out. But if that make sense, I'm just really curious about how I can maybe send a message back that kind of calls them out in a flirty way. Or maybe do I just send the message and leave it at that? I don't know. I'm just curious as to how to approach that because it would really hurt my self esteem to send a message to somebody who has visited my profile numerous times and then for them to just ignore my message that might mess me up. I'm not sure. Anyway, I look forward to hearing your I'm sure one of your shows. Thank you for the work that you do. Bye bye.
THIS EPISODE IS BROUGHT TO YOU BY TEXTNOW 
The app solves many major challenges that Damona's clients face in dating today:
You can keep your main number private

You can separate your personal and dating contacts

Plus, It's easy to use and FREE.
We are proud to collaborate with an app that empowers modern daters to feel safe and secure. If you want more information, check out Damona's video on when to give out your number to people you meet on dating apps. Click here!
DATES & MATES DEALS
BETTERHELP.COM/DATESANDMATES
Get Better Help: real therapy, convenient and affordable. Get started today and enjoy 10% off your first month. BetterHelp.com/datesandmates
https://damonahoffman.com/wp-content/uploads/Copy-of-Body-Image-The-Sussex-Situation-1.png
900
1200
Leah Schell
/wp-content/uploads/damona-hoffman-logo-209-1-1.png
Leah Schell
2021-03-17 01:31:06
2022-04-20 19:13:10
Body Image & The Sussex Situation