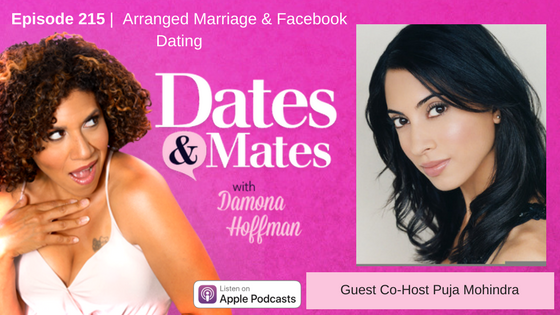 Arranged Marriage & Facebook Dating
Our guest co-host this week was Puja Mohindra, creator of the webseries Geeta's Guide to Moving On. Geeta's discusses arranged marriages, moving on after a breakup, and how to find happiness in love. We got the chance to ask Puja more about the show and hear her valuable love advice during Technically Dating.
INSPIRATIONAL THOUGHTS (3:11)
In this new segment, Damona will be offering some encouraging words of wisdom to inspire you to live your best life and be your best self. Up this week was the topic of vulnerability.
D'S DATING DISH (8:41)
Facebook is launching a dating feature
Despite the recent bad press involving their data management, Facebook recently announced at a convention that they'll be launching a dating app. While stocks in other dating app companies dropped, many feel as if this is not the right time to be asking Facebook to be handling even more sensitive personal information. You can read more via CNBC here.
Stanford publishes a study about the lies people tell on dating apps
Stanford researchers recently recruited 200 people who use dating apps and analyzed 3,000 messages during the "discovery phase" of online dating, when a match has occurred but both parties are still getting to know each other. Overwhelmingly, they discovered that people are actually honest on dating apps, with only 7% of messages containing explicit fibs. That said, a sizable amount tell "butler lies," designed to tactfully initiate conversation or matching interests. You can read more via Stanford News here.
Katy Perry and Orlando Bloom are back on.
Katy recently made cryptic comments about being off the market, and it's recently been confirmed that she's rekindled the flame with ex Orlando Bloom. According to our sources, Bloom is madly in love with Perry and missed her during their split. You can read more via Elle here.
TECHNICALLY DATING (34:57)
We pull the best questions posted on The Textpert App, including:
What to do if your boyfriend recently found out he has a daughter with an ex
How to handle a sexual attraction to your neighbor
How to tell you boyfriend you're bi
And many more . . .
Be sure to check out Geeta's Guide to Moving On at GeetasGuideToMovingOn.com
Get your free dating or relationship course at listen to past episodes at DatesandMates.com
Visit AdamandEve.com and use the offer code GIFT21 at checkout for free, discreet shipping
https://damonahoffman.com/wp-content/uploads/Copy-of-Dates-Mates-22.png
315
560
Damona
/wp-content/uploads/damona-hoffman-logo-209-1-1.png
Damona
2018-05-07 10:00:24
2021-05-14 22:23:59
Arranged Marriage & Facebook Dating