This Is How Love Happened For Me
It was love at first sight…of his profile. The minute I saw him online I knew he was different. I still remember waiting for him to walk in the door on the first date, wondering which tall, dark and handsome man matched the picture I had seen.
Finally, he appeared dressed like a model from Banana Republic. No, literally, he was wearing the same wool pants with a black v-neck sweater over green button down shirt that was on the store mannequin. I took one look at him and said, "Ohhhh, he's too nice. I have to set him up with someone."
You see, I'd become accustomed to the "bad boy." The kind of wayward artist/actor/writer who wouldn't be caught dead in a chain clothing store. The kind of bad boy who would tell me everything I wanted to hear then mysteriously stop returning my calls.
I never was the girl in school who was chased by boys. I never had a date on Valentine's Day. I always struggled to feel beautiful and to fit in. My low self-esteem allowed me to be with men who didn't treat me with respect and who didn't value the things that made me special.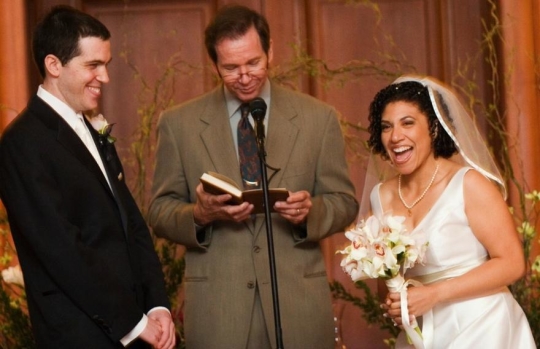 All of those qualities I wanted to hide from other guys were able to shine through when I met my Mr. Right. Actually, many of them were the qualities that attracted him to me.
3 dates later I was completely smitten…
4 years later we were married…
2 kids later we are still completely in love…
This my love story. Now I want to help you write yours.
XOXO,
Damona
I've created these programs so you can create your own love story:
I put my heart and soul into these programs so that you can start rewriting your love story immediately! When you start by taking the quiz, I will use that information to guide you stage-by-stage through your new and improved love story that has the ending you've always wanted and completely deserve.
If waiting any longer is just not an option, take a look at each of my programs and get started at your own pace. I can't wait to go on this journey with you!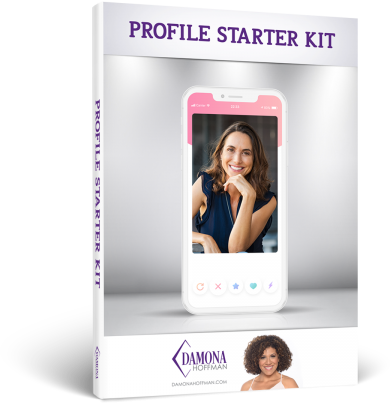 Profile Starter Kit
Dating apps have become one of the primary steps in the dating process today. If you are struggling to get matches and secure dates, you may benefit from our Profile Starter Kit.
This kit and accompanying video will give you the tools you need to flesh out your profile, with writing prompts and plug-and-play profile templates where all you need to do is fill-in the blanks. You will also receive a short video where I will tell you exactly how to select the BEST dating profile pictures!
Stage 2: You From the Start
First Date Starter Kit
Do you struggle with first dates? Are you stuck wondering where to find dates at all? The First Date Starter Kit will get you on track to great first dates fast.
Learn out how to tap into your very best dating resources to find the most exciting, first dates and prepare yourself for that amazing, first encounter.
If you are truly ready to change your love life for the better, this First Date Starter Kit is a must have!
Stage 3: You From The Inside Out
Dating Site Seduction System
In this highly acclaimed system, I reveal the 3 simple, easy, and super-effective steps you can use to effortlessly attract your perfect match online. These are the same steps I used to meet my husband online, and they can be used by you to stand out from the competition and attract your ideal mate.
I'll show you how to turn your profile into your "Man Magnet" to attract all the RIGHT men while shooing off all the WRONG men. It's time to stop wasting time on losers and men that don't turn you on so you have more time to find your soul mate.
After getting your ideal match interested, your next step is to get him to beg you to go on a date… a second date… a third date… a fourth date… and maybe even move on to next level! I'll show you exactly how to do that, and more!
Stage 4: The Road From "You" to "You Two"
The 30 Day Dating Playbook
This stage is for anyone who is ready to revolutionize the way that they date. I've put together a comprehensive program that is based on the belief that it takes 30 days to begin a new habit. Over the years I'm certain you have learned so many things about dating that are WRONG! Well, this guide is all about helping you "un-learn" them.
This program is so special that up until now, I only sold this program privately. But now, I'm opening it up to everyone who is serious about turning their dating life around. I've seen these principles help so many daters and I want you to be one of those select individuals who have direct access to my premium tips.
I'll admit that this program is only for those who are truly serious about changing their dating ways. So, if you're ready, I'm laying it out… play-by-play… clear as day.
Diamond Bundle: All Online Programs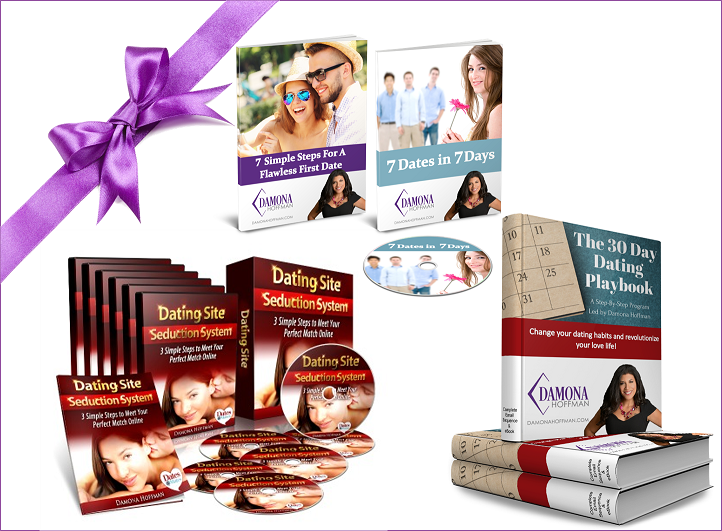 The Diamond Bundle is for the dater who is ready to go all out! You know without a doubt that you are in it to win it, and you're ready to win NOW! In this bundle, you will receive immediate access to all of my online programs immediately.
As you know, I'm all about celebrating the authentic YOU. So, my programs will never attempt to change you. They will only show you how to give what's on the inside the opportunity to shine on the outside.
Get ready to go from first date to forever by taking control of your destiny and rewriting your very own authentic love story.
Got Something Else In Mind?