Congratulations on taking action.
Online dating has become one of the top four ways people are meeting, dating, and getting married today. Just like getting a job the best ones go to those who "brand" and present themselves in the most attractive-compelling way. I have been helping people succeed and find happy relationships for nearly 10 years after finding the man of my dreams online in 2003.
Stop dating by "trial and error", learn the tricks of the trade to present yourself and attract the person you really want.
'Spin Your Web' is chock full of tangible advice for singles – not general statements. You get a true action plan for how to "market" yourself for online dating success. I have included many outside-the-box strategies that are extremely powerful and will help you stand out from the crowd.
Use this book to get the most out of your internet dating experience, learn Internet dating netiquette, and prepare quickly for a successful dating experience. I tell you how to choose the best site, what questions to ask, and how to avoid many common pitfalls both online and offline.
This is my gift to you.
Click on the book to read online, or click the download button to save the book to your device in PDF format.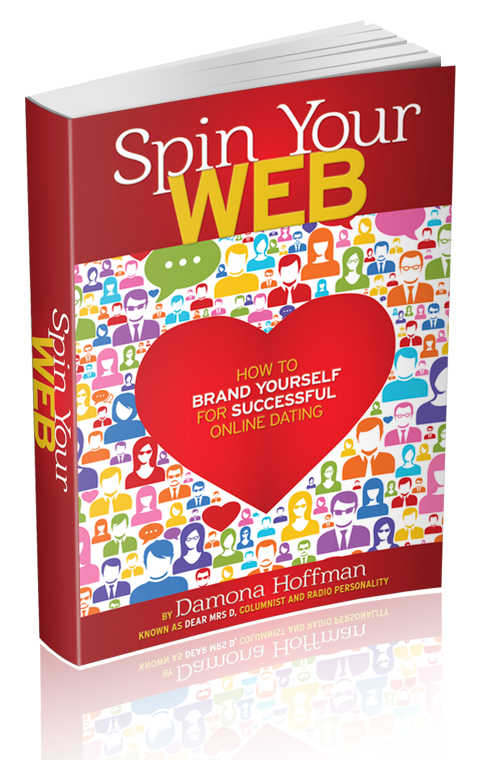 [fusion_builder_container hundred_percent="yes" overflow="visible"][fusion_builder_row][fusion_builder_column type="1_1″ background_position="left top" background_color="" border_size="" border_color="" border_style="solid" spacing="yes" background_image="" background_repeat="no-repeat" padding="" margin_top="0px" margin_bottom="0px" class="" id="" animation_type="" animation_speed="0.3″ animation_direction="left" hide_on_mobile="no" center_content="no" min_height="none"][sc:download-button-left file="https://damonahoffman.com/wp-content/uploads/Spin_Your_Web_ebook.pdf" description="eBook"]
[fusion_separator style_type="none" top_margin="20″ bottom_margin="" sep_color="" border_size="" icon="" icon_circle="" icon_circle_color="" width="" alignment="center" class="" id=""/]
[sc:Damona-Signature][/fusion_builder_column][/fusion_builder_row][/fusion_builder_container]