For Women: Dating Site Seduction System
[fusion_builder_container hundred_percent="yes" overflow="visible"][fusion_builder_row][fusion_builder_column type="1_3″ spacing="yes" last="no" center_content="no" hide_on_mobile="no" background_color="" background_image="" background_repeat="no-repeat" background_position="left top" border_position="all" border_size="0px" border_color="" border_style="solid" padding="" margin_top="" margin_bottom="" animation_type="0″ animation_direction="down" animation_speed="0.1″ class="" id=""]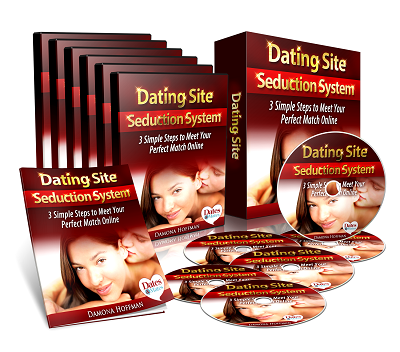 [/fusion_builder_column]
[fusion_builder_column type="2_3″ spacing="yes" last="yes" center_content="no" hide_on_mobile="no" background_color="" background_image="" background_repeat="no-repeat" background_position="left top" border_position="all" border_size="0px" border_color="" border_style="solid" padding="" margin_top="" margin_bottom="" animation_type="0″ animation_direction="down" animation_speed="0.1″ class="" id=""]
In this highly acclaimed system I reveal the 3 simple, easy, and super-effective steps you can use to effortlessly attract your perfect match online. These are the same steps I used to meet my husband online, and they can be used by you to stand out from the competition and attract your ideal mate.
I'll show you how to turn your profile into your "Man Magnet" to attract all the RIGHT men while shooing off all the WRONG men. It's time to stop wasting time on losers and men that don't turn you on so you have more time to find your soul mate.
After getting your ideal match interested, your next step is to get him to beg you to go on a date… a second date… a third date… a fourth date… and maybe even move on to next level! I'll show you exactly how to do that, and more!
I normally only teach these methods in the closed-door, secret dating strategy sessions I do for huge online dating sites such as Match.com, but my readers have been begging me to make this information available without paying travel costs and a hefty event fee so I'm making it available for a limited time.
[fusion_button link="https://damonahoffman.com/sp/dsss/index-regular.html" color="default" size="" type="" shape="" target="_self" title="" gradient_colors="|" gradient_hover_colors="|" accent_color="" accent_hover_color="" bevel_color="" border_width="1px" icon="fa-chevron-right" icon_divider="yes" icon_position="right" modal="" animation_type="0″ animation_direction="down" animation_speed="0.1″ alignment="left" class="" id=""]Tell Me More[/fusion_button]
[/fusion_builder_column]
[/fusion_builder_row][/fusion_builder_container]