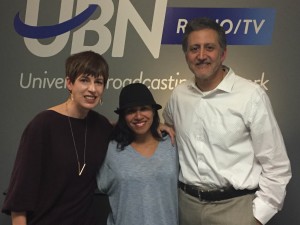 In case you missed it, we brought up a tricky topic yesterday on Dates & Mates: Sexual health. As an online dating expert, it's incredibly important to bring awareness to the topic and guests Dr. Jeffrey Klausner of Healthvana and AskDrK.org and Ursula Hessenflow of myLabBox.com help us tackle some of the more modern issues and attitudes that seem to be contributing to the rise of STI's  (sexually transmitted infections) and online dating.
We talked about how the popularity of dating through dating sites and applications had pushed Tinder to partner with Healthvana to enable a Health and Safety section to access the service locator and find where you can go for routine testing and treatment (if needed). Once you register you can get your test results from your doctor and have your results on your smartphone so you can show your future partners your testing results and treatment history, which enables a lot of confidence and encouraging safety when people decide to be sexually active. Hopefully, this will help ease the stigmas behind sexual health and open the dialogue that should be happening with potential partners about your history and status.
MyLabBox.com also is a great asset that allows you to be able to self-test from the comfort of your own home. While a lot of people may be scared to know, this is a great way to be able to empower yourself to know your status and catch any possible issues early on.
Dr. Klausner pointed out that there can be some severe (and painful) health consequences if you aren't seeking testing on a regular basis and possibly have an asymptomatic infection. With the wealth of resources out there like Healthvana and myLabBox.com, it's easy to be able to find the resources you need to ensure you are in good health with none of the stress of worrying. As I said,
"If you aren't comfortable having the conversation with a prospective partner, it's not a good idea to be sexually active with them."
It's the responsibility of the individual to ensure that they're not stuck in a "it's okay to do just this one time" mindset and be careful about the partners they choose. Talking about your potential's partner's sexual health with them before it's too late is important, and with these great new resources (as Producer J pointed out) you basically can ask for a "CARFAX" of sexual health as well as show your own.
Make sure to listen in on the conversation, because this is a big one. It's something we all need to be talking about, and there's great tips on how to be smart, how to maintain healthy practices and preventative measures, and how to address that tricky conversation!