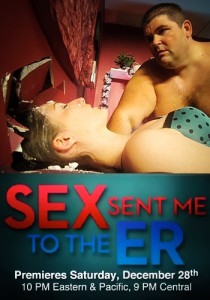 Airs Saturdays at 10 p.m. ET
Discovery Fit & Health
If the title caught your attention, you're probably the kind of person who would love this show.  Sex Sent Me to the ER is ripe with all the campy re-enactments and awkward performances from the real doctors that we have come to expect from a Discovery Fit & Health show.
In the pilot episode we follow three embarrassing, and at times, bizarre accounts of sexual encounters gone wrong.  The tamest was a 440 lb. man who sends his girlfriend's head through a wall while trying to relinquish his virginity to her. I spent most of the episode wondering, not about the accident, but how that this cute, petite girl was all hot and bothered over a man who was 4 times her size.  Just goes to prove that there is someone for everyone.
The second story involves a musician and his groupie girlfriend whose sex life is so wild that he actually gives himself a stroke from giving her a stroke. This story was more scary than anything because it wasn't about them making risky choices that landed them in the hospital. It was more of a cautionary tale about taking the government up on the affordable care act and getting a checkup to avoid dropping dead from a latent health condition which could land you in the hospital after even the most common activities.
The wildest story involved a threesome whose relationship issues spilled over into the triage room.  I don't want to give away all the juicy details but if you like seeing two girls go at it in wigs, you'll enjoy this segment immensely.
I've always been a fan of shows that feature outrageous ER stories and for this Sex Sent Me to the ER does not disappoint.  This is the perfect show to watch with friends and devise a drinking game to.  It's not appointment TV but if you're home on a Saturday night at 10 p.m. your life may be in need of a little bit of the kind of excitement that  provides.
For more dish on dating and relationships join us every Wednesday at 12 p.m. PT for the "Dates & Mates" radio on UBN Radio.