A dear friend of mine asked for my help with dating. Rebecca divorced 5 years ago and after completing her master's degree, successfully launching 2 businesses, and getting her 2 kids off to elementary school, she finally felt like she had the time to devote to dating.
There is one big challenge, however, she lives with her Ex. She and her Ex had tried living in separate places and the stress of shuttling the kids back and forth between locations that were nearly an hour apart was causing a great deal of stress for the children. That coupled with the fact that Los Angeles is one of the most unaffordable U.S. cities to live in, she and her Ex decided that the quality of life for her kids would be best if they co-habitated.
So they leased a 3-bedroom apartment together. She has a bedroom, her Ex has a bedroom, and the kids share a bedroom. The have one hard and fast rule – they cannot take dates back to the house. Beyond that, they live completely independent lives tethered only by their parental responsibilities.
Rebecca posted a blog (you can read it here) about her co-habiting, co-parenting situation and she was inundated with comments, question, stares, and shares about it. The biggest question was
"HOW DO YOU DATE?"
That's where I come in. Knowing that I have over a decade of experience helping singles transform their love lives (no matter how tricky the situation) and having seen me take women on a similar journey on FYI network's TV series #BlackLove, she came to me for guidance.
Rebecca wants to date again and she wants to share her journey with the world so for the first time ever, I will be video recording all of my sessions with a dating coaching client and posting them for the world to watch and learn from on Facebook.
You can watch a replay of our first live video where you get to know (and I'm sure also love) Rebecca and hear how the process will be structured. Then next week, we will post our first official session.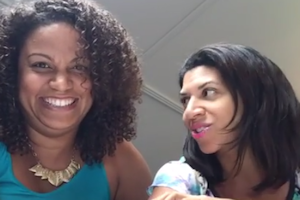 This journey will be full of helpful tips, not just for single parents dating, but for anyone who is looking for love, anyone who dreams of loving again, and anyone who needs some inspiration from a very brave woman who is ready to open her heart.