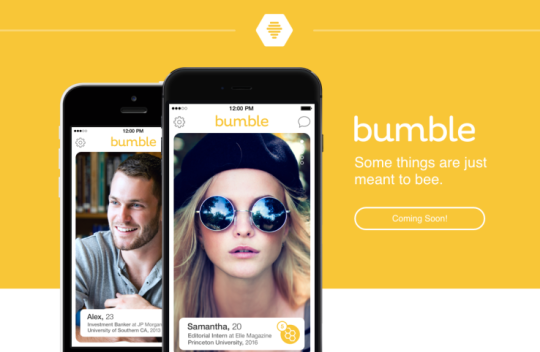 Women are mad as hell and they aren't going to take it anymore. They are no longer going to let men ogle over them online, send creepy messages, and make them feel "unpretty" if their inbox isn't filled up with handsome, successful suitors.
Recently there have been a string of dating apps that put women in charge of the matchmaking process. This is something I have been encouraging women to do for years, so it's thrilling to finally see dating apps made for women paving the way for dating feminists to choose their own love adventure.
One app in particular has caught my eye, Bumble. This app is created by Whitney Wolfe, one of the original Tinder employees – yep, the same lady that actually sued them for sexual harassment.  She's taking her lemons and making lemonade in the form of a brand new dating app that is essentially a carbon copy of Tinder with one major exception – only women can send messages out. The men have to sit back and wait to get asked to the Bumble prom.
Bumble now joins a growing list of apps that let women do the picking. Here are a few of it's soon to be competitors:
Siren –requires men to upload a real-time photo to their profile and allows women to choose who they would like to reveal their profile to based on their answers to a lady's "question of the day."
Wlydfire – requires men to be invited into the dating pool by a female friend.  This keeps the dating pool open to only the elite fellas who are female-approved.
Lulu – gives women the opportunity to rank men based on the following factors: humor, manners, ambition, appearance, commitment. It's sort of the grown up version of "Don't Date Him Girl" and is the equivalent of yelp in dating.
Hinge – isn't necessarily a women-driven app but it allows users to only connect to friends of friends giving ladies the peace of mind that they are sometimes missing with Tinder.
So if you're an alpha female who is ready to take charge of her dating destiny it's time to download one of these free dating apps for women and get to chatting.
Still wary of online dating? Check out my latest article on the tangible ways we can clean up the virtual dating world and Nix Dick Pics once and for all.