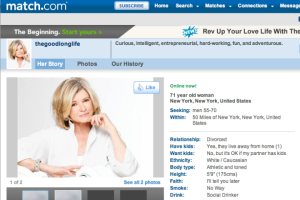 With the recent news of Martha Stewart joining Match.com, and past celebs such as 'Millionaire Matchmaker' Patti Stanger and Essence Atkins meeting their mate online, there seems to be a trend developing.
The life of a television personality is most definitely grueling. Long hours, paparazzi waiting outside gyms, homes and restaurants hoping to catch you at your worst, fans, haters—there's hardly any privacy at all. It's hard to meet a potential match through friends since a) hectic schedules and b) it's more like networking than attraction. So what's a public figure to do? Take it online.
With online dating both celebs and mortals alike know that the people who've posted their profile on a site are there to meet someone special. Everyone has the same game plan—meet, fall in love, live happily ever after. Though there are the few sex trolls and those who are just passing time, for the majority of subscribers, their intentions are on worn on the sleeve of their profile. So why shouldn't entertainers be happy too?
I can imagine most single celebs are looking for a regular person to settle down with. Someone who is not going to be in awe of them or treat them any more different than they are emotionally looking to be treated. No one wants to make a person they're attracted to feel like they're out their league or unattainable. When it comes to love and marriage, there are no award ceremonies or Walk of Fame—only hard work, trust, communication and lots of love and understanding. Online dating is the best way for single celebs to put themselves out there the way we all should when we know what we want.
My tips for anyone looking for love online are the same universally:
Stay positive—don't present yourself as a negative complainer. Focus on the good aspects of what you're looking for both for yourself and in a potential mate.
Be open to different ages, races, religions and heights—when you close doors to what you don't want aesthetically, you close possible doors emotionally as well.
Be honest with yourself and with potential matches—You're online to meet someone, but you haven't found that person yet. Don't rearrange your entire life to fit first dates and phone calls in your busy schedule. Tell that person what your life is like and make sure they know you are important to them even if you have to postpone or can't return a call right away. The sooner you're honest with someone, the sooner you can move onto a more mature relationship with them.
Don't give up—you might not meet Mr. Right in your first week on Match.com, but you will have dates that help prepare you for when he does come. Look at each message, phone call and date as getting you that much closer to finding the one. It takes the pressure off and allows you to enjoy the process.
Whether you're famous, semi-famous or big in Japan, if you're ready to meet someone who's as serious about finding love as you are, online dating is the best way to find them. There's no shame in making yourself happy, in the spotlight or out.