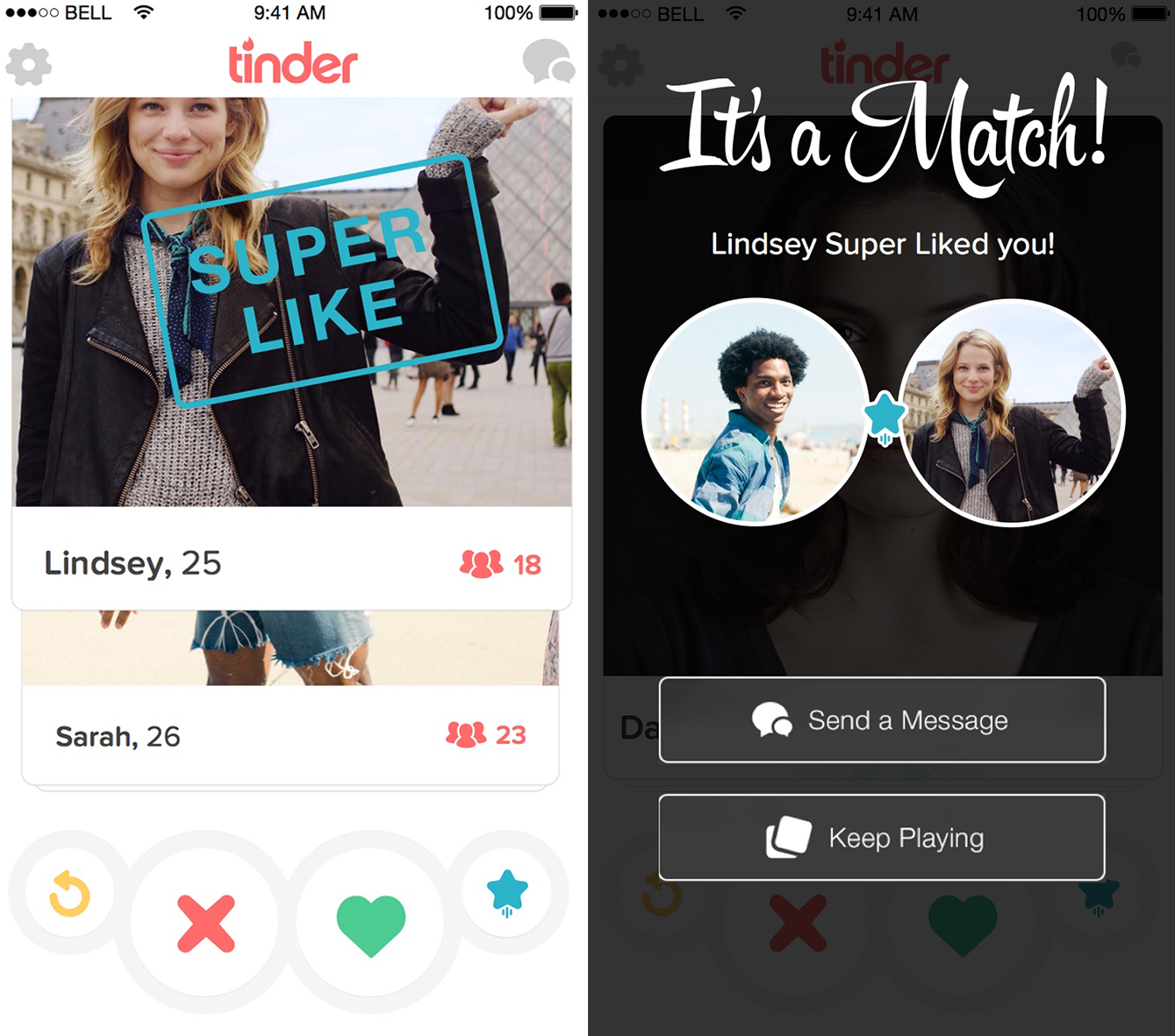 Have you heard about the new feature that Tinder just announced? Soon you won't have to just settle for a left swipe or a right swipe, but now you can swipe UP! Yesterday, I shared the news of their newest feature that will allow you to "Super Like" a potential match.
According to the Tinder blog, "…by swiping up, or simply tapping the new blue star icon when looking at someone's Tinder profile, you let that special someone know that they stand out from everyone else. The person you Super Liked will take notice – when your profile appears and they're deciding whether to swipe right, it will show up with a bright blue footer and star icon, highlighting that you Super Liked them. And when they do swipe right on your Super Like, it'll be an immediate match!"
Well, I think this is a great addition to the app. The abundance of choices that you normally get with Tinder can be really overwhelming, or at the very least it can become difficult to identify your best match if you're someone who is fairly generous with the "right swipe."
Since Tinder is only giving you one Up Swipe a day, you're going to have to pay a little more attention to your potential matches. You won't want to just give it away to someone who is unworthy. Anytime I can encourage people, who are serious about finding their perfect match, to really hone in on what's important to them, I'm a happy camper.
People will be forced to make a choice, not just swipe right on anything that moves for the chance at making a connection. This takes away the Tinder flaw of people that you actually liked and wanted to chat with getting lost in the shuffle as new matches are made because your Super Likes will always be starred in your inbox as a reminder for you to not forget them.
The other great feature is that once you've Up Swiped someone, the app will notify them that you've chosen to give your only token, your golden ticket, your single red rose for the day to them. I don't know about you, but I think that's a great way to start a conversation.
I'm excited to see what this does for the quality of matches that can be found on the popular, dating app. It's already available in Australia, but they will be rolling it out to everyone very soon. If you are one of the lucky few who already has access, I want to hear what it has been like for you so far.
For those of you who are also interested in dating sites in addition to apps and want to know how to blaze past the other online dating competition… Get a juicy sneak peek at one of my Dating Site Seduction System videos and find out how to modify your profile to get more messages immediately. CLICK HERE to access for free.