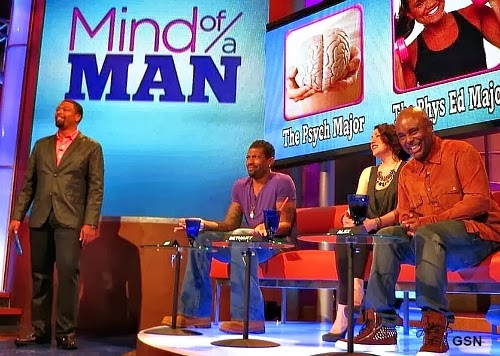 A new game show has arrived on GSN and it's geared toward what the abyss of what men are thinking about. 'The Mind of a Man' is a hilarious look into men's heads that can actually win contestants some serious money in a few rounds.
Hosted by comedian DeRay Davis, (Barbershop, Barbershop 2), two female contestants vie for correct answers about sex, love, dating, and work as it relates to men. Following the Family Feud model, 100 men have been surveyed as to their responses of all things dude. A celebrity panel of judges helps the women by offering their opinion as to how the men answered.
The first round begins with the contestants predicting the popular answer to each question. Questions like, "What would men rather see?" or "What would men rather do?" are given three multiple choice options for contestants to choose from. The celebrity panel offers up their choices, then the contestants choose their own answer. Each correct answer is worth $200.
In the second round, the two contestants again answer multiple choice questions but this time the questions are asked to a specific set of men such as married men, single men, gay men, or Asian men, etc.  This round brings in a special guest star for the VIP Question of the Game. Before the VIP Question is asked, the celebrity panel can grill the special guest star anything in hopes of getting into their mind more. Once the question is asked, the contestants give their prediction. Correct answers for this round are worth $300.
Round three begins with the thus-far winning contestant to choose any panelist to assist them on a single question. This question is called the 'Male Order'.  The contestant has to rank the three answers of the question from most popular to least popular. Contestants can win anywhere from $100 to $500 in this round.
In round four,  the "Men's High Five" is a top-five-answers-on-the board asked of 200 men. The player in the lead goes first. They are given two opportunities to guess the highest-ranked answer while the losing player only gets one opportunity. Regardless of who's in the lead, the player who chooses correctly takes the win and moves onto the $10,000 Tag Team Round.
A celebrity panelist is chosen to be part of the tag team, DeRay reads a series questions and the answers toggle back between both members of the team. If a total of seven correct answers are given within 30 seconds, the contestant wins $10,000, if they fail to reach seven, they are given $300 for every correct answer instead.
'Mind of a Man' airs on the Game Show Network every Wednesday at 8/7 Central. With superstar panelists and funny female contestants MoaM is guaranteed to be a hit show for a long time.
Stay tuned for more guest reviews from Rebecca Maynard!