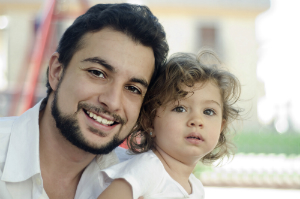 As an online dating coach, it's common for me to work with parents that aren't sure how to approach re-entering the dating scene. It's a bit more complex when you have the dynamic of your cherished family to take into consideration, regardless of what the circumstances are behind you being or becoming a single parent. So, this is for you: my top 7 tips on approaching dating as a single parent.
1.) Expand Your Social Circle– When you're busy being a parent and working a full-time job, it's not always easy to meet someone new. And even though you've become accustomed to waiting for your same friends, co-workers, or churches to introduce you to singles they know, it just might not be enough. Be sure to use all the great technology and dating innovations now available to meet new people – online dating, social networking, meet-ups, speed dating, mixers and more.
2.) Do a Little Self-Makeover– Most of the makeover you need is probably mental. You are sexy, caring, a great match and to snag your next spouse you need to feel good about yourself.  Try to change it up a bit as a representation of your new chapter. Getting a new wardrobe (or a few pieces) or starting a new workout routine can do wonders for your self-esteem.
3.) Ask to be Set Up– Many single parents are shy about letting people know that they are single and ready to mingle.  Don't make the assumption that friends and co-workers would set you up on dates if they knew someone who was right for you.  Making a specific ask that includes the top 3 qualities you're seeking in a mate makes you more likely to fill up your dance card than just waiting for others to think of you for a blind date.
4.) Schedule Some Free Time – When you don't have the kids, take advantage of the extra go on a few dates.  Make sure you get used to scheduling time for your new mate before he or she comes into your life. Many single parents are so over-committed that new partners feel you don't have time for them.  I recommend carving out 2 to 3, 1-hour 'dates' every week that you can use to see someone new, go to a singles mixer, or browse dating sites. Also, don't forget to schedule relaxation and alone time for yourself!
5.) Keep Your Kids Out of It – Being a mom myself I know how your life and your conversations seem to always end up revolving around your kids. However, in the dating scene, this is a topic for a later date. When you're dating, your date wants to see you in a sexual way and using pictures of your children on your dating profile or talking about them throughout the date is a turnoff.
6.) Don't Date your Ex's Opposite– Hear me out. The tendency after a relationship ends is to rebound with someone who has all the qualities that your ex lacked.  They had no ambition, so you seek out someone with a high-profile career.  These relationships can seem satisfying at first, but make sure you are loving your new partner for who they are rather than just filling the holes left by your ex.
7.) Say Yes– As a the mother of a 4-year-old and a 10-month-old, I understand that it feels weird to go out again after you've had kids but this time when someone invites you to go out somewhere, say yes.  Extra ticket for the basketball game – yes. Blind date with friend's friend – yes. Sometimes it's as simple as that to get back into the dating space.
Being a single parent does not mean that you have to delay your dating life until your children's 18th birthday.  With a few lifestyle changes here and there, a little self-confidence, and these new tools; you are well on your way to finding the love of your life.
If it's professional help you need, look no further! Listen to Damona Hoffman live every Wednesday at 11am Pacific as she hosts her hit show Dates & Mates, only on UBNRadio.com
---