Podcast: Play in new window | Download (Duration: 50:19 — 69.1MB)
Subscribe: Apple Podcasts | Android | Google Podcasts | RSS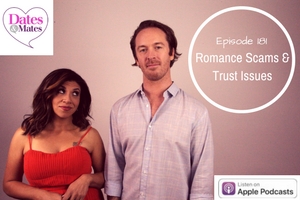 Are your dating apps stalking you? Is online dating getting riskier? Which dating and relationship terms do you need to know? Damona Hoffman and Co-Host Ray Christian break down the latest in modern dating and relationships on this episode of Dates & Mates.
Plus they dig into great Textpert questions, including how to handle an angry husband and overcoming trust issues after divorce so you can move forward and finding love again.
Then they do a Hollywood Hookup for Josh Groban and debate who they think he should consider dating next. Who do you think got it right?
Make sure to share your dating and relationship questions with Damona on Twitter; your question might be featured on a future episode!
---