This week, I saw Clybourne Park, the poignant, often funny and deeply unsettling play that is inspired by a Raisin in the Sun.  This Pulitzer Prize-winning play begins in the late 50s in a middle class white neighborhood with
a family that is moving out of their home. It becomes known half-way through the first act that the home has been sold to a Black family and the rest of the act various characters from the Black Domestic to the purist Caucasian head of the Rotary Club express their feelings about integrated living.  In the second act, the play fast forwards to 2009 in the very same home which is in the middle of gentrification, and we see the Black neighborhood council members and White owners battling with their own feelings on race.  You can't help but feel when you are watching the play that although the discussion isn't as ov
ert, many of the feelings from 1955 are still but they manifest in different ways.
As the product of an interracial marriage, I imagine that I had a different experience of the play than both the Black and White members of the audience.  Yet, I have to admit that when I examined my thoughts on race in dating, I didn't fare much better than the people in th
e play.
I always said that race in dating didn't matter to me.  I dated across the rainbow but by and large most of the men I was attracted to were White (maybe it's that thing they say about looking to marry someone like your father?) A
nd the man I ultimately married was White. But I'm not racist, right?
A recent study (linked here) indicated that most White daters still gravitate to their own race online even though Black daters were open to dating cross-culturally – regardless of what they indicated on their profile preferences. It's always interesting to me when working with one-on-one clients to see what they are attracted to.  I try to get them to expand their dating criteria; for example, if they are searching 5'10" and taller I say,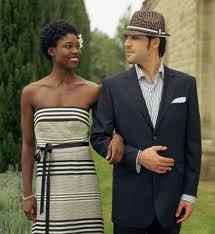 "Well, if he was everything you wanted but 5'8" would you reject him?" I'm not afraid to challenge them on most issues but the one thing I will never touch is race. 
It's 2012. By this point shouldn't skin color be as important as hair color or eye color or height?  Yet sadly, it is not.  So since I feel uncomfortable still asking you to challenge your thoughts on race in dating, perhaps you could ask yourself and let me know what you said.