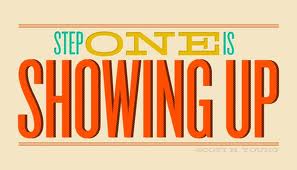 So both your New Year's resolutions were to lose ten pounds and meet someone special? Well, they don't just happen overnight. I've got news for you, if you purchase a hefty gym membership, hire a trainer, buy a butt-load of new workout gear, and are still pressing the snooze button from bed when you should be on the treadmill, you're never going to shed the weight. The same holds true for dating.
Currently, I'm working on shedding my own Big 10 using the muscle-confusion, sweat-tastic, body-aching P90x as my gym. Former aspiring stand-up comic-cum-Beachbody guru Tony Horton, hosts a gaggle of cut, lean, muscle machines. While some of his incessant jabber drives me up the walls, he actually makes one comment that resonates deeply with me: "All you gotta do is show up." No matter how half-assed I flop through the Ab Ripper X, that statement makes me realize that I'm one step closer to accomplishing my goal so instead of giving up, I do the best I can for that day.
The simple act of pressing PLAY on a daily basis will get me thinner, even if I do the moves half-heartedly and take more breaks than necessary. I'm still doing the work with my headspace set on my intention of weight loss. With dating, it's the exact same principle: If you have an online profile that you never check, never update or never message anyone, you're not going to meet that soulmate you're seeking. But if you just show up daily, tweak your profile, add in new photos, swap out old ones, say hi to the cute girl who was checking you out and go on first dates, you're doing the work necessary to meet your mate.
Dating doesn't have to be stressful. You want to meet the love of your life, well that takes time. The right one is out there for you, but they aren't just going to appear from you wishing on a star. You have to show up to make these things happen.
---