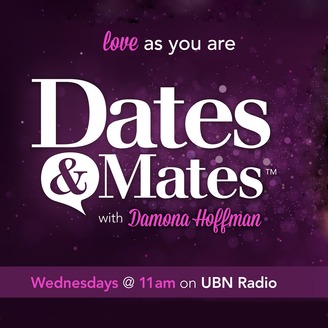 On our last Dates & Mates radio show we had our special guest Sam Role from Married At First Sight. As only a modern online dating expert would be, I wanted to hear about her personal experience about trying to pursue love in the midst of a very public social experiment. Is it possible to find love when you get married to a stranger?
But first, we had to get into some of the nitty gritty of the emergence of Richonne as the next power couple in The Walking Dead. Their sudden romance certainly caught elated fans off guard and I had to point out just how far we have come when it comes to interracial dating and its presence in shows. I pointed out that just 10 years ago it was still considered to be a touchy subject and a risky move when it came to diversity casting. Rick and Michonne becoming a "thing" is a great sign of the times, as well as an exciting development for the dedicated fans!
We also covered the topic of social media and how it can impact relationships. I gave an example of someone who had commented on a 20 year old picture that a friend posted, and he simply said she was pretty, in a friendly way. His girlfriend, however, wasn't amused and saw it as grounds for the single life. So does social media have a negative impact in how our partners perceive us when they observe us? What are your thoughts?
The much awaited interview with Sam lent plenty of insight into her Married At First Sight experience, as she tackled everything from having to realize her shortcomings with previous relationships to suddenly becoming married to someone who was very different from her when it came to racial and religious backgrounds.
We talked about how she had a rough start to her new relationship, especially having to essentially marry a stranger and live out the relationship in front of television cameras. She said that what wasn't aired was that she struggled badly with her anxiety the first week and had a flood of different emotions. She talked about the frustration of not feeling like she "clicked" with Neil at first. She expressed that she felt apologetic towards Neil because she felt that she gave him a hard time in the process.
Sam did share how the experience, and having to watch it back, helped her learn a lot more about herself and how to be a more effective communicator going forward. But, despite that, social media had also been an obstacle because many people lashed out at the women on Married At First Sight. Sam credited Neil for being incredibly supportive and assuring her that the public would eventually see what he saw in her.
Later, we also discussed dating obstacles like living in a very small town with finite options. We talked about expanding your range for dating and making that effort to go out of your way to spend time with someone. The beauty of online dating is that you don't really have limitations as far as who you can connect with- but you'd have to be prepared to make a decision to make it work long term. The other great option is within your own friends circle. Who else knows you and what you want better than them? Even proactive moves like checking out any singles events locally is worth a shot. You never know when the right one might be within your reach!
Make sure to check out the full show HERE