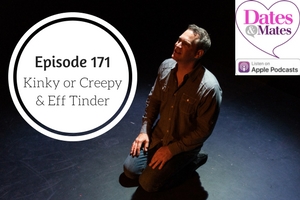 David Rodwin, The Moth Storyslam Champion and creator of the show F-Tinder (a love story) at Hollywood Fringe Festival shares tantalizing tales of his journey on Tinder. Ranging from escorts to polyamory, David pulls some amazing examples of the experiences he came across during his Tinder exploits and explains why the dating app industry is leaning towards "gamifying" dating and encouraging addictive behavior. Does the dating app industry change the entire way we view modern courtship and relationships? Make sure to listen to the whole episode to hear how David, Damona and Ray weigh in on the subject.
There's also have some great Textpert App questions that Damona and Ray decoded, including:
How to end a two month relationship
What to do when an f-buddy is expecting
Can you love a liar?
Then they end the show with a new segment "Kinky or Creepy."