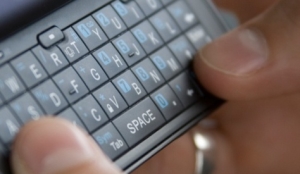 You may have heard me denounce texting as a form of dating communication.  It is the one thing that has changed substantially since I met my husband online (gulp) 10 years ago when we scarcely had cellphones.  One of my clients almost turned down a first date from a guy who eventually became a long-term boyfriend because he initially asked her out via text. Another called me in a panic last week decoding to help her decode a cryptic day-after message. Now it is so easy to just send a text to avoid any awkward situation that would come up if you were conversing face-to-face or even on the phone. While we're at it, why don't we just skip the date entirely and send our avatars.  Who has the time for actual conversation anymore?
In a recent interview on Anderson Live the authors of the new book, "Not Your Mother's Rules," Sherrie Schneider and Ellen Fein recommend waiting at least 4 hours to respond to a text.  They admit that they actually wanted it to be closer to 24.  Remember in Swingers when Vince Vaughn suggested waiting 8 days to call "a beautiful baby."  Could he send a text sooner and save face?
Here are my three biggest rules when it comes to texting and dating.
IF YOU RUN OUT OF CHARACTERS, YOU'RE SAYING TOO MUCH – When your phone flips into SMS mode, you are better off making a phone call instead
DON'T OVERANALYZE – People send texts on the go, while they are doing other things, in the middle of their morning meetings. The bottom line is, the word choice is not usually that thoughtful and the brevity is not always an indication of disinterest…or of interest for that matter.
OFFICE HOURS – Do not send a text at a time when you wouldn't call. Unless the sole purpose is a booty call, respect your date by not assuming they are 100% available to you, anytime.  You might also save yourself from a drunken message that you'll regret in the morning.